I'm Learning To Cook To Better Fuel My Runner's Body
Cooking meals is one way runners can better understand and appreciate the fuel they use to power their running.
Heading out the door? Read this article on the new Outside+ app available now on iOS devices for members! Download the app.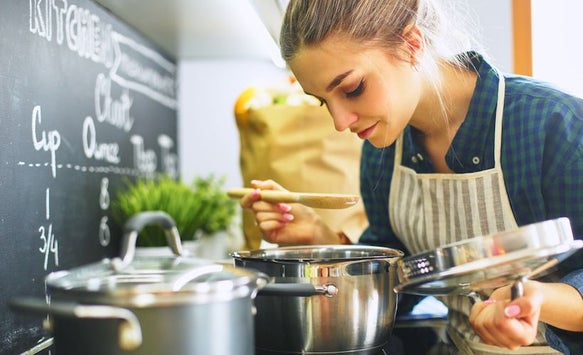 Cooking To Fuel Better And Smarter
The thing about an eating disorder is, it doesn't just steal away your health. It wrecks that, sure–but then it goes after your extracurriculars. Thus, my battle with anorexia nervosa not only spoiled three years of my running career; it also allowed me to opt out of every social event and food-based gathering to which I was invited.
It turns out that was harmful in a lot of ways–the most comical being that I never learned to cook. After five years of battling an eating disorder, I could tell you the calorie count in every food, but I couldn't prepare any of it!
After my recovery, I continued in my culinary innocence. "Hannah doesn't cook," we all joked, and I was totally fine with that. I ate a lot of turkey sandwiches and I only opened the oven to bake a Quest bar. No problem.
That all changed last year. I started wondering if learning to cook would help me better understand and appreciate my body. I wanted to take my running performance to the next level, but I also wanted to stop viewing food as a means to an end. Also, I was really sick of eating turkey sandwiches. A girl can only eat so many turkey sandwiches.
Related: 5 Healthy Cookbooks That Were Made Just For Runners
Around this time, my teammates fell in love with some cookbook about running slow and eating fast—nope, definitely got that backward—but I was overwhelmed with all the ingredients and instructions, as easy as they were. So I bought a box of quinoa and started from square one.
I bookmarked easy recipes and started working my way down the list, taking a picture every time I created a new meal. Some, like an egg baked inside a bell pepper, were successful. Others were less so, like the brown-rice-turned-black that I overcooked, ruining cookware and making the house smell as a result. But cooking is a lot like running: it takes time and consistency.
As time goes on, I'm learning more about what my body wants and needs. It's pretty incredible: food has become fun again. It's become an asset to my training because I'm listening to my body, giving it more of what it needs.
I'm certainly not advocating baking muffins from scratch after a long run. (Goodness knows I don't have the patience for that.) What I am saying is that cooking your meals when you are able is an investment of time that you won't regret. "Nutrition" is not a nebulous term that companies define and provide for us. It's something we can learn and practice ourselves.
This looks different for everyone. Maybe you try something new every week. Maybe you focus on listening to your body's hunger cues. Personally, I am practicing both of these approaches. I've also set the goal of cooking simple dinners three nights a week, making extra portions for the other evenings.
Friends, no company is a better manufacturer of what your body needs than you. Every day you go for a run, your muscles are working hard so that you can experience the joy of running. Every day you take time to prepare food for your body, you're loving it back.
Enjoy your protein bars; snack on Goldfish. But don't forget the benefits of cooking a meal. Cooking helps you nourish your body and teaches you to listen to your body's needs. Mile by mile, meal by meal, you'll be more at peace with who you are. I know I am.
Related:
8 Recipes That Don't Require Your Oven
How Running Helped Me Recover From An Eating Disorder
Recovering From An Eating Disorder Isn't As Simple As Eating