Fish Tacos Recipe Makes The Perfect Marathon Recovery Meal
The meal you have post-run is important, and these fish tacos from Running On Veggies has everything you need to recover strong.
Heading out the door? Read this article on the new Outside+ app available now on iOS devices for members! Download the app.
*This appeared in part on and is courtesy of Running On Veggies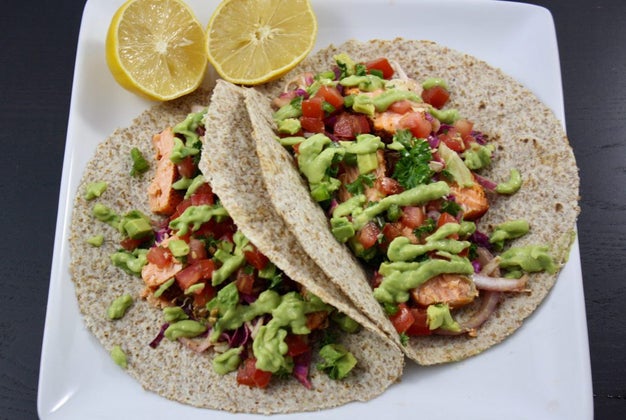 As most of you already know by now, one of the most important meals/snacks of your day is the one you have post-run. It is crucial to eat within 30-60 minutes after a run. Your body has broken down muscle, used its glycogen stores, and is searching for energy/food to rebuild so you can do it all over again. Not fueling properly can lead to injuries and hunger that simply cannot be satisfied. So it's important to get in nutrients—the right kind!—right after you run. I created this recipe with all of that in mind.
This takes less then 60 minutes to prep so from the moment you get home from your run you can whip this up and have a gourmet meal within that crucial window of opportunity. This recipe has everything you are looking for—healthy fats from avocado and salmon, complex carbohydrates in the sprouted wrap to restore lost glycogen, vegetables, and of course protein to feed those muscles. I personally really enjoy salmon but this dish can be made with white fish or even tofu.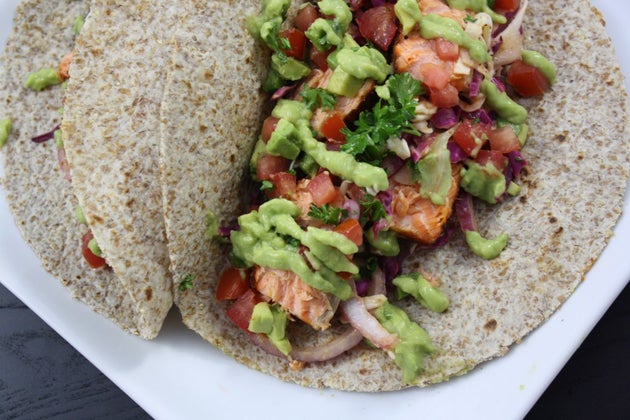 Fish Tacos Recipe
Here is what you will need: This recipe feeds 2-3 people. If you are cooking only for one, I recommend saving a serving for a later meal. Or if you are cooking for more, you can easily  double or even triple the recipe.
Fish:
Ingredients
8-10 oz Salmon
Blackened Spice Rub
Directions
Pre-heat oven to 375 degree
Line a baking sheet with parchment paper and spray with non-stick spray. Place salmon on prepared tray and sprinkle blackened spice rub to coat the salmon evenly.
Place salmon in the oven and cook for 30-35 minutes until golden brown and tender. Each oven cooks differently so check it after 20 minutes and adjust cooking time. Meanwhile, prepare other components.
Cabbage salad:
Ingredients
1 cup purple cabbage thinly sliced
1 cup white cabbage thinly sliced
1/4 cup purple onion thinly sliced
2 tablespoons spicy mustard
2 tablespoons apple cider vinegar
2 tablespoons fresh lemon
Directions
In a bowl combine cabbages and onion.
To prepare dressing add mustard, apple cider vinegar and lemon juice to a small bowl and whisk together.
Once dressing is prepared pour over cabbage salad. I like to let it marinate for 20 minutes or longer before serving. This will allow the dressing to breakdown the tough cabbage. So while your salmon is in the oven let the veggies sit in the dressing. Meanwhile, prepare the salsa.
Salsa:
Ingredients
1 tomato diced
1/2 jalapeno seeded and diced (optional for extra kick)
1/2 avocado diced
1/4 cup parsley chopped
2 tablespoons fresh lemon
salt to taste
Directions
In a small bowl combine tomato, jalapeño, avocado, parsley then add lemon juice and salt to taste.
Note: avocado sauce: This is an optional step and just makes the presentation palatable. Blend the remaining avocado (1/2) with, 1/4 cup lemon juice, 1 garlic clove and salt. Then drizzle over tacos when serving.
Assemble:
2-3 Organic Ezekiel Sprouted Grain Tortilla
You can toast your tortilla or leave it fresh, place spoonful of cabbage salad in each tortilla, then cut the salmon into one inch pieces evenly distributing, place on top of the cabbage salad, finish off with a spoonful of salsa and serve. Eat immediately after assembling.