Diet Changes To Keep In Mind Through Every Decade
A registered dietitian makes a case for adjusting your diet over time in accordance with your body's shifting needs at certain ages.
Heading out the door? Read this article on the new Outside+ app available now on iOS devices for members! Download the app.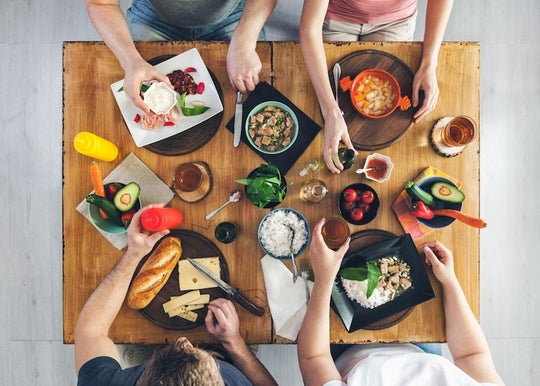 As you age, you probably change your style, hair, skincare and exercise regimens. But what about your diet? As the years pass between childhood and old age, your body experiences natural physiological changes. With these changes comes the need for alterations in your eating habits to keep you healthy and able to stay at the top of your running game.
Related: New Study Suggests Endurance Athletes' Muscles Actually Get Better With Age
During Your 20s
If you didn't drink as much milk as you should have as a kid, this is the time to make up for those losses. Bones continue to gain mass into your 20s, but this accumulation stops around age 25. That's why your early 20s are perfect for eating calcium-rich foods. "Greek yogurt offers close to 20 percent of your daily need per a 6-ounce serving of the plain low-fat variety," says Amy Gorin, MS, RDN. Most dairy foods are rich in calcium, but you can also get this bone-building nutrient from soy, leafy greens and nuts. And don't forget about Vitamin D, which works in tangent with calcium to keep your bones strong.
During Your 30s
You may start to notice more wear and tear to your body during your 30s. Did I always have that knee pain? Where the heck did these wrinkles come from? It's time to step up the maintenance and prevention. Try boosting your antioxidant intake to prevent premature skin aging and to reduce inflammation that can cause serious diseases later in life. Although antioxidants aren't on most food labels, they occur naturally in brightly colored foods, like citrus fruits, bell peppers, broccoli, spinach, sweet potatoes, butternut squash, carrots and wild blueberries. "In fact, wild blueberries offer more than twice the antioxidants of regular blueberries," Gorin says. "And research connects anthocyanins, a particular type of antioxidant found in wild blueberries, with aging benefits including a possible decrease in your risk of type 2 diabetes."
During Your 40s
Heart disease is the number one killer in America, so it's never too early to start thinking about prevention. Along with running regularly, the foods that you choose can help keep your ticker strong. Too much LDL (aka "bad" cholesterol) can cause a buildup of plaque on artery walls. Luckily, eating a diet rich in fiber has been shown to play a role in lowering your LDL. To get enough fiber, make sure your diet includes plenty of plants, such as fruits, vegetables, whole grains, beans and legumes. Omega-3 fatty acids also play a part in protecting your heart by reducing inflammation and potentially reducing irregular heartbeats. Fatty fish, like salmon, tuna and mackerel, and walnuts and flaxseeds are great sources of this good fatty acid.
During Your 50s
Many women begin experiencing hormonal fluctuations during their 50s as a result of the dreaded M word: menopause. Unfortunately, with these hormonal changes come a slowing of the metabolism and dreaded weight gain. During this time, it's extremely important to focus on foods that are abundant in nutrients and lower in calories, like vegetables, fruits, low fat dairy and lean protein. Gorin also recommends upping your intake of tomatoes because they contain the antioxidant lycopene, which may protect the skin from damage caused by UV light. "One of my favorite ways to eat tomato sauce is in my Protein Punch Marinara Spaghetti Squash recipe," Gorin says. Your bones also take a hit during menopause, as bone mineral density can reach devastatingly low levels. A great way to counteract this bone loss is through running, but increasing your intake of calcium and vitamin D is also key. In addition, vitamin D can reduce your risk of other diseases such as cancer and heart disease. Good sources of vitamin D include eggs, mushrooms and sunshine!
Related:
One Thing That Gets Better With Age Among Runners
Why Every Runner Needs Omega-3s In Their Diet
10 Lessons Learned During My First Month Of Vegan-ish Eating