Dressing Room Tips From The Fat Chick
Personal trainer Jeanette DePatie offers her insight on how to choose the right apparel for today's athletes.
Heading out the door? Read this article on the new Outside+ app available now on iOS devices for members! Download the app.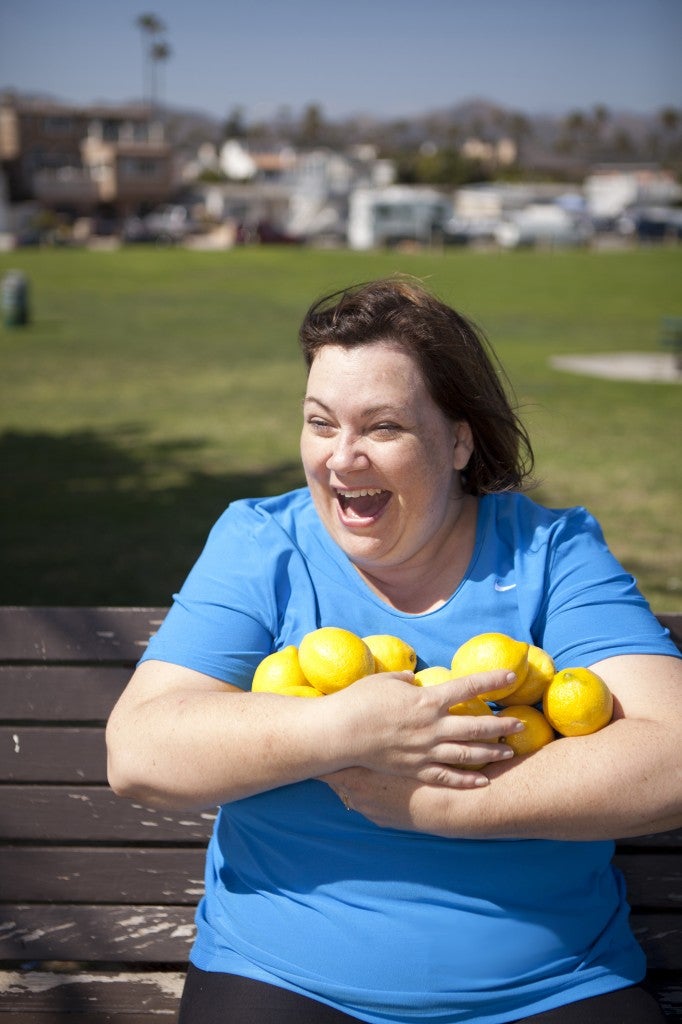 Jeanette DePatie contributed to our August gear feature, "Perfect Fit," available on newsstands now!
About 17 years ago, "The Fat Chick"'s Jeanette DePatie was in the diet section of her local bookstore seeking out the magic diet book that was going to make her skinny and change her life. Instead, she bought the book Losing It: False Hopes and Fat Profits in the Diet Industry, an exploration of an industry thriving on peoples' fear of being fat. The book did change DePatie's life by helping her to accept herself.
"My radical idea was, 'What if I stop putting my life on hold until I have the perfect body? What if I decide my body as it is now is perfect and I start doing all the things I was going to do on that magic day?' I've never looked back," says DePatie, who ran track and field in high school and has always loved being active.
Once she began looking at fitness as fun versus a way to lose, a whole new world opened up to her. But she also realized a lot of the information and focus was geared to people who were already fit.
"I decided I wanted to help other beginners," DePatie says. "I became a coach and a personal trainer and started making exercise videos to encourage others."
It had also always been her dream to be an aerobics instructor, but she never felt she was skinny enough. Once she changed her mindset, she was able to achieve that dream. In addition to working in public relations and being a Hollywood producer, DePatie is also a writer, a personal trainer and an aerobics instructor. She even accomplished her bucket list goal of running a marathon.
As for what's next for DePatie, "I want to climb a mountain. But really, my dream is to have classes full of people of all different sizes, just rocking and rolling and having a great time." Here's some tips and life tidbits from DePatie, who blogs at The Fat Chick.
On running tips…

Deal with chafing immediately, If you don't deal with it when it s a small problem, it will become a big problem and can sideline you. Body Glide and Gold Bond powder are your friends.
I think the idea that you can be a plus-size exerciser isn't so unusual anymore. What's tough is that because of my size, people think I'm a beginner, when really I've been at this for 20 years. I don't need extra "Go, girl"'s or to be someone's inspiration because I'm out making it happen as a larger-size athlete. I'm not running to lose weight. I'm running because I enjoy it.
On shopping smart…

As a teacher and a coach, DePatie wants to feel good and look dialed in her fitness apparel. She shared her apparel insights in the August gear feature, "Perfect Fit." Here's some top apparel fit tips:
Prioritize durability and care: Fitness clothing is something you tend to wear over and over again. I want to make sure clothes are sturdy and are going to hold up. I wash fitness gear in cold water and hang it to dry. I take care of it. I would rather spend more money for quality clothes that I may wear for years instead of spending less money on something that will last just two months.
Pay attention to cut: You don't want extra fabric where you don't need it. Extra fabric equals chafing. This varies by body type because everyone is shaped differently. I'm short, so I like things that aren't super long. A lot is determined by trial and error.
Look for quality fabrics: Some brands use better quality fabric than others. Good fabric hangs nicely. It moves and enables freedom of movement. It's all about finding the comfortable sweet spot between steel tough and flimsy. Technical fabrics are also a relatively new addition to clothing for larger athletes—I noticed a shift about 10 years ago. Look for pieces made of breathable and wicking fabrics.
Have flexible thoughts on gear: Depending upon the brand, check out men's clothing line—especially when it comes to bike shorts. Men's bike shorts fit really well. Men's shirts can work well too—though, not so much for me because of the length.
Take your time in the dressing room: I boogie down in that dressing room! You don't want to buy something that looks nice when you are standing looking in the mirror, but you can't sit or squat or jump or turn in it. Move. Take time in the dressing room, or at home if you order things, to make sure the clothes fit properly. Fit is critical. If it's cute but doesn't fit, it's a waste of money. You need pieces that fit, last and work for you.
Examine sewing and seams: Workout clothing takes a beating. Look for reinforced seams and good stitching. It makes a difference in how it wears and how it lasts.