How Does One Define Strength?
How does one go about defining strength? This runner believes strength to be a measurement reliant upon personal goals and experiences.
Heading out the door? Read this article on the new Outside+ app available now on iOS devices for members! Download the app.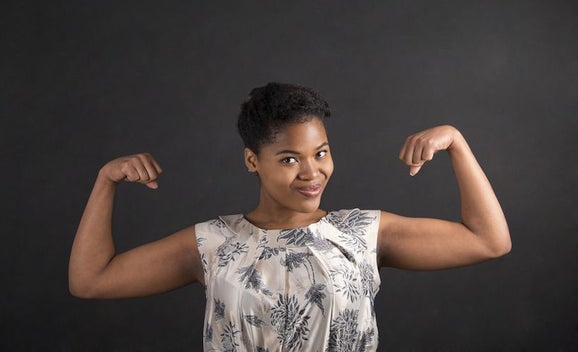 What Does It Mean To Be "Strong"?
The problem with striving for strength is: will we ever find our happy place where we view ourselves as strong? I am currently the strongest I have ever been in my life; yet I continue to tell people that being strong is what I am striving for. The question is, what kind of "strong" am I striving toward? Do I want to be strong mentally, physically, emotionally? What will be the gauge of success, the point at which I reach this goal?
It's easy to create a weight loss goal or a distance goal. I will lose 20 pounds or I will run a half marathon. You put in the work, and once you lose those 20 pounds or complete that half marathon, you can measure your success. However, with strength, the act of measuring is skewed. When we say that we want to be strong, how do we tangibly measure it in a way that our minds can comprehend?
Related: Learn To Balance Body Positivity And Fitness Goals
In some ways, saying "I want to be strong" is the new version of the oft-repeated mantra "I want to be skinny." On one hand, I am happy with the change in mindset that our world is making. We are realizing that chasing the nebulous "skinny" goal is intangible and has caused a lot of anxiety, body dysmorphia, eating disorders and stress within our community of women. Changing our collective mindset to strive toward strength has really allowed us to chase our best self, regardless of the numbers on our scales. If being able to lift 100 pounds or run a 5K in fewer than 30 minutes is my goal, I know that I can only get there by building my strength–not by losing another 25 pounds.
The down side to chasing this goal of strength is that I do not know how to actually tell when I have reached it. "I want to be strong" does not come with a guideline that states, "When you can run a certain mile time or toss your groceries around like they weigh nothing, that is when you are strong." It is an ambiguous statement that I am not able to accurately judge. I fear that in chasing this desire to be strong, I will miss the time in my life when I am actually at my strongest. I can tell you that I am stronger today than I was three years ago–mentally, physically and emotionally. So how do I keep myself in the present moment instead of chasing the next level of strength?
Throughout this journey, I have realized that each day I need to find something that helps me recognize my strength. Yesterday, this meant being honest and raw with someone about what was actually going on in my life, which created a completely new level of emotional strength. Earlier in the week, it was challenging myself in CrossFit by learning how to do an overhead squat with 45 pounds (regardless of the fact that everyone around me could manage the feat with 90 to 150 pounds). My own strength is not determined by what others can do. It is determined by what I am able to do in a day, and my willingness to push outside my comfort zone to embrace ever higher levels of strength.
I challenge you to continue chasing your own goals. In your pursuit, remain present and aware of the strength you currently have, as well as that which you are pressing toward every day. Find something that you didn't think you could do, and surprise yourself by reaching a new level. Figure out what your next goal is for your mental strength, whether that's breaking down the barriers of "I can't" or accepting that you are your strongest self today. Find new strength in your running by pushing yourself to achieve a new time or distance goal. Seek a way to stretch your emotional strength–even if that means being brutally honest with someone about the things you're struggling with in life. When we add tangibility to our goals, we are able to see where this strength is taking place in our life and how it's helping us to be the best versions of ourselves that we can. Being strong is an amazing mindset; we just need to find ways to measure the aspects of that goal.
Related:
5 Tips On How To Love Your Body Through Running
4 Practical Tips For Powering Through A Long Run