Why Bison Meat Is Rising In Popularity Among Runners
Bison is low in fat and sugar but packed with protein—everything a runner's diet needs.
Heading out the door? Read this article on the new Outside+ app available now on iOS devices for members! Download the app.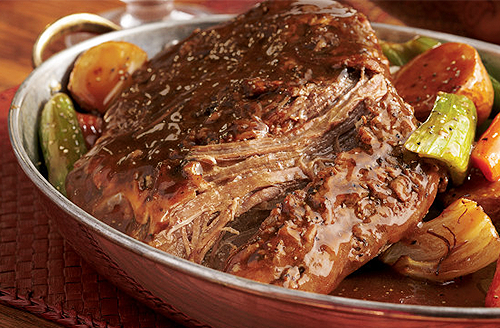 Meat lovers rejoice! Low in fat and sugar but packed with protein, red meat is finally back in action if you are eating bison.
Only a few years ago, bison was considered an exotic, expensive dish because of its rarity. But with farm-to-table and clean eating growing on today's menu, chefs, meat butchers and food manufacturers are making this red meat more accessible to eat.
From creative cuisines and recipes to pre- and post-workout snacks, get the inside scoop on why a juicy slab is trendy this year.
What's the deal with bison?
Hunted for fur, bones and meat in the early 1600's, bison was the center of life for many Indian tribes. Around 1890, there were just more than a few hundred of the animal left, putting them on the near-threatened list, according to worldwildlife.org.
However, bison's population is on the rise. According to the most recent Census of Agriculture (in 2007), there were approximately 200,000 bison in the U.S., with more than 25 percent of them in North and South Dakota.
Bison roam freely for most of their lives and are fed grass or hay, making the meat tender like beef according to the USDA.
But how nutritious is it?
In general, bison has approximately 30 percent more protein and 30 percent less fat than beef. Bison also offers an excellent amount of iron, zinc and certain B vitamins, including vitamin B 12 and niacin. Since it's illegal to give bison antibiotics and growth hormones, it's always an all-natural protein source, according to KivaSun Foods.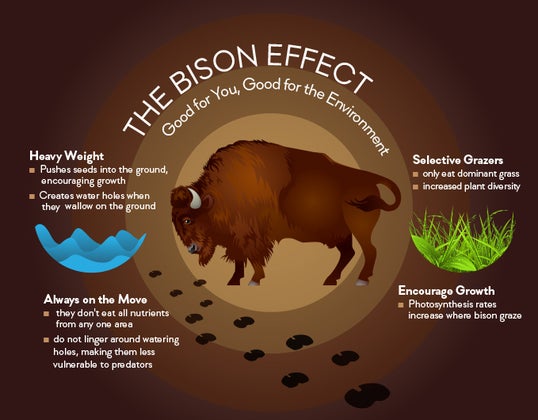 How can I eat bison at home?
As a runner, protein-packed snacks and dishes are a must in a healthy diet. It helps build and repair muscles while boosting energy. KivsSun Jerkey uses the best cuts to provide top-quality meat that's loaded with nutrients and flavor. Toss a bag in your purse, desk drawer or gym bag to gain all the nutritional value that bison offers in a quick, on-the-go snack form. Similar, EPIC Bar offers various meat bars that are individually packed, including bison.
Here's a recipe to try for dinner: Bison Slow Cooker Pot Roast
Prep: 50 Minutes
Cook Time: 7.5 Hours
Serving: 8
Ingredients
2 lb. bison pot roast, fresh or fully thawed
1/3 cup flour
2 tbsp. chopped or granulated garlic
1 tsp. coarse sea salt
1 tsp. coarse ground pepper
1/3 cup vegetable oil
I diced large onion
3 medium carrots, diced
3 stalks of celery, diced
1 tbsp. tomato paste
2.5 cups of beef stock or…
1.5 cups of beef stock and one cup of dry red wine
Directions
1. Place pot roast in a large zip lock bag with flour, garlic, salt and pepper. Shake well to coat and allow to rest for 10 minutes.
2. Place a heavy bottomed pan on the stove and preheat for 10 minutes on medium low.
3. Add vegetable oil and brown the roast well on the first side for 7 minutes and the second side for 5 minutes. Remove and set aside on a platter.
4. Add onions to same skillet and sauté until soft and clear, about 9 minutes. Add carrots and celery and cook for an additional 11 minutes. For best flavor the vegetables should caramelize.
5. Add one heaping tablespoon of tomato paste and continue to sauté an additional 2 minutes.
6. Add beef stock or stock/wine mixture. Return roast to pan, bring liquid to a boil and immediately reduce to a simmer.
7. Cover and cook on lowest stove top setting for 7 hours or…
Set oven temp to 180°F and cook in covered heavy casserole for 8 hours OR…
Transfer to slow cooker and cook on low for 8 hours.
10. When the meat is fork tender, remove roast and let rest for 10 minutes before slicing and serving with gravy and vegetables.
Recipe courtesy from The Bison Council