8 Steps To Developing Fool-Proof Healthy Habits
These steps will help you succeed in forming new healthy habits.
Heading out the door? Read this article on the new Outside+ app available now on iOS devices for members! Download the app.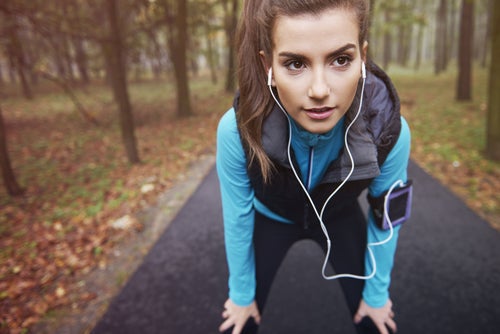 Humans all have one thing in common that impacts our characteristics and behavior: habit. Our habits are the things that automatically remind us to brush our teeth in the morning, or grab a cup of coffee when we get to the office, but some of them don't make us happier or healthier. If you want to achieve the most important goals in your life, then you'll need to learn how to step away from your comfort zone and overcome resistance to change by building new habits into your repertoire.
Good habits are the things that fuel the majority of positive changes in our lives. From helping us to take part in more physical activity, to ensuring that you opt for the healthier option at lunch, they give you the drive you need to change your life for the better. However, just as bad habits strengthen over time, choosing and developing good habits is a practice that will require dedication, time and a great deal of personal effort.
Being healthy shouldn't feel like a chore, and establishing habits can make great behaviors seem more natural in your daily life. We'll address the most important steps you'll encounter on your journey towards a lifestyle filled with good habits that work to improve your health, wellbeing, and happiness.
Step 1: Get your life in order
Although the idea that "there's no better time than the present" may form the motivation for most habit-forming efforts, the truth is that you only have so much willpower. If you're stressed, dealing with a personal problem, or attempting to make a change in your life elsewhere, then you'll find it much harder to focus on developing a good habit. According to Psychology Today, you should start forming new habits when you're in the right frame of mind.
Step 2: Decide what you want to achieve and take small steps toward it
Good habits come in many different forms. For instance, some people try to increase their physical activity by committing to visiting the gym once a week. Other people want to lose weight, or change their eating habits.
Forming good habits is no simple feat—after all, they're a deeply ingrained part of your behavior. Starting up a good habit takes a lot of conditioning and work before it will become automatic, and trying to achieve too much at once is probably going to set you up for failure. Instead of trying to achieve your primary goal straight away, take things one step at a time. For example, if you want to quit smoking, it's usually better to cut down on cigarettes one by one, rather than trying to remove them from your life completely.
Step 3: Find out what motivates you
Once you've decided on your goal, and the first steps you're going to take towards reaching it, you'll need to find the motivation required to keep pursuing that goal—regardless of hurdles that you might encounter along the way. Good motivation can be the difference between achieving something incredible, and visiting the gym a couple of times in the new year, before ignoring your exercise resolution completely.
Think about the benefits you stand to experience in forming your new habit, and the ways in which it may be able to improve your life. Once you've figured out your source of motivation, write it down, print out pictures and keep it close for whenever you need a boost.
Step 4: Hold yourself accountable
Too many people regard the creation of good habits to be a solo feat, but the truth is that having an accountability partner, or team behind you is one of the best hacks you can use for making a positive life change stick. As social creatures, we need constant reinforcement from people around us. Telling friends and family about our goals can deliver that crucial support.
Having someone else be aware of your ambitions means that you'll have someone (other than yourself) to be accountable to. For example, you can encourage your friends to check on you once a week to see how your goals are coming along, and what kind of progress you've made.
Step 5: Trick your mind with triggers
Having trouble remembering to stick to your goal? A trigger may be able to help. Triggers are rituals that take place right before you execute your chosen habit. In other words, getting out of bed earlier could mean setting an alarm and drinking a glass of water at the same time every day. Organizing your workout clothes on the bed before you head off to work will act as a visual trigger to remind you to hit the gym when you get home.
By training your brain to consider your new habit every time you encounter your chosen trigger, you'll heighten your chance of making your new practice permanent.
Step 6: Show constant commitment
There's a long-standing myth that habits take an average of 21 days to form, but evidence suggests that this isn't always the case. Depending on your personality, the habit you're trying to form and the outside factors that might get in the way, establishing a good habit can take much longer. Turning good behavior into an automatic activity is something that can take months to achieve.
Rather than counting down the days until your chosen habit ingrains into your personality, accept the fact that you're going to have to show constant commitment and hard work to making your goal a reality—no matter how long it takes.
Step 7: Don't give yourself a hard time
In the process of developing a new habit, you'll be sure to face some obstacles along the way. Understanding that everything won't be smooth-sailing could help you to overcome sudden issues and keep working towards your chosen goal.
Remember even if you stumble along the way to success, or make a couple of mistakes, this doesn't mean that you've failed. Beating yourself up over the occasional hiccup will make it harder for you to try again, so try to focus on positivity instead.
Step 8: Know when to celebrate
Finally, keep in mind that part of motivating yourself towards a goal means recognizing your successes, as well as your failures. If you accomplish a major milestone on your way to a new habit, try to reward yourself in a way that's simple and healthy. After all, you don't want to undo your hard work.
To keep on top of when you should be celebrating, keep track of your progress. Studies have shown that reflecting on prior victories helps us to stay determined and focused on our goals.
Dr. Kymm Ballard is the Executive Director for SPARK, a division of School Specialty, Inc. Kymm is the former Physical Education, Athletics and Sports Medicine Consultant with the North Carolina Department of Public Instruction. Her professional experiences include service for more than a decade as a physical education teacher, several years as an administrator and the co-developer of North Carolina's first high school demonstration school. Kymm's direct service to children influences her work at the national level today. She wrote, advocated for and promoted the Healthy Active Children Policy of the NC State Board of Education and the state's Standards for Physical Education.