6 Easy Ways To Have A Healthy Lifestyle While In College
The transition to college is a bit challenging, but that doesn't mean you can't maintain a healthy lifestyle as you adjust.
Heading out the door? Read this article on the new Outside+ app available now on iOS devices for members! Download the app.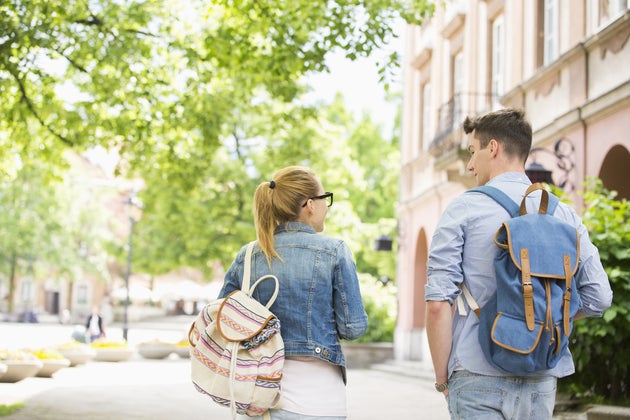 Starting college is a big transition. All of the sudden it's up to you to take care of yourself, make new friends, find a new routine and keep up with your classes. It's no wonder the freshman 15 is such a dreaded side effect of starting college.
Luckily, there are some super easy ways to stay healthy during your college years so you can focus on school and on having fun. Try these six tips as you begin your college journey for a healthier and happier year:
Find a Gym/Running Buddy
At school, you'll probably have a rec center open to you. Take advantage of it! Make it a point to exercise a few times a week. If you find a workout buddy, you can keep each other committed—and it'll give you both a better chance of actually sticking to a gym schedule. Also, going for a daily run is a great way to explore your new campus!
Get Enough Zzz's
In college, it's tempting to stay up all night with the people in your dorm or to go out late partying. However, with a new schedule to get your body used to and new demands college puts on your body and your mind, getting enough sleep is really important. Aim for six to eight hours a night at least, especially during the weekdays.
RELATED: The Perks Of Graduating College As A Runner
If possible, go to bed and wake up at the same time each day to get your body on a sleep schedule. If you miss a lot of sleep, take naps when you can. One great thing about college is the amount of time you'll likely have between classes and other obligations. Spend a little time catching up on sleep if you need to.
Know the Effects of Alcohol
As you navigate the college world, you'll probably come across alcohol and maybe even some dreaded peer pressure. It might shock you at first just how much some college students drink. Before you grab a beer, however, educate yourself of the dangers of alcohol—and especially binge drinking. Also, alcohol can lead to long-term health problems such as weight gain and certain cancers, and don't forget the legal repercussions if you are underage. As a former college student, my advice to you is to do yourself (and your health) a favor, and sip on something that is beneficial to your mind and body, and won't get you in loads of trouble.
Don't Smoke
It's no secret that smoking leads to all kinds of health problems. You might be pressured to smoke more in college, but do your best to stay away from cigarettes. A third of college students use tobacco products and put themselves at risk for diseases and health problems. Don't be one of them!
Pack Healthy Snacks
Grabbing a snack on your way to class? Instead of reaching for the chips or candy, choose a granola bar or a piece of fruit. Eating large amounts of junk food and not sticking to a regular eating schedule is one of the major reasons why people end up gaining weight in college. Try to choose healthier foods whenever you can and save the junk food for movie night.
Avoid Stress (As much as you can)
Obviously, college might get stressful. There are some ways you can combat this stress, though, so it doesn't catch up with you and take a toll on your health.
Keep a planner to write down important dates and assignments, so you always know what's coming up. Additionally, be sure to schedule a few hours each week to spend in the library studying, even if you don't have any homework—finals creep up quickly.
RELATED: 7 College Tips For Ditching The "Freshman 15"
Just don't forget to have fun, too! Participate in campus activities with friends or plan a shopping day with your roommate. Balancing school and social life might get tough, but it's one of the best ways to curb stress and stay healthy in the long run.
College is a big adjustment, but these tips can help you stay healthy, which will give you the best college experience you can have. Nobody wants to spend their freshman year in bed because they got the flu. It's important to take care of yourself!
Corinne Keating is a health and wellness writer and enthusiast. She loves a good run, a good book, and writing for her blog, Why So Well.