5 Mental Tips To Run Your Best Marathon
Dorothy shares 5 important ways to focus your mind during 26.2.
Heading out the door? Read this article on the new Outside+ app available now on iOS devices for members! Download the app.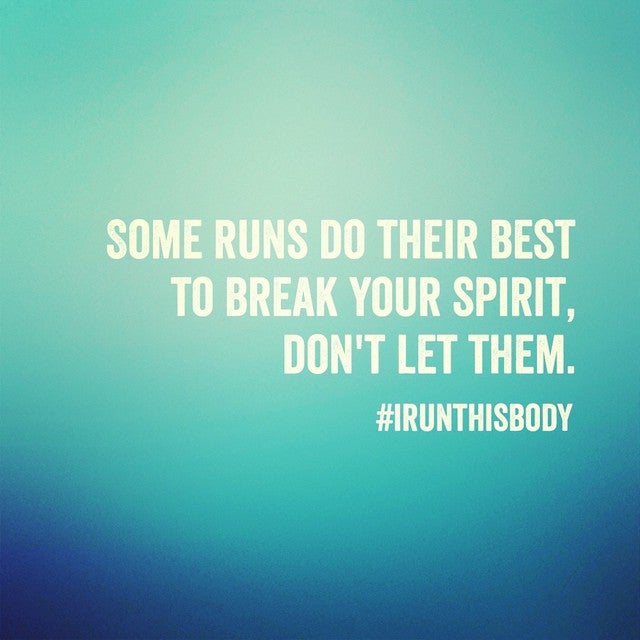 I believe in the power of the mind. The marathon can be one long mind game. You have to put in the work, do the training, and plan for the day. Having a strong mind when your body starts to feel weak can benefit you greatly as you run your way through 26.2 miles.  Make your mind run your body.
Here are 5 mind tricks that help me during the marathon:
Patience.

Repeat this word over and over to yourself in the beginning miles. Your mind needs to control your legs. Don't let adrenaline or the crowds get the best of you. A marathon is not won in the first miles, but it can be lost there. Patience, patience, patience.

If someone asks you how you feel, answer fantastic.

I believe that when you tell someone out loud that you feel miserable or want to quit, you give yourself a little mental out. Your body and mind both want to give up and so part of you does. Convince your mind that you feel good. You may just pull yourself out of a low point. The marathon is filled with plenty of ups and downs. One minute you feel great, the next you feel like you can't take another step. Then only 10 minutes later you can feel great again. Accept this as a normal part of the marathon process. Never let your mind believe that you feel anything other than fantastic.

If something hurts, like your foot, think about something that doesn't, like your arm.

Focusing on the pain is likely going to make it feel more intense. Purposefully focus on another body part that does not hurt to get your mind off of what does. You may notice that soon enough you forget all about those tight quads.

Smile and talk to yourself.

Don't underestimate the power of positive self talk during a marathon. Think about the words you use carefully. For instance, instead of saying I hope I do well today, change that to I KNOW I will do well today because I am prepared. While talking to yourself in your head, take time to smile. It loosens up the stress in your face and may make you feel happier overall.

Remind yourself that this painful moment will soon be a distant memory.

Try taking yourself to another place during the hard final miles of a marathon. You may be in a painful tough moment. But this moment will pass and it will just be a memory. If this is hard for you to do, focus only on the minute you are in. Don't do mental math with your mileage or time. Just focus on getting from one moment to the next. The marathon moment is temporary. The memory of getting to the finish line feeling good will last a life time.
What mental tricks do you use during the marathon? Tweet @mileposts and @womensrunning to share you tips.