5 Important Signs It's Time For A Gut Check—Literally
Sometimes the solution to many runner ailments is switching the stuff you're putting into your body.
Heading out the door? Read this article on the new Outside+ app available now on iOS devices for members! Download the app.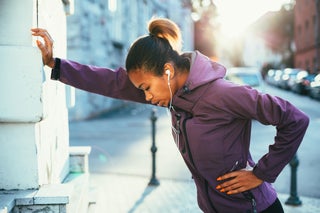 It's a fact—log enough miles, the occasional sour stomach is going to happen. Exertion, timing and size of meals and hydration all affect how you feel and perform. Thus why it's imperative to experiment with race-day hydration and fueling during training. But if GI distress becomes your new normal, it's time to take a closer look at what's amiss.
When her racing results started to lag as her injuries increased, professional triathlete, author and sports nutritionist Pip Taylor eventually realized food intolerances were to blame. She first eliminated gluten, then got serious about discovering the ways other foods could affect her performance.
Sometimes thought to be markers of a challenging workout, bloating, diarrhea and cravings can all be caused by the food you eat. Given the warm temperatures, you also may have noticed that adding hot weather, sun exposure and dehydration to the mix can make food intolerance reactions feel even more acute.
Related: What The Majority Of Runners Suffer From
Taylor, a mother of two, has authored a book, The Athlete's Fix ($25, velopress.com) to share the lessons she learned on her healthy-eating journey. The book helps others create their own unique eating plan customized for peak performance and improved health.
Questioning your gut? Here's Taylor's top-5 red flags that you should dive deeper into your diet:
1. Ongoing discomfort. It's common for people to have some sort of issue they just accept as "normal." Gut pain or bloating, skin issues, frequent headaches, frequent illness or infections, poor sleep–any of these might be either caused or exacerbated by a specific food intolerance. Don't accept discomfort as being 'normal' or something you have to put up with just because you have learned to live with it! It goes without saying though that other conditions need to be ruled out before diet is explored.
2. Cravings for particular foods. This can be tricky and a kicker for people looking to eliminate intolerances because sometimes the very foods they love and feel they simply can't live without might in fact be the ones they are most sensitive to. Certain foods can set off a release of histamine and a cycle of feeling great, followed by a crash. Of course the "feeling great" part is what we remember and associate with a particular food, rather than the crash, and the only way to get that "high" again is to eat more of that particular food. This cycle of ups, downs and strong cravings can be a sign you need to re-evaluate what you are eating.
Related: 6 Tips For Navigating Gluten-Free Diet At Airports
3. Performance plateaus. For the athlete this might mean poor recovery, lack of motivation or drive, unexpected changes to body composition, poor strength building or training adaptation despite training loads, or simply that they are not seeing the results they would expect given their fitness and training regimen. Of course there are many factors that go into performance. Diet cannot be blamed for every factor, but what we eat is so fundamental to each and every reaction, hormonal response and body system that it can be hard to completely separate them. At the very least it's always worth examining your diet and seeing if there can be improvements.
4. Surprises. Intolerances or sensitivities to foods can appear at any age and stage of life. Any new symptoms that pop up, even if you can't pinpoint them as being directly related to any one food, may be a sign that diet needs to be assessed. For women, changing levels of hormones can mean that certain stages of life are more likely to develop a sensitivity–whether that is adolescence, during or after pregnancy or throughout menopause. Of course you always need to make sure symptoms aren't related to a more serious medical problem.
5. Frequent illness, injury, poor recovery and poor sleep. All of these might be an indicator that you are not getting what you need from your diet or that what you are eating might be setting you up for increased levels of inflammation. Being systematic in your approach to figuring out which foods are best suited to your health and performance can help you feel better across the board.
In The Athlete's Fix, registered dietitian Pip Taylor will help you find your problem foods—and the foods that make you feel and perform your best. The Athlete's Fix offers a sensible, three-step program to identify your food intolerances and develop your own customized clean diet that will support better health and performance.
[velopress cta="Shop now" align="center" title="Buy the Book"]