13 Things You Should Always Bring With You To A Marathon
Worried you are missing something on your marathon packing list? Add these 13 things from our veteran marathoner Mile Posts.
Heading out the door? Read this article on the new Outside+ app available now on iOS devices for members! Download the app.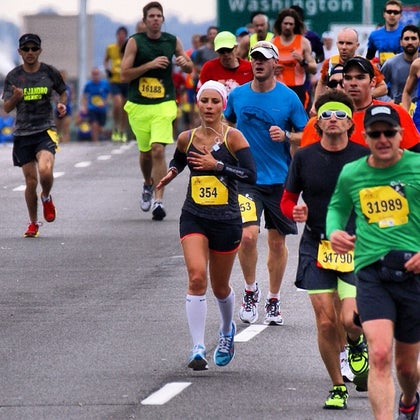 After years of racing marathons, here is my go-to list of what to pack to bring to a marathon. In my humble opinion, one can never be too prepared!
Roll of toilet paper. Whenever I say to bring toilet paper, people laugh at me. I brought a roll with me to Hood to Coast the first year I ran it and all my van-mates laughed. They weren't laughing, however, when everyone had to go in middle of the night, and it seemed like every honey bucket we went to use was out of TP. I became their best friend! There are so many variables in the marathon you can't control. I like to control whatever I can. Having TP just in case has saved me many times.
Trash bags. I always bring a couple of trash bags with me to the start. Often times I arrive SUPER early and want to sit or lie down while waiting for a normal hour to arrive. I bring extras with me because I'm usually the only one that has them and invariably someone will ask me if I have an extra. Even if it didn't rain, the grass may be wet from the morning dew or you have to sit down in dirt. Trash bags keep you dry.
Blanket. Lay your blanket down over your trash bags for a comfortable resting spot before the race. If it's extra cold, the blanket can keep you warm. Blankets can also be used to hide if you need to change or if you are a nursing mom who needs to pump before a race.
Extra water. Bring a bottle of water that isn't the one you are going to use during the race. It's not fun when you drink all of the water you were going to carry during the race and have to go hunt to find more. If this bottle is a throw away bottle, you can take it with you to the race start and take your final sips right before the gun goes off.
Extra clothes that you plan on tossing. I like to stay warm right until the race starts. If you check a bag and have to take off all of the extra layers before the race, you will be shivering at the start if it's chilly. Most races collect discarded clothing and donate them. I have a box in my basement that is filled with old t-shirts, sweatshirts, pants, scarves, throw away gloves, etc. I save them so when race time comes around, I'm not searching and I don't have to head to Walmart to buy cheap clothes to throw away.
Extra snacks. You probably will have already eaten breakfast before you get to the start of the race. (I try to eat mine 4 hours before the start. This mean at times I'm actually still in bed. I just roll over and eat something before sleeping a tiny bit longer). You never know when you might feel hungry before the race. I don't know about you but when I'm hungry, my mind can think of nothing else, except how hungry I am. I don't want to think for 26.2 miles about how I wish I had brought an extra bar to snack on before the race.
Sandwich bag for your cell phone. A sandwich bag protects your phone if something in your bag starts to leak. Just because you didn't put anything in your bag that won't spill also doesn't mean someone else didn't. It's not fun finishing a marathon, getting your checked bag, and realizing that all your clothes are wet and your cell phone isn't working.
Gallon ziplock bags. Along the lines of your cell phone getting wet, no one wants to pack dry clothes for post race and realize that their clothes are damp. Put your after the race outfit in a gallon ziplock bag. Also note if these clothes are different from the ones you plan on tossing. You don't want to accidentally wear your post-race sweatshirt to the start because it's cold, toss it during the race, and realize that the heat sheet they give you at the finish doesn't really keep you that warm for that long. Packing extra items, such as sweatshirts, will keep your teeth from chattering after the finish.
Money. If you are carrying a handheld water bottle or are wearing shorts that have a little zipper pocket, stash $5 or $10. If you can't find who you are meeting post race and didn't check a cell phone, it comes in handy to have a little extra money in case you need to pay for a phone—yes I know there aren't many pay phones out there anymore. But remember, control what you can control. It also comes in handy if you pass a coffee place post-race but didn't want to check money in your race bag.
RoadID. It's always important to have some sort of identification on you. It's also important to think ahead when selecting your emergency contact numbers. The numbers should be for people that medical personnel can get a hold of in an emergency. There is plenty of space on the back of your race bib where you can add identifying information, but most of us have never filled it out, thinking that nothing is going to happen. I've ended up in a medical tent before. I was wearing my RoadID, which was a helpful way to tell medical officials that I had no know drug allergies but not so helpful on the phone numbers. I put down my husband's cell but he doesn't bring it in to work and the race was on a 

Monday

. My mom's cell was also on it, and she happened to be running the same race as me.
Music. Even if you aren't wearing headphones in the race, it's nice to listen to something calming before the race start. Then you can get in your own zone and not worry about everything else going on around you. I highly also recommend running a marathon without music—even if you only do it once. It's a very different race experience than when listening to music.
Safety pins. I always bring some extras because you never know when one might break. Or it turns out that you got 2 instead of 4 in your race bag. Be prepared!
Body Glide & Sunscreen. I can't stress enough the importance of sunscreen during a marathon, even overcast, cool ones. Most of us are running for 3+ hours, and that is a long time to be in the sun. Save yourself some pain later by putting sunscreen on. Ditto on saving yourself some pain later by using Body Glide. The shower after my first marathon was excruciating. My sports bra had left marks. I looked as if I was still wearing it. It was that bad. I still have some remaining scars from that race over 10 years later. Better to lube up and be safe than find out later that 26.2 miles is a long way to go without some sort of chafe cream.