The Biggest Mistake People Make When It Comes To Fitness Trackers
What features should you be looking for in a wearable? One expert breaks it down.
Heading out the door? Read this article on the new Outside+ app available now on iOS devices for members! Download the app.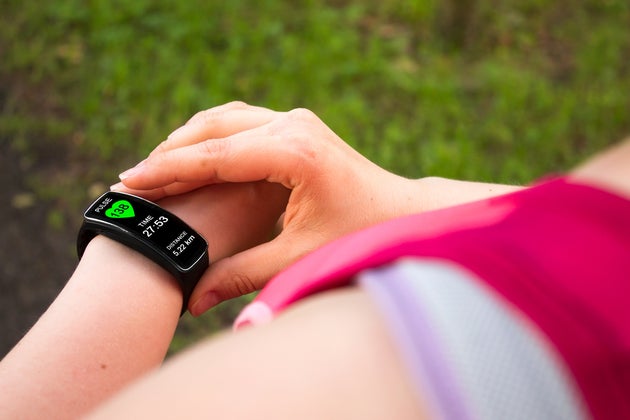 The world of fitness is becoming inundated with technology. This isn't necessarily a bad thing, because it gives you the opportunity to know much more about your body than any of us ever could before. This intimate knowledge allows you to get even more out of your training—and your day in general.
However, with so many options in the market, it can be hard to know what you actually need and what is just a marketing ploy. Dr. Steven LeBoeuf, President and Co-Founder of Valencell, Inc., is taking a lot of the guesswork out of how to choose the right wearable for you. He answered some of our questions about understanding metrics and getting the most out of your wearable.
What should you consider before purchasing a wearable?
The most important thing to consider before purchasing a wearable is to understand your goals and then choose a wearable that tracks metrics that are relevant to those goals. That may be obvious to some, but different wearables are good at different things. For example, if you are primarily interested in tracking how much you move every day, then a simple activity tracker like a Misfit or Jawbone will accomplish that need. However, if you are interested in more insights about how hard your body is actually working to accomplish your daily routine, you will need a more capable wearable that tracks can track things like heart rate, calories burned and/or stress levels.
What metrics really matter when it comes to using a wearable?
Again, it depends on your goals, but heart rate is a great metric to track because you can get so many different insights with heart rate, during exercise and throughout your daily life. Like any muscle, the heart and cardiovascular system grow stronger and more efficient with exercise, so as you get in better shape your body is able to produce the same amount of work for less beats from your heart. For example, if your average heart rate during a 3-mile run goes down over time (assuming the pace, elevation, etc. are roughly the same), that indicates your fitness level is improving. Similarly measuring resting heart rate over time gives you an indication of your fitness level—resting heart rate goes down as your fitness levels go up. Finally, measuring heart rate accurately enables wearable makers to provide even more insightful metrics, such as VO2 max, heart rate variability (HRV) and even blood pressure.
What is the biggest mistake people make when it comes to wearables?
Don't assume it's accurate. There are numerous devices on the market that don't measure steps, calories or heart rate accurately. The best way to avoid this mistake is to look for independent validation of the wearable you are considering buying, including validation from independent testing labs or university studies and also validation from people who have used the product and provided a product review on a site like Amazon.com or BestBuy.com.
How should people take the metrics they get and incorporate it into their everyday lives?
There are three primary categories of metrics that are important to incorporate into your everyday life:
Exercise—Whether this is measured in steps, miles, swimming laps, jumping jacks or anything else, track how much you are exercising on a daily/weekly/monthly basis. There are numerous wearables on the market that track all aspects of movement, activity and exercise.
Measure your heart—Start with measuring your resting heart rate every day before you get out of bed. This allows you to get consistent measurements at the same time of day, before you add food, caffeine and the general stresses of the day to your body that impacts resting heart rate. Using a wearable that tracks heart rate accurately makes this an easy process because you're either already wearing it to track sleep or you can easily put it on.
Track your calorie intake—Last but certainly not least is tracking how many calories you are taking in. This is important to understand how much energy you are putting in your body, compared to how much energy you are using. There are many different mobile apps out there that enable you to track calorie intake, such as MyFitnessPal, LoseIt and MyPlate.
Are there any wearables that you recommend for first-time users?
Studies have shown that if the device does not provide valuable insights over the long term, people tend to stop using the devices. And devices that only track steps and/or activity have trouble providing valuable insights over the long term, so start with a wearable that tracks heart rate among other things. Also, don't assume that a chest strap or wrist-band is the only place to measure heart rate. In fact, the ear is one of the best places on the body to track heart rate, so check out audio earbuds such as the Jabra Sport Pulse or SMS Audio's Biosport.
Read More On Wearables:
3 Reasons You Should Buy A Fitness Tracker And Not An Apple Watch
This Band Will Literally Change How You See Your Watch