Bring A Coach On Every Run With Lumo Run
Runners now have more coaching options with this innovative real-time feedback, all in one wearable (and washable) device.
Heading out the door? Read this article on the new Outside+ app available now on iOS devices for members! Download the app.
What if you could take your coach with you on every run? Now you can. Lumo Run, officially launched this past August, is the first wearable device to give runners critical form feedback during and after a run.
"No matter who you are, everyone can benefit from better form. It can help you meet your goals no matter what they are [and] give you the confidence to keep going," said Monisha Perkash, CEO and co-founder of Lumo Bodytech, when I recently spoke with her about why runners need one more run tracking device.
So far, Lumo Run has been met with rave reviews from elites and beginners alike. One of the reasons for the broad spectrum of praise is the simplicity of the models and the ease with which you can set up and begin using the device.
In fact, "simplicity" was the goal for Product Researcher and Designer, Dr. Rebecca Schultz. "You get the personal attention of a running coach with the professional data of a running lab, in the most seamless way."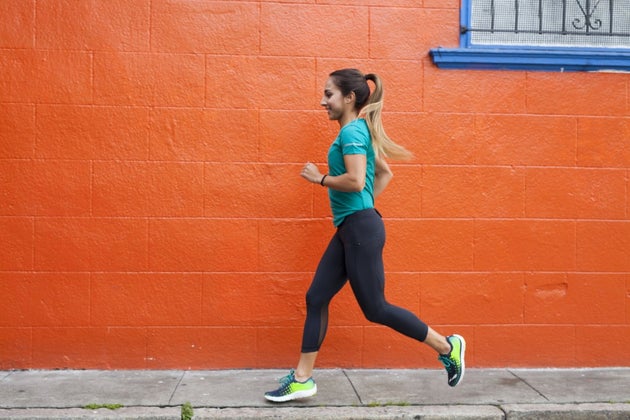 Full Analysis of Your Running Form
The five metrics Lumo Run coaching is based on are cadence (steps per minute), braking (change in forward velocity), bounce (vertical oscillation), pelvic rotation and pelvic drop (side to side drop). The Lumo Run website describes each in full detail, including why each is important and what the specific target goal is.
After your run, you can check the app to see how well you met the parameters for each metric. You are also provided with supplemental exercises to help correct problem areas. Three exercises are recommended for each "flawed" metric and include a description of how to perform the exercise, how it can positively impact the specific metric and a video demonstration.
It's fool proof.
Using The Wearable Lumo Run for the First Time
If you only want to see your running data post-run:
Step 1: Download the Lumo Run application and charge the device.
Step 2: Slide the clasp onto the back of your shorts or pants, somewhere close to the middle.
Step 3: Start running.
You don't even have to turn it on! The small device is so smart, it senses when you begin and starts collecting data.
If you want to receive feedback and form cues during your run:
Follow steps 1 and 2 above then…
Step 3: Turn on audio coaching in the app
Step 4: Take your phone with you on the run
Example of cues: For cadence "pretend you are running in hot lava to promote faster turnover."
Full disclosure: Currently the app is currently only available to iOS users but Android is quickly approaching (see version 2.0 below) and you technically need to do a 10 minute analysis run but I skipped this step and it seemed to not matter.
When you return from your run, all the data will sync to the app for your review. Metrics you met or exceeded will be in green and those that need improvement will be in yellow or red, depending on how much correction you may need.
You can also make notes, add emoji detail, and earn "personal records" for best performances to date.
Last but oh so very important—if you accidentally forget to remove the device and throw it into the washing machine with your running clothes, it will still work perfectly.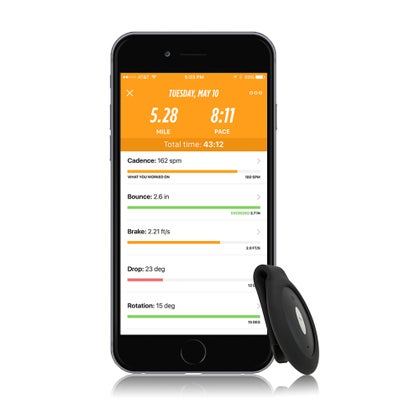 Coaches Corner
Although the creators of Lumo Run are runners themselves, they reached out to some of the best coaches in the industry to give incredibly helpful, honest and elite tested advice in the Lumo Run Coaches Corner.
This is one of my favorite perks of the Lumo Run device. There are featured articles from run coach superstars like Matt Fitzgerald, Matt Dixon and Bryan Heiderscheit. Perkash and Schultz expect to have monthly updates from their prestigious panel of coaches.
Lumo Run 2.0
As with any new technology there is a lot of room to improve and upgrade based on user feedback and ever changing interaction with smart phones. Some of the enhancements and partnerships you can expect in the near future are:
Android Compatibility
Partnership with Strava—Dashboard integration as well as GPS
10 Minute Workouts—Compatible with metrics that need improvement, complete with a built in timer so you don't have to keep looking at the clock or your watch.
Weekly Reports and Motivation—E-mails (not too many) are already a staple of the program but full status reports and reminders to get out and run are up next!
Bottom Line
Lumo Run is truly a device that every runner can benefit from having.
Beginners can correct form mistakes early on that would otherwise lead to injury or (much worse!) quitting running all together.
More advanced runners can fine tune their form or use it for new terrain (like trails!) or improvement when adding speed or hills, where form tends to break down.
Even elites are using Lumo to correct form as they increase speed, power and endurance.