Would You Use A Brain Stimulating Headset To Reduce Fatigue?
Halo Sport is a headset that is training your brain—not for mental training—but to help your neurons and muscles form stronger connections.
Heading out the door? Read this article on the new Outside+ app available now on iOS devices for members! Download the app.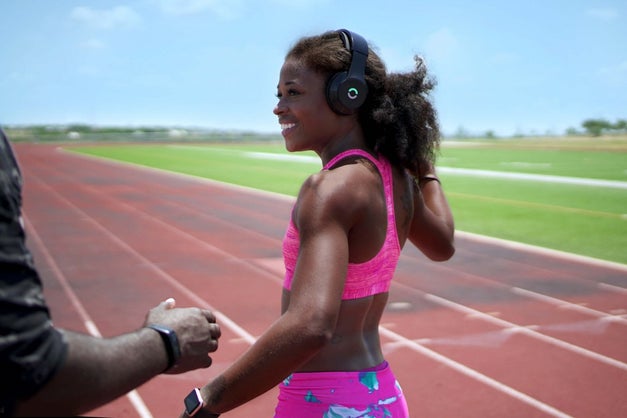 When you get tired in a race or during a long workout, it may just feel like your legs are tired. However, it turns out it is actually your brain that is signaling to your body it is fatigued. There's been research taking place for decades on neuroscience as it relates to movement and motor learning. Based on this research, one company in particular has created a neurostimulation device—Halo Sport—to train your brain in a new way.
"Halo's soft foam Primers, or electrodes, create a small electrical field in the brain. When paired with athletic training, this energy causes stronger, more synchronous connections to be formed between neurons and muscles," explains Dr. Brett Wingeier, CTO and cofounder of Halo Neuroscience. "We refer to this mechanism as Neuropriming. Specifically, Halo Sport targets the motor cortex, which is a key part of your brain that controls voluntary movement. This area is located across the top of your head, spanning from ear to ear."
Not to be confused with mental training, Halo Sport is actually working to strengthen neural pathways in the brain. When using the headset, the brain is placed in a state of hyperplasticity, or "hyperlearning," which Dr. Wingeier describes as "better, faster fine-tuning of your brain's neuronal connections." It is during this session that athletes can improve muscle endurance and memory.
Related: 6 Ways To Build Endurance and Increase Mileage
The Halo Sport system pairs with an app and each session lasts 20 minutes, to be worn during your pre-workout warmup. The hyperplasticity your brain is placed in lasts for about an hour after the session, so the team recommends that this is when you should focus on high-quality movements and high-intensity reps. Once the session is over, you can use the device as a normal set of headphones to play music through your workout.
Athletes such as USA Olympic sprinter Mike Rogers have been using the device, though it isn't just for elites. The team at Halo Sport says that anyone can use the device and see benefits.
"We created Halo Sport for elite athletes, but we have found that it really benefits anyone who performs physical tasks that require precision, explosiveness or strength," adds Dr. Wingeier. "Many musicians have enjoyed using Halo Sport and have experienced improvements in gaining 'muscle memory,' similar to the improvements athletes have experienced. The device we sell to consumers is the exact same device as the one we have tested in experiments with elite athletes."
Related: 3 Normal Things Elite Runners Do That Sound Weird
If you're worried about whether or not it is safe, the team not only did in-house testing but also has extensive third-party data surrounding brain stimulation, with over 2,000 articles covering over 60,000 sessions showing an excellent safety profile.
Because this device makes you a more efficient athlete, you are less likely to experience fatigue when performing at your highest level. Would you try the device—with a price tag of $749 (or $66/month with a payment plan)—to train your brain?