Why You Should Consider Shoes Made Exclusively For Women
There are actual benefits to getting shoes that aren't just a smaller version of a men's shoe.
Heading out the door? Read this article on the new Outside+ app available now on iOS devices for members! Download the app.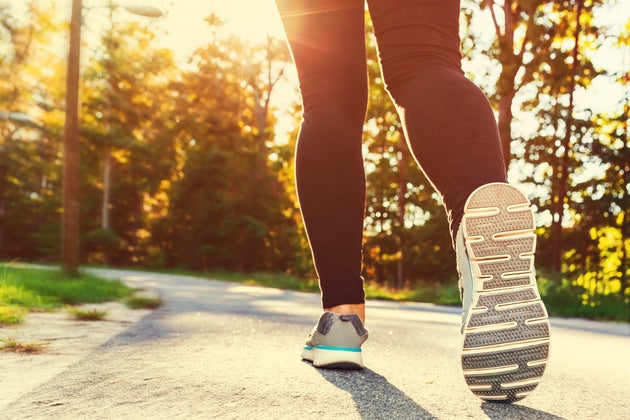 I have always been intrigued by the idea of women's-only shoe companies, so much so that I decided to put their shoes to the test.
Ryka, a company at the forefront of creating athletic gear exclusively for women, just released their Indigo Running Shoe, so I took a pair for a spin and was surprised to find that their shoes actually did seem to keep my feet more stable. The company then made me curious when I saw they offered walking shoes, as well. What is the difference between running and walking shoes? I wondered. A pair of Devotion Plus later and it was clear there was a difference in feel and performance. So how exactly, do they do it?
I talked to the team at Ryka to find out why they chose to focus on women's shoes (think: a knowledge of the unique needs of ultimate fit, function and fashion) and what the real difference is between different types of shoes.
How is a women's-only shoe different from a shoe for women by a brand that makes men/women versions?
A woman's foot shape, muscle movement and skeletal structure are all inherently different from a man's. By creating shoes on women-specific lasts, we're able to provide athletic shoes that take into account the unique shape and structure of a woman's foot. With a narrower heel, roomier forefoot, increased instep volume and a more secure foot bed, shoes designed just for women will provide better fit, comfort, cushioning and control than that of a smaller version of a men's shoe.
What is the different between your running and walking shoe?
While both the Indigo and Devotion Plus are designed for forward movement and momentum, they offer several key differences. The Indigo has 3D phantom support and a RE-ZORB® LITE midsole for lightweight stability and shock absorption, it features different durometer EVA and rubber for flexibility and durability and a broader imprint for traction. The Devotion Plus walking shoe features 2 layers of RE-ZORB® for a maximum cushioned ride. The rubber pods provide a little bit of instability, so that you get a work out while you walk.
Why should people only wear their shoes for the sport they are made for (i.e. don't wear running to cross-train or even run errands, etc.)?
The risk of injury increases when using a shoe for an activity other than what it was designed for. Different athletic shoes are designed to provide support, cushioning and stability for different movements and activities. For example, cross-training shoes are designed to provide stability when performing lateral movements and quick directional changes, while running shoes are designed to provide cushioning and traction while supporting forward movement and momentum.
Is there a specific running shoe that you think people should start with when trying out Ryka?
The Rykä Indigo features 3D print Phantom Support system on the mid and forefoot, providing support and stability without adding much weight. The breathable mesh will keep your feet cool and comfortable and the reflective heel detail will keep you visible at all times of the day. The midsole features full length RE-ZORB® LITE lightweight responsive cushioning to absorb impact. At $70, it's also a great value.
Read More:
This Runner Makes Activewear That Empowers Women
She Helped Make Athletic Apparel For Every Woman