Learn Your Running Shoe Lingo
Running footwear has its own special language. Our glossary can help you decipher what you need to know about each pair.
Heading out the door? Read this article on the new Outside+ app available now on iOS devices for members! Download the app.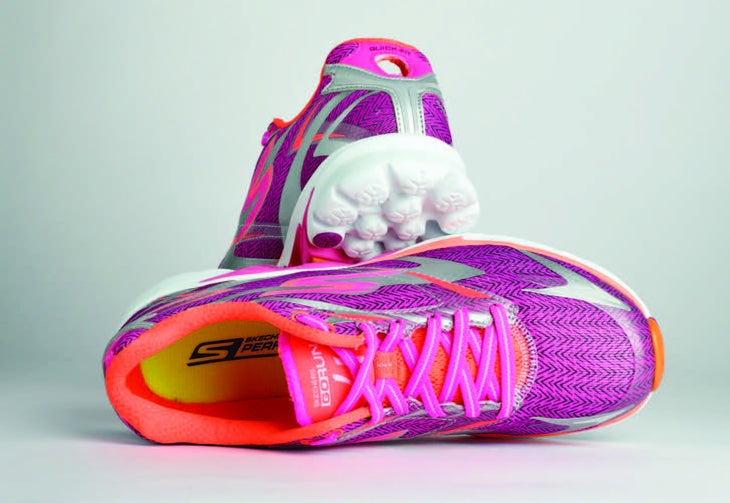 Running footwear has its own special language. This can be especially tricky when you are looking for your perfect pair. Our glossary can help you decipher what you need to know about each pair.
Drop (or stack height) refers to the difference in sole height from heel to toe. The variance occurs in the thickness of the midsole, which can go from no variance to being slightly raised at the heel and sloping down toward the toe. Traditional running shoes have a higher drop (around 10mm), while natural running shoes meant to mimic barefoot running often have a low or 0mm drop.
Midsole is the section of the shoe between the upper (the part that laces and wraps around your foot) and the outsole (the durable bottom part of the shoe that comes in contact with the road or trail). This is where the cushion happens! The midsole also houses corrective elements and rock plates, if included.
The toe box is the part of the upper that encloses your toes. Toe boxes used to be more on the narrow side of the spectrum, but are starting to be designed with more room, allowing tootsies to splay and grip for a more natural running stride (and happier toenails!).
Related: This Spring's Top 12 Running Shoes
Rock plates are your friends when it comes to running on rocky surfaces. They comprise a thin layer of a sturdy yet light and flexible material between the midsole and outsole to protect feet from feeling the full effect of sharp rocks and roots. Not all trail shoes have or need them. It depends upon your terrain of choice. Ask your local shoe salesperson for advice.
Neutral shoes let you run naturally, whatever that means for you. They don't have any control or support elements to interfere with your stride. That said, there is still a wide range of options with different uppers, drops, midsole thicknesses and treads, meaning you need to find what works for your feet.
Stability shoes help to correct under- or overpronation. Motion control and support elements, like firmer midsole material on the inside (medial) edge of stout heel cups or built-up rails on the outside (lateral) edge are added to the shoe depending upon its intended purpose.