5 Sneaky Design Tips To Help Improve Your Home Gym
If your home gym feels a bit more like a hole than a home, give these easy tricks a try to up the morale while you're on the treadmill.
Heading out the door? Read this article on the new Outside+ app available now on iOS devices for members! Download the app.
A home gym can definitely push you to achieve your workout goals—who doesn't love the idea of getting in a quick jog while you wait for dinner to cook? When it's that easy, your workouts will practically do themselves, right?
Related: What You Need To Know About Juicing At Home
In practice, however, a home workout space presents some design challenges that can weigh down your workouts—literally. A cramped, expensive or dim room doesn't exactly spur on a flurry of fitness, especially when it's relegated to a tiny, untended corner of your home. But unlike getting fit, there's an easy and quick solution here. Most home gym problems can be fixed through a few minor adjustments, which will put the spring back in your stride.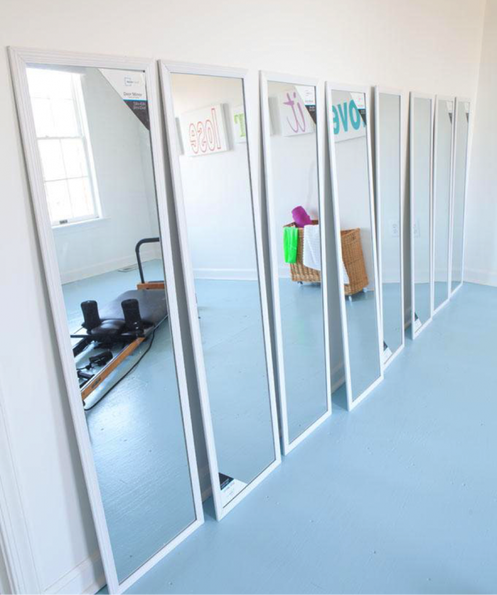 Via In My Own Style
The issue: Your gym space is tiny
Some of us have the space for a luxurious home gym complete with a full spa and whirlpool tub—and some of us live in the real world, where workout rooms are crammed into overfilled garages, basements, spare rooms and free corners. It's no fun to work out when you feel like the space is closing in on you. We may be living in the era of the tiny house, but a cramped, confined room doesn't exactly inspire you to soar to new fitness heights.
Design solution: Add a panel of mirrors
Conquer workout lethargy by installing a wall of floor-length mirrors, which adds dimension to a room and gives your gym a spacious feel. Plus, you'll be able to observe your form, whether you're running on the treadmill or practicing your handstands. Win-win!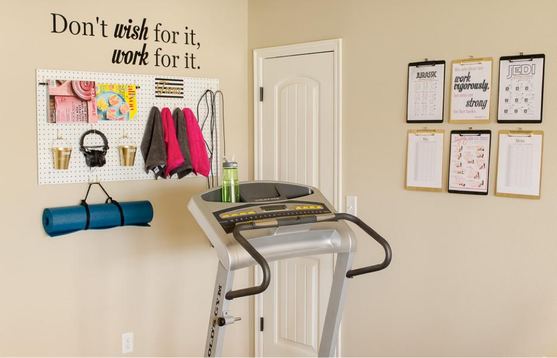 Via Polished Habitat
The issue: Your gym space is cluttered
If you haven't already heard, the verdict is in. Clutter is out—and that goes for your home gym too. Chaotic spaces pose enormous psychological consequences, overwhelming the senses and increasing anxiety. That's definitely not what you want in your gym, a place that's supposed to be your safe haven from the rest of life's stressors. Between yoga mats, towels, free weights and stability balls, however, it can be easy to succumb to the clutter and slack off on your workouts as a result.
Design solution: Vertical storage and portable equipment
The best way to solve a storage dilemma in a crowded space is to go vertical. A pegboard panel or open shelving unit gets your supplies off the ground and lets you get to them fast when you're feeling the urge to sweat. However, if your issue is that you have too much equipment stuffed into the area, try swapping out the heavy treadmill for a foldable exercise bike or portable elliptical that can be stashed in a closet when the workout is over.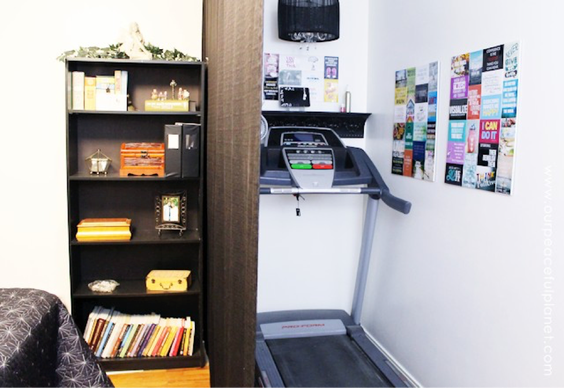 The issue: Your home gym needs to convert to a living space
With today's busy schedules, most of us are being asked to do more, and so the rooms in our homes have to follow suit. That means flexible spaces that can easily and conveniently host a wide variety of functions—and it also may mean practicing your sun salutations next to your office desk.
Design solution: Opt for a corner gym
The corner gym has sprung out of the philosophy that everyone should be able to have a home workout station, no matter how tiny. Successful treadmill nooks and exercise corners have dividers made from curtains or more permanent structures built from pallets and old glass doors that can offer privacy for your sweatier moments. Stick them in an office, living room or bedroom for a room that can do double duty.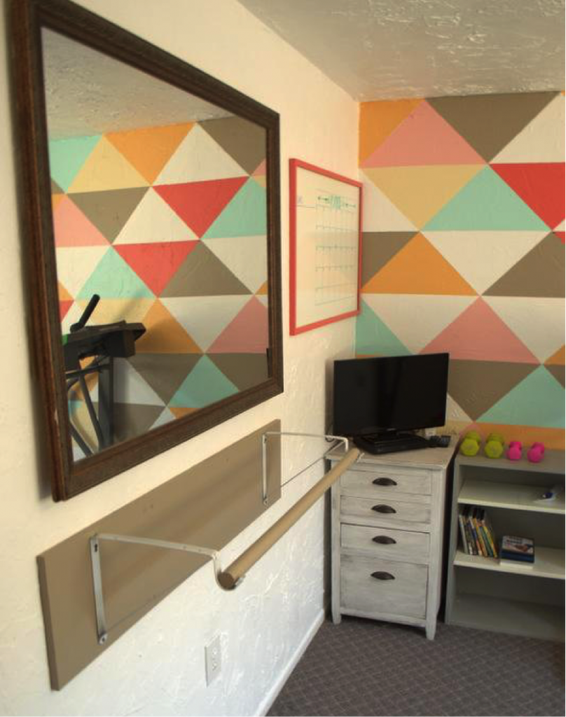 The issue: You can't afford expensive equipment
It can be seriously intimidating to think about working out when you're on a budget—gym memberships or at-home equipment costs can really add up—especially if you prefer to catch up on Netflix in between reps.
Design solution: DIY your own barre
Barre is a great, affordable workout solution that will earn you a long, lean dancer's body in return. And installing your own at home is cheaper than you'd think—plus you won't have to suffer the judgemental eyes of gym rats while you try to get your leg up that high. This tutorial will tell you everything you need to know to DIY your own from a towel and two closet brackets.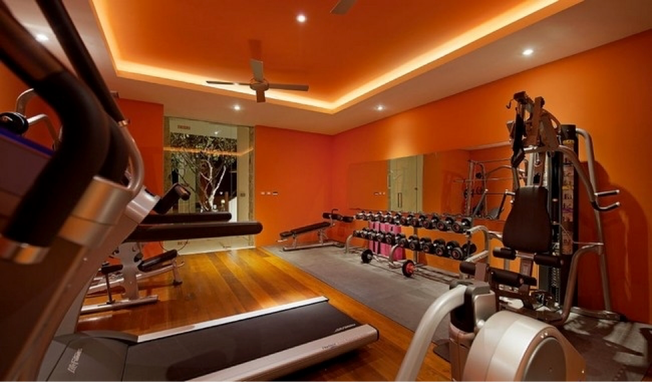 Via Modernize
The issue: Your gym doesn't inspire you
Don't exactly feel like sprinting to the treadmill? A dim, uninspiring gym space could be the culprit. Experts have found that bright light can make us more alert and active, so your energy levels throughout your workout could be highly affected by the amount of light in your gym space. Meanwhile, if your workout room is stark, bland, dingy or just not you, you won't want to spend much time there no how much light you have.
Design solution: Add some extra light and an inspirational wall
A gym doesn't need to be sterile. It should be personalized to your taste, just like any room in your home. Recessed lighting (or tap lights if you want a more immediate solution) and lamps with soft white bulbs will help get you moving, while a customized wall color that you find energizing will set the tone for your workouts. Some inspired DIYers even stencil a motivating message across their gym walls. It's all about what works for you—just like in your workouts, the sky's the limit!
Erin Vaughan is a blogger, gardener and aspiring homeowner.  She currently resides in Austin, TX where she writes full time for Modernize.com, with the goal of empowering homeowners with the expert guidance and educational tools they need to take on big home projects with confidence.