You Won't Believe What It's Like To Run In Tokyo
A runner's sightseeing trip to Japan is a feast for the mind, spirit and legs.
Heading out the door? Read this article on the new Outside+ app available now on iOS devices for members! Download the app.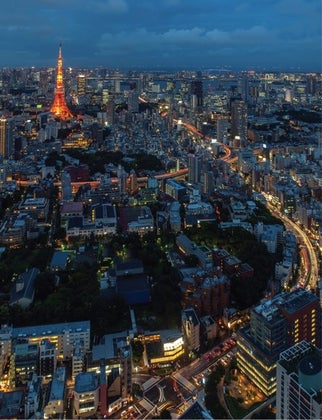 Gleaming high-rises and extensive public transportation easily navigable by a non-Japanese speaking tourist—check. Tranquil temple gardens with raked gravel walkways, prayer walls and fortune boxes—check. Teens dressed in Harajuku-style, lace-trimmed bobby socks and patent leather pumps walking side-by-side with women wearing ornate silk kimonos and wooden "geta" shoes—check. Tokyo 2015 is a measured balance of old-world traditions and cutting-edge modernizations imbued with a naively cheeky sense of humor and a burgeoning running culture.
The Sports Scene
A reverence for training and sportsmanship has been an essential part of Japan's history since ancient times. ASICS continued this trend in the 20th century when the brand launched in 1949 as Onitsuka Co. Ltd. The company was originally created to provide athletic shoes for schoolchildren in the wake of World War II and promote the importance of sport for health. At the time, however, sporting demonstrations, like marathons and distance running, were looked upon as an arena for elite athletes only.
In the Japan of today, running is a sport for everyone, with a diverse and loaded racing schedule to meet varied interests. Events like road marathons, trail ultras and fast-paced "ekiden" relays are equally popular for both participation and spectating.
As in any metro area, balancing work, commuting and a desire to run presents a challenge. But Tokyo and other cities in Japan now have an extensive network of independently owned running centers, where members or drop-in visitors go to join group runs, purchase gear, learn new running routes and enjoy a post-run bowl of miso soup—while enjoying access to locker rooms and showers. When I visited Tokyo last February to run the marathon, Joglis shop, located near the Imperial Palace, was a perfect spot to warm up after a chilly run and gain course insights about my upcoming race from locals.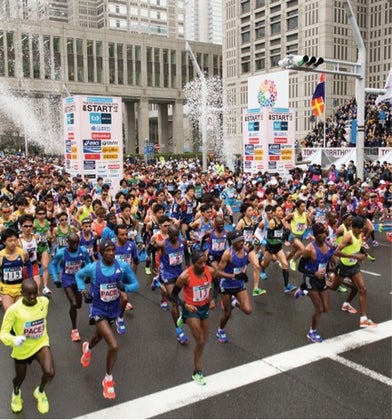 The Tokyo Marathon
Founded in 2007 by combining an elite marathon and a citizens' race, the Tokyo Marathon sparked a cultural running boom. With 36,000 runners covering 26.2 miles, there is no denying Tokyo is massive, but even if you've become jaded by big city races, the pageantry and spectator enthusiasm is inspiring. Dancers, drummers, a pristine setting (the only "trash" I saw was confetti shot from cannons at the race start), cultural nuances (race fuel included tomatoes, pickled plums and a spectator provided array of sweet treats) and the ability to sightsee on the run made it one of a kind. And all that was before I saw the elites pass by on one of the out-and-back sections! This was also the only big marathon I've run with free post-race acupuncture, warm footbaths and large locker rooms at the finish line.
Read More:
The Magic Of The Tokyo Marathon In 15 Photos
Wearable Tomato Debuts At Tokyo Marathon