How To Overcome Your Own Worst Case Scenarios
Worst case scenarios are possible to beat.
Heading out the door? Read this article on the new Outside+ app available now on iOS devices for members! Download the app.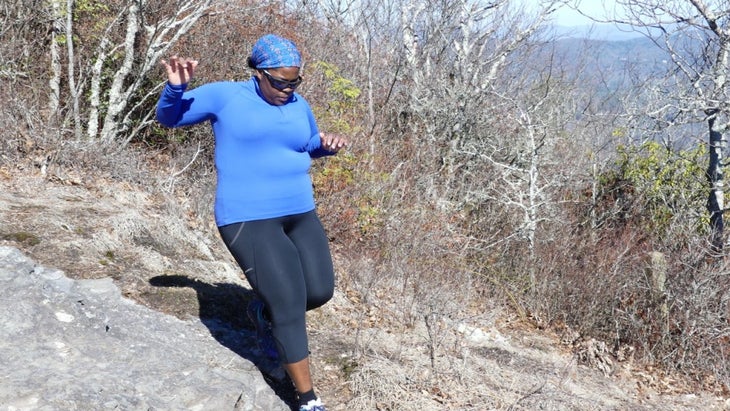 The Worst Case Scenarios Dilemma
Do you have fears holding you back from trying new things in your fitness? Like exploring a new trail or route, trying a group fitness class, or dappling in a new distance? Many of our fears are based in our own personal realities and experiences, and they are real fears that have merit. We may have had an experience that ended badly and don't want to risk re-traumatizing ourselves. We may have little or no experience, so that inspires in us a fear of the unknown: We're afraid of what might/might not happen. We're afraid of the worst-case scenario, and with that in mind, it's hard not to let that frame and determine our decisions.
But I'm going to challenge you to look deeply at and into your fears, particularly when it comes to those around running and fitness, and confront them—head on. I've had and continue to have deeply held fear (like getting struck by lightning while out on a run) and I grapple with this every time there is a cloud in the sky—cumulonimbus to be exact. But I run anyway, because if I allowed this fear of storms to take over my life, I wouldn't get any running done. So I have to enter this scenario with the idea that, yes, I could get struck by lightning–but it probably won't happen.
What if we approached challenges comfortable with the fact that we might fail, or the knowledge that yes, something unpleasant could happen—but in all likelihood it probably won't? So what's the worst that could happen? Here are some of my own personal worst-case scenarios that have actually happened.
What Happens If…
I don't finish and the sweep pulls me off the course? Been there, done that.
I sprain an ankle? Fractured actually.
I fall, hard? Every single time, usually over an imagined root.
I come in last? Many times.
I see a bear? Three to be exact.
People are watching me—and judging me? Some are, most aren't. This is the reality of simply existing and being around other human beings.
These things could have stopped me in my tracks—some did, literally—but after stopping and reassessing, I usually choose to keep forging ahead.
Injury
A few years ago while I was training for my first marathon, the Marine Corps Marathon, I did the North Face Endurance Challenge in Sterling, Va., as a training race. What do you imagine could be the worst possible thing to happen? Falling and injuring myself maybe, or drowning in the Potomac? Let's go with the first.
I didn't fall, but I did roll my ankle—and fractured it, as in an avulsion fracture where the tendon tears off a piece of the bone. (It's okay, you can grimace.) That put me out of training for two months.
Fortunately, there was a positive outcome. Through rehab and working with my personal trainer, who also happened to be a physical therapist, I was able to jump back into training stronger and smarter—and I finished my marathon!
Now, I could have never gone back to trail running—but what good would that have done? I continue to trail run now, fully knowing the risks of taking on uneven pathways strewn with rocks and roots. But I am also fully aware of the benefits and rewards, so I prefer to frame my thinking around the good things that come out of adventuring.
General Meanness And Real-Life Trolling
You might have read the piece I wrote a few months ago about the troll that called me a fake, fraudulent runner. Talk about a worst-case scenario, the ultimate meanness. This kind of thing might stop someone in their tracks and cause them to stop doing the thing they love. In the event that this meanness does occur and is aimed at you, what should you do? Stop running? Stop your life because someone hurled a nasty insult at you?
I realize that this is not always just a matter of having thick skin or not. People should just not be mean, right? Ah, if only it were that easy. The reality is that folks are going to be rude, especially behind a computer screen. It might be because of their own insecurities. It might be because they're simply evil people. It might be because they're working out their own issues. Or it could be because their intentions were the opposite of the actual impact of their words and actions. But still, what are we going to do when someone says you're too fat, too skinny, too weak, too tall, too short, too old too differently abled…to run?
Do you love running? Do you love moving your body in this way? Do you love loving yourself more than mean, irrelevant folks do? I hope so.
I challenge you to find a way to work out your own internalized negatively and the low expectations other people set on you. I challenge you to use these instances as motivation to keep doing what you love. It will happen, so expect it to happen and have a plan for when it does. Be ecstatic when it doesn't. And most importantly, run anyway and annoy the heck out of the folks that doubted you!
Wildlife
One early spring a couple of years ago, I started the Double Tap 50K race in the North Georgia Mountains. About 18 miles in, tired and dusty, I spotted two bears and confirmed that I had just passed their momma hiding under a low rock overhang.
What happened? I'm not going to lie: I freaked out. But after settling down, I realized the only thing I could do was remain calm and do everything I had learned to do when encountering black bears. As you can see, I'm still here.
When running in the woods in North Georgia or anywhere there is wildlife (which is basically any trail), you have to be prepared and expect to encounter fauna. And no, they are not always friendly. But seriously, what are the chances of you being attacked by a bear? Pretty slim. Be smart, be aware and don't be dumb. Problem solved. Get out there and run those trails!
Getting Lost
Having a plan and having prepared for possible "worst case scenarios" is the smart thing to do. Know that whatever those scenarios are probably won't happen, but you should have a plan anyway. Getting lost on a trail or even in a city you're unfamiliar with can be scary. To be surrounded by buildings you've never seen or to be shrouded by trees on an unmarked trail can be an anxiety-driven experience at first.
All of these things I discuss above can definitely happen. Totally a possibility. So bring a map. Memorize it. Carry your phone. Take precautions. Pay attention.
I know that many of us have the fear of getting lost especially. Often it is keeping us from venturing out on our own. There are real dangers associated with being a woman, but I think if we take precautions, or take a friend with us, we can ease ourselves into exploring and continuing to push the boundaries of what we love to do.
So will you let your fear of worst case scenarios stop you or allow you some perspective to actually start doing the thing that scares you? What will you do? Tweet @WomensRunning and @TheMirnavator to share how you handle these situations.
Related:
Stop Not Doing Things Because You're Afraid Of One Possible Outcome
How I'm Confronting My Fear Of Running Alone In The Woods