Why She's Running Scared But Still Running Strong
"There's a difference between being scared while you run and being too scared to run."
Heading out the door? Read this article on the new Outside+ app available now on iOS devices for members! Download the app.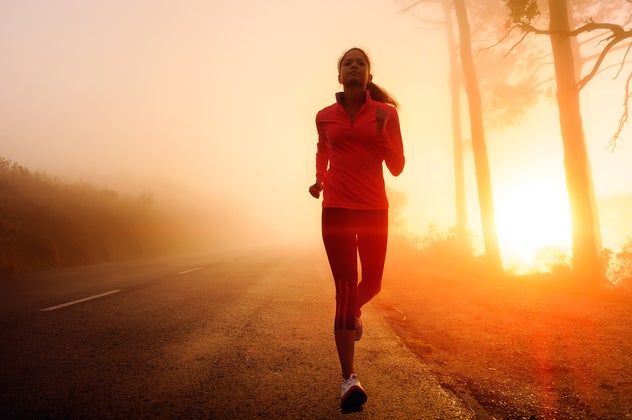 I used to lace up my sneakers thinking of the miles ahead and how much charge was left in my watch. Now I lace them up thinking of how many self-defense techniques I know and whether it's a safe enough time to go out. Now my running starts before I even step outside. I run through countless scenarios in my mind. I run through a list of rules I've made for myself. Sometimes I run from this hypothetical danger altogether, pulling off my shoes and placing them by the door, waiting for another day.
In case you didn't know, there's been a lot of news coverage lately about women going out to run and not making it back alive. I don't know how many, exactly, but I make it a point not to watch the news and there are three different cases that I'm aware of. I don't know the circumstances of their deaths, whether the victims knew their killers or were running in sketchy areas. All I know is that female runners have been killed recently and I am a female runner.
RELATED: 6 Important Safety Tips To Follow On Your Next Run
The First Story I Saw…
When the first story came out I purposely skipped over the article that popped up on my Facebook feed. The moment I saw the headline my stomach turned ice cold and I scrolled as quickly as I could, thinking that if I spared myself the details, I wouldn't really be affected by it. But word of mouth did its thing and soon enough there were more stories. Enough to make my father call me and tell me he didn't want me to run outside until everything died down. Enough for a friend of mine to tell me she was taking a hiatus for a couple of weeks. When tragedies happen, we don't want to let them change us or our routines, but this did change me. I think it changed a lot of runners to some degree.
I live in a quiet, nice town but now I feel the need to look over my shoulder every time I hear footsteps during my run. I scan the road for how many cars are passing by and how many people I can see ahead. Each person that I see simultaneously makes me feel more and less comforted, regardless of their physical appearance. Am I paranoid? Yes, more than most people I know. But part of me believes that the extra caution I take might someday save me.
It's the same reason I walk through a parking lot in broad daylight with keys woven through my knuckles. It's the same reason one of my best friends bought me pepper spray years ago, to take with me when I walked less than a mile home to my parents' house. It's the same reason I send a text message to those closest to me when I am leaving my house for a run, letting them know what time to expect me back, and how long after that to stat to worry.
…Was Not The First That's Existed
Were there women being killed on jogs before this? Of course. I'm not sure how many—the statistic would probably make me never want to leave my house—but there's no denying that seeing it in the media and hearing it talked about so often has made it seem like a much larger, more present issue. I know runners who shrug it off and runners who have sworn off the sport for a while, and I guess I'm stuck somewhere in the middle. There are mornings where I go out and just tell myself to stay aware, and then there are some where I make any excuse I can think of, telling myself that there's always tomorrow or the weekend, when I can run mid-afternoon and the roads won't be as empty or dim.
Sometimes it makes me angry. I don't like having another worry added to my daily routine. I don't like that I enjoy my miles significantly less now, because all I can think about is where the nearest escape route is, how much energy I have left, and whether I should slow my pace just in case I'll have to run further from an attacker later on. I don't like fearing for myself, my friends, and other women I don't even know just because people in the world are cruel and trying to stay in shape or reach a fitness goal now costs some women their lives.
What Now?
So what do we, as runners, do? How do we make it stop? Publicizing it seemingly only inspires and draws out those with sick minds, playing into their twisted desires to be known for something dark and unspeakable. Ignoring it is an option, but it just doesn't feel like the smartest one to me. Giving up running is, I guess, another. And for some people maybe it's the best choice.
For me, though, it doesn't feel like a choice at all. When coming back from a serious injury earlier this year I promised myself that nothing would stop me from reaching my running goals and enjoying what I had missed out on for so long. No one has the right to take what I love away from me, and I don't intend to let this be the exception.
So I take extra precautions, and I pester my peers to do the same. I alternate my running times and routes. I keep at least one person informed about where I am and when I'll be back each time I go out. Sometimes I drive to towns or areas that I know are more populated and safe than where I'd originally planned to go. But I don't stop running. I will not stop.
RELATED: Why One Runner Is Now Afraid Of The Dark During Early Runs
There's a difference between being scared while you run and being too scared to run. I have never let fear stop me from doing anything; instead, I've adapted my methods and carved an alternate path to success. I think that is how we move forward from this, at least for now. And just like the tiredness and fatigue that we often feel when starting to get in shape, I hope this fear and danger will fade over time.
I hope the stories will die down and, though we should not forget the victims, we don't feel as threatened when we think of them in the future. I hope we all can take this as a reminder to be safe and aware of our surroundings, if we weren't already, and that when we finally cross that finish line or hit that PR, it feels that much sweeter knowing that we made it.