Which Is Better: Watching A Race From The Sofa Or Sidelines?
It's a hotly contested debate, for sure.
Heading out the door? Read this article on the new Outside+ app available now on iOS devices for members! Download the app.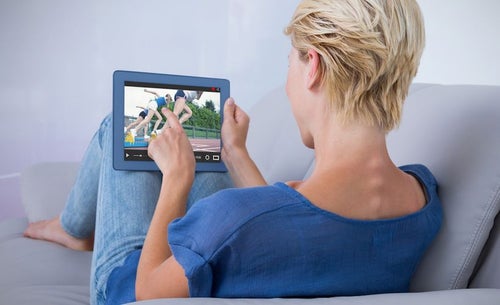 I recently got into a spirited debate about which is preferable when spectating the Boston Marathon—actually being there or watching from home on television? Let's discuss the pros and cons of each.
Travel
Sofa: No matter where you live, you will not have to travel very far to find a comfortable seat and perfect view of the television. You may even be able to multitask while working (since it's a Monday) and viewing (since most of the time they're just running).
Sideline: Unless you live on the marathon course in the exact spot you want to watch from, you will have to plan ahead. Planes, trains and automobiles may all be involved, and if you want to see a particular runner (or runners) at multiple locations, you will need to map it all out ahead of time, taking road closures, the runner's pace and travel time into consideration. You can then hope that their wave started on time and they are running at their expected pace. What could possibly go wrong?
Advantage: Sofa
Costs
Sofa: Absolutely no costs are involved. Okay, maybe the cost of cable or internet—but you were probably already paying for that, anyway.
Sideline: According to Boston.com, spectators and runners are expected to drop about $192 million on Patriot's Day this year, with race, travel, food and merchandise expenses taken into account.
Advantage: Sofa
Crowd
Sofa: Since not too many people are interested or can have a Boston Marathon viewing party on a Monday morning, we're guessing crowds are not going to be a factor when you're watching from your sofa.
Sideline: According to MassLive.com, the 2017 Boston Marathon attracted one million spectators. Good luck with that. However, there is something to be said about being in the presence of the elites as they race by at incredible speeds, the humanity of 30,000 runners chasing their dreams and seeing someone you know realizing they are stronger than they thought as they cross the iconic finish line. It's absolutely priceless. And some of the signs are hilarious.
Advantage: Sideline
Coverage
Sofa: You are at the mercy of the commentators and camera crew, most of whom are mainly interested in the race leaders. There are commercial breaks and a lot of filler conversation—because how much can they really comment on until the elites are running their final miles? You have access to social media so you can see what other people are saying and join in on the conversation, but it can be lonely.
Sideline: Usually it's nonstop action! If you're lucky enough to catch a glimpse of the elites running by, you get a real sense for those sub-six-minute miles. And there is so much magic in watching the wave of nonstop runners, all of whom are chasing their dreams over 26.2 miles. As the first female Boston Marathon finisher, Kathrine Switzer famously said, "If you're losing faith in humanity, go watch a marathon!"
Advantage: Sideline
Food
Sofa: With a little planning, you can basically get anything you choose with no markup in pricing, and can sit in the comfort of your own home to enjoy it.
Sideline: There are so many options, but there are also massive crowds to fight, price increases and perhaps nowhere but the street to eat your purchases where it's hopefully not freezing or raining. However, you can dine on fresh Boston lobster, real Italian-made cannolis and there is only one city on Marathon Monday in which you can get a Sam Adams Boston 26.2 brew!
Advantage: Sideline
Aftermath
Sofa: Simply turn off the television and get back to work.
Sideline: It may take some time to find your runner and then more time to wade through the crowds and even more time to get home, depending on how far you have to travel, but you will still be glowing with the memories of all you have witnessed.
Advantage: Sideline
According to my calculations, both the sideline (+3) and sofa (+3) are great options. No matter how you get to watch the Boston Marathon this year, it offers hours of excitement, a potential for athletic drama and so many great stories.
Join the conversation on Marathon Monday with @WomensRunning on Twitter and follow our live coverage here!
Related:
4 Things Every Race-Day Spectator Should Do