Why I'm Not Upset About The Term "Getting Chicked"
It is actually pretty badass to hear, in my opinion.
Heading out the door? Read this article on the new Outside+ app available now on iOS devices for members! Download the app.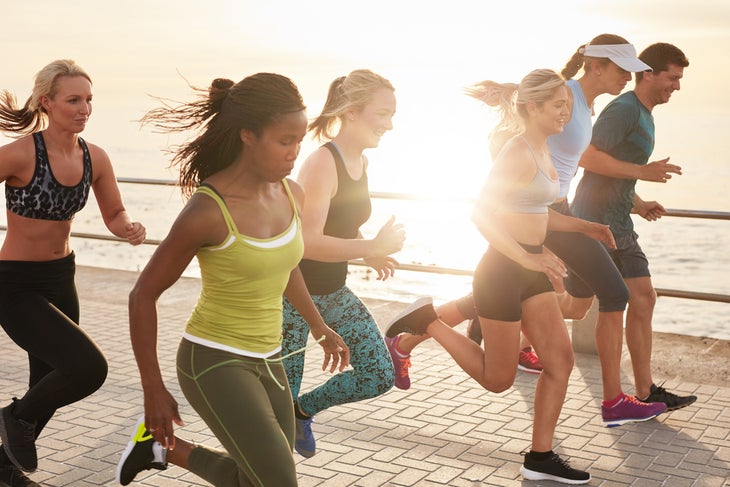 I remember when I was a kid and beating my classmates in P.E. was the highlight of my day. In basketball, I was the first down the court to receive a pass and make the shot. In capture the flag, I always made it to the safe zones before getting my flag pulled. In running laps, I always lasted the longest (save for one girl who always kept up and went on to be a sprinter). During all of these speedy feats, there was one thing that secretly tickled me more than anything, even as a kid: I absolutely loved beating the boys.
It's unfortunate that many little girls grow up hearing things like, "You throw like a girl," or, "This is a boys' only sport," or, my personal favorite, "Girls can't play basketball." These comments aren't intended to be offensive or cause a social stir in the fourth grade. Most of the time it's just boys being boys and girls loving to show the boys how wrong they are. Or just someone avoiding cooties.
I do not disagree with the importance of showing young girls and women that they are capable of achieving all of their dreams. That message is very important, which is like I love campaigns that really drive that home. I, like so many of my girlfriends, still live in a reality where a woman's abilities can be minimized by how far her looks can take her. So many times their capabilities are compared to a man's capabilities ("she's great…for a woman"). Or, she's viewed as excellent as long as she doesn't get "too emotional" to remain rational. GROAN.
I have been told more than once what I can and cannot do based on my gender. So I will probably regret putting this out there, but…I do not have a problem with the term "getting chicked." In fact, I actually really like the term. I use the term. It doesn't offend me.
I was raised by two competitive parents and grew up around competitive minds. "Chicking" guys has been an added rush to my running life for as long as I can remember. And I know I'm not alone—texts about beating some guy during a workout run rampant in my phone. I also admittedly brag when I beat my boyfriend in a race, partly because he's naturally speedy, partly because he's a guy, and all because I take pride in being able to keep up. Too often I've felt placed in society's doghouse because I'm "too competitive," so really it shouldn't come as a surprise that "I love beating the boys.". Both of these facts are a part of how I grew up. And the purity of competition—yes, good ol' winner-loser mentality—is what has drawn me to running for more than half my life. (Fun fact: Olympian Alysia Montano collaborated on her own custom watch with her sponsor, Soleus, and what's the name of it? Chicked.)
A term like "getting chicked," to me, actually feels pretty empowering. I don't choose to let it be an insult; it's actually the opposite for me. How many commercials do we nod along to that show strong, badass women getting after it at the gym or on the roads, next to their male friend? Raise your hand if you secretly rooted that the segment would end with her beating the guy? Even when you don't know why you're rooting for it, it's always been something that's brought me internal confidence and even closer to my male runner friends, from high school cross country all the way to recreational half marathoning. For me, "getting chicked" doesn't have to be a derogatory term that somehow implies women aren't "good enough" to win, or suggest that we aren't as good as the male runners in our lives. For me, it celebrates the fact that, yes, 8-year-old Caitlyn CAN beat the boys.
For my fellow competitive runners that might feel shunned in moments they feel proud: There's no shame in wanting to beat another runner and giving yourself a pat on the back for "chicking" that guy. And when that guy yells at his buddy up ahead that you're "about to get chicked, bro"—because that's happened to me!—I prefer to chuckle to myself and think, Damn straight. Been chicking since the fourth grade. 
If it's helpful to flip the switch on this, perhaps a new term that should start trending is when you get passed up by a guy—"Girl, you just got dic…!"—you get the point.