5 Unique Ways To Really Celebrate Your Achievements
It's easy to jump from one goal to the next. Here is how to slow down and recognize the hard work that went in to reaching your your goal.
Heading out the door? Read this article on the new Outside+ app available now on iOS devices for members! Download the app.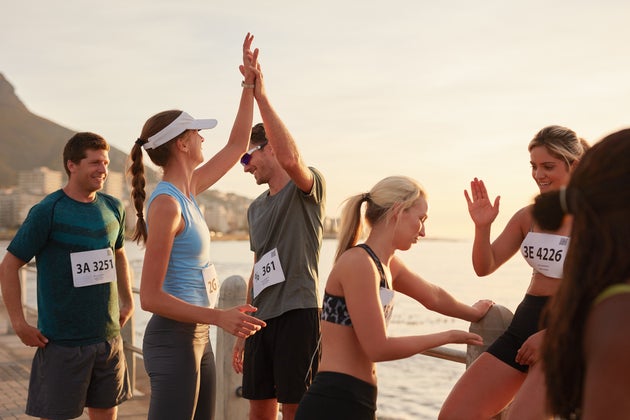 It can be easy to get caught up in making and reaching goals. You finally hit your PR? If your first thought is How much faster can I go next time?, it may be a sign to slow down and take in what you just accomplished.
It is important to celebrate your achievements instead of immediately making and chasing down a new goal. Not only does this help you avoid minimizing the blood, sweat and tears you put in—it also gives you a second to breathe and recognize that you are, in fact, a badass.
If you need some ideas for how you can take the time to celebrate, here are a few unique ideas that will make it a special experience.
Get Your Dream Gear
Oh, you know what I'm talking about. Those Lululemon pants you've been eyeing? That Oiselle jacket you can't stop thinking about? Treat yourself! And then wear them while you dream up that next goal.
Make A Commemorative Album
Not in a place where you can spend much money? That's okay—there is still plenty you can do to reflect on what you just completed! If you have mementos like your registration e-mail, photos from training and your race bib, you can spend time remembering the experience by making a scrapbook, of sorts. Put it all together in a frame and hang it on the wall or make a small book that you keep tucked away. Either way, not only will this help you celebrate—it can serve as motivation as you tough you way toward your next goal.
Treat Your Support Crew
Often you didn't reach your goal alone. Whether it was a coach who prepped you for race day or a significant other who understood that you needed to take time away to train or a best running friend who joined you for early morning long runs…well, you get it. Take your partner out for a late night date night—on a Friday! Write your coach a letter letting them know what you learned from them. Give your running BFF an at-home pedicure (complete with foot massage!). There are endless ways to take time out of your day to say thanks—and it will make you feel just as good as it does them!
Sign Up For A 'Fun Run'
If you only focused on your goal race for months and months chances are you felt a bit of pressure on race day to execute just how you envisioned. Now that you've reached your goal, why not treat yourself to a 'fun run?' Not only will it remind you why you love the sport, but you'll have the chance to go into a race with no expectations. Maybe you join a friend who is new to running and doing their first 5K? Or you can finally try out that obstacle race you've heard about? Either way, it gives you the chance to run without those pre-race nerves that happen when you try to PR.
Throw An Awards Banquet
Remember in middle school and high school when you had an awards banquet and your coach would award Most Spirited, MVP and more? If you trained side-by-side with a training group for your goal race, celebrate as a team with an awards banquet. Host the team to a pot luck, complete with homemade award certificates. Don't be afraid to get creative and hand out things such as Most Talented Mid-Run Dancer or Best Water Stop Execution. The most important part? Allow yourself to indulge in dessert—as you chat about your next race!