I Became An Ultrarunner Less Than A Year After Having My Daughter
Sarah Bryson shares her story of how she transformed months of maternity leave into the perfect goal-setting tool.
Heading out the door? Read this article on the new Outside+ app available now on iOS devices for members! Download the app.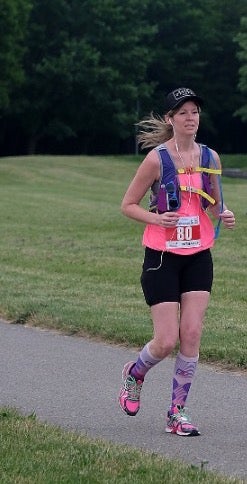 From Bed Rest To Ultra Training
Before I became pregnant, I was a regular runner who enjoyed training for endurance races. Once I became pregnant with my daughter, I instantly became very sick and ended up with severe hyperemesis gravidarum, a type of nausea that occurs during pregnancy and lasted the entire nine months I was pregnant. Due to my level of sickness and my inability to eat or drink (I was also regularly receiving IV fluids), I was unable to participate in any form of exercise, least of all running. For a runner, this is very difficult. Towards the end of my pregnancy, I was pulled from work and put on bed rest until baby Aria was born on June 23.
Related: 10 Reasons Why I Ran A Marathon 5 Months Postpartum
For anyone that has ever suffered from hyperemesis, you know that, once you have your baby, you instantly feel better and can start eating and drinking normally again. I was ravished after giving birth, and my need to start exercising immediately returned.
At two weeks postpartum, I started walking. Due to my lack of strength, I was at first only able to slowly walk around the block. Over the next two weeks, I worked up to walking 3K a day with my baby's stroller in tow. At four weeks postpartum, I was given the "okay" to start exercising again, so I started an at-home workout program just to get my body used to exercising.
I started running again when I was five weeks postpartum. This was so incredibly hard. Every step I took, I told myself I finally knew how hard it was for people who have never run before. I think us more seasoned runners tend to forget this: running's hard. Really, really hard. It's also hard remembering what you were capable of before and knowing in that moment that you can no longer do those same things. You're a beginner again.
In my first 12 weeks of running, I ran three times each week for 30 minutes. During those 30-minute increments, I was actually only running for about eight minutes in 60 second intervals—and was completely out of breath. I was pushing myself hard and slowly increasing my running time each week.
At three months postpartum, I registered for my first 5K: The Oasis ZooRun in Toronto. I ran with my oldest daughter Lyla and son Carter, with whom I also run the Santa 5K every year. Along the route, I asked them, "Do you need a walk break?" (I sure did.) They answered, "No, I'm running the whole thing nonstop, Mom," and they did. Thanks to them, I did, too–even though it was hard. My 8 and 9 year olds were my inspiration to get through that very first 5K.
I contacted my old coach, Rick Mannen, after the race and started working with him again. He said if I was consistent and worked hard, I could reach my goals of running the Around the Bay Road Race in Ontario and a marathon—all while still on maternity leave.
Through many weeks of hard work, lots of dedicated hours and loads of weekly mileage, I was able to first run the Chilly Half Marathon at eight months postpartum. Bonus: I also had a personal best for this run!
Once I reached that point, I decided that I was going to run an ultra. I was going to work hard while raising an infant I adored and reach my goals to show that anyone can do it, as long as they put in the work. I discussed my plans with my coach and it was decided that we could try. We would train for an ultra and see how I felt after running a marathon. If I managed the marathon okay, I could run the Niagara Ultra.
At nine months postpartum, I was able to race the Around the Bay 30K—with a negative split! I was so proud of how far I'd come. I had never run a 30K before.
It's not easy to raise an infant and re-learn to run at the same time. I live in a small town called Fergus in Ontario, nowhere close to any friends or family. To get in my weekly long runs, I drove 90 minutes one way to my mom's house so she could watch the baby while I ran. During the week, I waited for my partner Steve to get home from work. Most weekdays, I wasn't getting out the door until 7 or 9 p.m. at night; this after being up all day and up several times throughout the night. Our daughter was not and still isn't a good sleeper. In the beginning, she would only sleep for 45-minute intervals after being awake for 19 hours straight.
I was told many times that I was crazy for running at this point, that I needed my sleep; but I needed to run. Running gave me the energy I needed to continue getting through those tough days and nights. I was taking care of myself (and, in turn, my family) by exercising and doing something that truly made me feel better as an individual. On the days I could barely keep my eyes open, I told myself that I couldn't let my exhaustion get in the way of my goals. I'd already worked way too hard to lose it. So I kept going. I always kept going.
At 11 months postpartum, I ran the Ottawa Marathon. It was hot and incredibly hard, but I did it. I am now a marathoner.
Three weeks later, I completed the Niagara Ultra Marathon 50K with one week to spare before my daughter turned 1 and I returned to work. The run was incredible. It was hot, it was humid and it was beyond hard. Even so, I did it. I cannot explain the happiness and feeling of accomplishment that I have from reaching every single one of my goals.
I wanted to share my story because I want people to know that if you have a goal, you can reach it—even if it seems extreme to others. Even though you may have just had a baby, or are just getting over an illness or just starting out, you are amazingly strong and can do whatever you put your mind to.
I had every excuse not to reach my goals and not step out the front door: I had my new baby and a significant lack of sleep, I was facing extreme weather conditions for training, I was anemic from my bout of hyperemesis and even had a small injury along the way. But instead of giving in to these excuses, I overcame them all.
I'm a mom, a regular person who enjoys running. I'm not fast, I'm not elite: I'm 100 percent average. But I have heart. I promise you that if I can do this, you too can reach your goals!
We are strong and we are capable of anything. I am incredibly proud to now say that, not only am I an ultrarunner, but I became one while on maternity leave and while raising my little girl.
Related:
What Postpartum Runners Need To Know About The Pelvic Floor
10 Truths About Training For A Marathon Postpartum