The Truth Behind Successfully Making Huge Life Changes
Spoiler alert: Motivation? It's total BS.
Heading out the door? Read this article on the new Outside+ app available now on iOS devices for members! Download the app.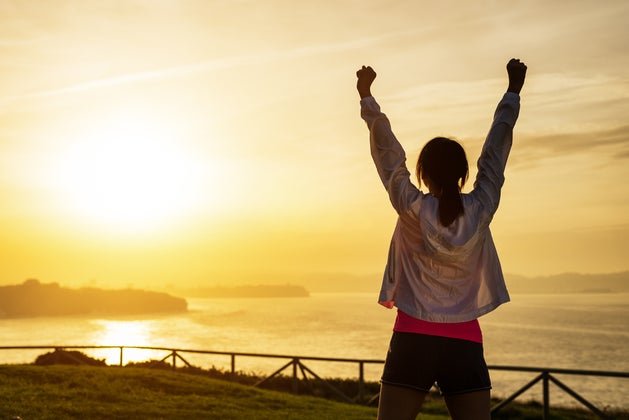 When it comes to making changes in our life, there are so many decisions. Do I make one change and move on to the next? Should I make a bunch of changes at once? Why is this so hard?
It is easy to feel like you are the only one struggling, but in reality, that is far from the case. Nicole Antionette, founder and host of the podcast Real Talk Radio, often talks about how to rewrite your story. She has gone through many big life changes herself—from cutting alcohol and sugar out of her life to going from complete non-runner to finishing multiple marathons to packing up her life and moving from Los Angeles to Bend with her husband—and her completely candid talk on lessons she has learned is refreshing.
We sat down with Nicole to get some of her wisdom on the real truth behind making changes and how you can define your own success.
What is the first thing someone should do when they are thinking about making life changes or changing their routine?
For me, the most helpful thing is to take a moment of pause to ask myself why I want to make that change. Is it something I feel I "should" do? Is it something I feel guilted into doing, perhaps by a loved one or by society at large? Do I feel shamed into making the change? Or is this change something that I truly, deeply want to make for myself?
Looking back at the changes in my life and routine that have stuck (like getting sober), they were all changes that I wanted. Other habits I've attempted to force myself into (such as meditation, which is something I used to think I "should" do), or changes I've tried to make (like going to grad school, something my family wanted for me), or goals I've pursued (like running an ultramarathon, which was something I only wanted for my ego, to be able to say I had done it) never worked out and only made me miserable while I was pursuing them.
I've found that change only happens in a lasting, fulfilling, and sustainable way when we are changing for ourselves, from a place of kindness, and when we are clear on exactly why we want to implement that specific change over the countless other things we could dedicate our energy toward.
Do you recommend tracking changes in a daily journal? Or monthly? Or finding whatever way works best for you to keep your goal front of mind?
I so wish that I had a magical unicorn solution to share here. Something where I could say, "Just do X and you'll be great!" But as we all know deep down, there's hardly ever a one-size-fits-all approach to anything, especially change.
Again, I think it comes back to being honest and doing some real talk with yourself. What do you need in order to succeed? Do you thrive when you have an accountability buddy? Would keeping a public record of your efforts (say, on a blog or on social media) feel good to you? Or would you instead prefer to go it alone and make the change quietly and out of the spotlight? There's no one correct approach.
For me though, I actually find that there are a few things that are even more helpful than keeping a daily/monthly journal. What helps me the most (once I've taken a moment of pause to get clear on my "why") is to also get clear on three other things.
First, I need to know where I'm starting from. For example, when I began running I could barely run for two minutes at a time, and in order to build the running habit and reach my goals I needed to be honest with myself about where I was starting from. Regardless of how big our goal is, we can only start where we are, so while I might have wished I could run a full mile, or ten miles, or whatever, that wasn't my truth—and the truth is true whether you try to hide from it or not.
So once I'm clear on where I'm starting from, I then need to know my next benchmark. With running, my big goal was to complete a half marathon, and only being able to run for two minutes at a time meant that I had a long road ahead to reach that goal. So instead of focusing on the (often overwhelming) big goal, I focused on the next benchmark (running one mile without any walk breaks), followed by the next benchmark (running for 30 minutes), and the next (completing a 5k race) and so on. No matter where I was in my training, I always knew what my next benchmark was.
But even my next benchmark couldn't be achieved in a single day. I knew, however, that I needed to work toward that benchmark each day in order to make it happen, and so the final piece of the change formula for me is to start each day with a clear plan for the small steps I need to execute that day in order to move the needle forward on my goal.
And sure, our big goals are sexy, but these daily steps are not. Real talk: big sexy dreams are only accomplished one small and very unsexy step at a time.
If your big sexy dream is to publish a book, today's unsexy step might be to write 500 words. And 500 words might feel like nothing, like too small of an effort to even be worthwhile, but if you stack up day after day of consistently writing 500 words, eventually you'll have yourself a book.
Same goes for running, or eating more healthfully, or getting out of debt, or learning Spanish, or building a business, or any other goal.
What are some truths that people should know about making life changes?
There are three main truths that have become clear to me over the past five years of making significant life changes.
The first is that nothing changes if nothing changes. That might sound silly, but often times when I'm sitting around complaining about how much I want X thing to change, what I really mean is that I want X thing to change but I don't want to do the hard work that change requires. But—spoiler alert—that's not how life works. Nothing changes if nothing changes.
The second truth I've learned is that motivation is total BS. Have you ever noticed that we talk about motivation the same way we talk about our car keys? "I need to find my motivation" or "I've lost my motivation." We've made motivation out to be this tangible thing that can be lost and found, this external force that we have to wait for, this power that some people have and others don't. "How does she stay so motivated?" "I could run a half marathon if only I were as motivated as he is." But the truth is that you don't need to be in the mood to do something in order to do it, and that one single perspective switch is what has made long-term change possible in my life.
And lastly, I've learned that when we're deep into the process of trying to change our lives, and when we're feeling frustrated that results don't seem to be coming quickly enough, that the truth is that progress often doesn't feel like progress when you're in the middle of it. 
Change sneaks up on us. We change the same way that the sun sets each night—gradually and then all at once. If you're sitting outside with a friend as the sun goes down, talking and laughing, you don't notice it getting dark. Instead, all of the sudden you look up and realize that it is dark. The darkness crept in so slowly that you only noticed it when the light was completely gone. Change works the same way.
I remember back in college, when I went through the toughest break-up of my life, my only true heartbreak, that in the early days of it I was entirely convinced that I would never feel happy again. I would never get over him. I would never crawl out of bed. As far as I was concerned, you might as well have pulled the curtains closed, turned on the sad music, brought me an old lady robe and sixteen cats, and left me there to die.
But of course, like always, time heals all things. And yet I didn't notice myself starting to feel better until that one morning when I didn't think about him until I was in the shower. That meant that an entire hour had gone by (an entire hour!!) without thinking about him, which meant that he was no longer the first thing I thought about when I opened my eyes each day. Change had been happening all along, but I only noticed it when I noticed it.
What are some misconceptions about success (when it comes to making changes) that people may have?
One of the things I have struggled with the most as I've pursued changes and goals in my own life is the false belief that eventually I will reach a point where the change I am trying to make feels easy and effortless. And sure, it is easier to stay sober now than it was during the first few months after I quit drinking, but that doesn't mean I never think about (or miss) alcohol. Yes, getting myself out the door for a run isn't the Herculean task it once was, but there are still plenty of days when I'm not in the mood to run or when the run itself feels awful and sluggish for seemingly no reason.
I used to think that making a change was like climbing a ladder, that eventually I'd reach the top and everything would be perfect. When actually I've learned that making a change is more like using a compass; I know what my ideal behavior looks like, and I aspire to move ever closer to that standard, but real life (and that fact that I am not a robot) means that I am often wandering off-track and therefore need to look down at the compass and gently nudge myself back in the right direction, over and over again, no matter how long it has been since I first made the change.
Because the truth is that change (like life) is messy and hilariously imperfect. Sometimes it's hard, and yet that's actually okay because we can do hard things. And really, it's the hard things that are always most worthwhile in the end.
Read More:
How To Deal With A Motivational Slump
5 Times Running A Mile Is Harder Than Running A Marathon