Travel And Running Advice From A Southwest Flight Attendant
Flight attendant Courtney Henderson offers tips for running in new locales—and for making your run gear fit in your suitcase!
Heading out the door? Read this article on the new Outside+ app available now on iOS devices for members! Download the app.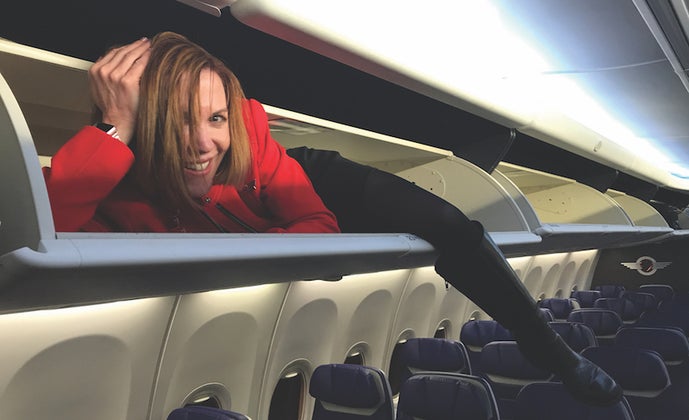 For Courtney Henderson, being a Southwest Airlines flight attendant has become a family affair. She flew with the airline from 1991 to 2000, during which time she met her now-husband, also a flight attendant—he intervened when an irate passenger was yelling at her near gate 5 of the Houston airport. The couple later married, but after having four kids, she took a break from working, as their work schedules were hard to juggle with kids. Meanwhile, her son, now 23, joined the Southwest crew, and she came back to work a year and a half ago.
"It's a great job," says Henderson, who's based in Denver. "It gives us a lot of flexibility—that's the best part. …You can fly as much as you want or as little as you want."
Typically, Henderson works three days on, then four days off, and every other month, she knows her destinations, but every other month she's on call, "so it's like a surprise, so you never know were where you're going to end up," she says. That unpredictability not only keeps her job exciting, but also adds variety to her workouts.
Like flying, running is a family affair. "I started running when I was 6 with my dad, who is an avid runner and [was] a triathlete before it was really a sport," she says. She ran her first marathon at age 12, and ran throughout high school and college. "And then I just burned out," she says.
Fast forward to her 40th birthday, when she realized she needed (and wanted) to feel fit again. She started swimming, cycling and then "rediscovered running again through triathlon," she says. Henderson, who is on the Zoot Mountain Region Team, is always trying to fit in swim, bike and run workouts on the road. The destination roulette she plays at her job can make it difficult to plan. "I'm packing for winter and I'm packing for summer, which is hard because I'm working out so much," she says. "If I'm going to be in Buffalo, I need to bring my thermal tights and just prepare for the cold. And then I could be in San Diego the next night and have completely different conditions. So I've got to layer."
Obviously, triathlon is made up of three sports, but the easiest one to take on the road is running. "I always pack my swimsuit and goggles and swim cap just in the chance that I might be able to swim," she says. "But for the most part, I can always count on running—I know I can get a run in, whether it's going to be on the treadmill, which is not preferable, or I can run outside. So I'll typically just plan for running and strength training in the hotel gym."
However, running has become Henderson's way to explore a new locale: "I have to say, running is the way that I really get to know a city because I'm not cooped up in a car and I can get lost and, you know, run around. And I love that. …[Running has] changed my view because I get to explore, I get to see places that most flight attendants don't see."
She estimates that 40 percent of the flight attendants she travels with try to stay active while traveling, but she's unique in that she gets out on the streets to run. "Most flight attendants—because you're not familiar with the area, and sometimes it's not that safe—they'll stay in the hotel gym and maybe do the treadmill there. But I like to explore. …I just prefer to go outside and run and discover—it's my way of getting to know a city."
Henderson's Top Tips For Running On The Road
Pack light and roll. The secrets to flight attendants being able to squeeze all their stuff into those carry-on suitcases? Rolling and rewearing. "I roll all my stuff. …And rewearing your stuff—I recycle my pants, and sometimes, depending what I'm going to do on the road, I recycle my bra. I'll wash it in the sink and let it dry," she says.
Ask around for routes. To find a running route, "I either go on MapMyRun or I'll just ask the hotel, 'Do you have runners who have stayed here? What have you heard? Are there any trails nearby, or what do you suggest?' And nine out of 10 times, the hotel clerks know—they've pointed me in the right direction. …Familiarize yourself on GPS where you are, and then ask the hotel, 'Hey is this safe if I'm going to go down here?'"
Run toward the water. "If I'm in a city where I know it has a river—I was just in Boston, so I thought, Okay, I'm just going to run along the river. There's usually a path along a river, so I went to the river and I ran down the Charles River. …Go to a lake, go to a river—with water, you're always going to find a trail."
Make the most of it. "Get out of the hotel gym and go explore. I was in Charlotte, and there wasn't a lot there, but I found a 1.5-mile loop around this office park. It was safe around there, and I knew that. They said, 'You can do a 1.5-mile loop,' and I thought, That's boring. So I made it a track workout. Don't be afraid to alter your workout and work on speed when you don't have a lot of time or you're not familiar with the area—just pick a loop and do that. Do a tempo run or a sprint workout. But at least you're outside and enjoying the day and you get to know a little bit about the city. I think in this job, when you're traveling, you cannot be stubborn—'I'm going to run 6 miles, or I'm not.' Sometimes you might just get 4 in, and that's okay, but make it a quality 4, and run it a little bit harder than you were going to run the 6."
Be smart and safe. "I always leave a note in my room as to where I'm going and what I'm wearing. And then I tell the hotel people where I'm going. I have my Road ID on. I try to be smart about it, and if I can find a partner to run with, all the better."
Embrace your inner explorer. "I like to explore. …When I was in Boston, just running through downtown, I was thinking, Oh my God, all this historical stuff is here, and Paul Revere was here, and Benjamin Franklin, and I'm running down the same street that they were walking on. It's profound. It's a profound experience if you're lucky enough to be in a city like that. But I feel like I get a unique perspective of a city because I'm going where most tourists don't go. …I have discovered so many different shops and restaurants from my runs."
Related:
Ready For Takeoff: Tips For Racing On The Road!
Fitness Tips For Runners With Busy Travel Schedules