All The Thoughts Swirling In My Head When I Run
One runner answers the not-so-simple question from a friend after a recent race, "What did you think about while you ran?"
Heading out the door? Read this article on the new Outside+ app available now on iOS devices for members! Download the app.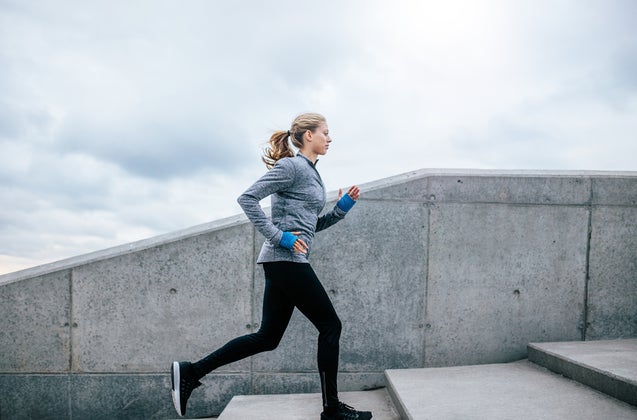 *Republished with permission from Jennifer's Writing
After my last race, my friend asked me what I thought about while I was running. The answer to that is slightly different depending on what type of running I am doing.
When I first start in a race, I am listening to the conversations around me. These conversations at the beginning of a race always fascinate me, because they are always inevitably about what a runner thinks he or she can or cannot do in the race. What fascinates me is the wide array of expectations—or lack thereof—that I hear. One person will be excited that he is going at an 8-minute per mile pace. while someone else will tell a friend that the plan is to run a few feet and then walk throughout the race. I spend time wondering what causes someone to have high expectations or low hopes.
I also spend a few minutes wondering about the reasoning of people for where they place themselves at the start. It seems like a simple concept that fast people should be in the front and walkers should be in the back, yet at my last race after running about ten feet, I found myself looking at the back of a man who was walking with a cane. Now don't get me wrong, I admire him for doing the race, but I don't think the front of the pack was where he should have been.
As the runners settle in and the crowd spreads out into the different pace groups, I think how peaceful it is. There is the rhythmic sound of feet hitting the pavement and sometimes shouts of encouragement from volunteers, but other than that there is a calm that settles over the race.
I think about how much the first two miles hurt as my body tries to find its rhythm and settle into a good pace. After that second mile, my body can be turned on autopilot and I can think about other things besides getting my body to do what I want.
I people watch while I run and I think about how inspiring the people are who are running around me. There are people who have beat a crippling illness, others who are using running to prove that they are stronger than whatever is holding them back in life. What I consider a simple joy in my life can be a lifeline to others.
As I pass people or they pass me, I imagine their struggles or their joys. You might wonder how I could have any idea about what they are going through, but a lot can be revealed as you watch people moving through a race.
Sometimes I have to do a lot of self talk to keep from stopping and at this point, I have to think about all the reasons that I need to keep going. I enjoy standing near the finish line after I have finished. The stories that cross the line with the runners are written all over their faces.
If I am just out for a training run, I am listening to all the sounds in the neighborhoods around me, I am planning out my day, working through problems, writing articles in my head, or just letting my mind go blissfully blank.