This Runner Did Not Get Into Elite Racing The Way You Might Think
Sometimes an accident quite literally propels you into your dream job—or the Olympic Trials Marathon.
Heading out the door? Read this article on the new Outside+ app available now on iOS devices for members! Download the app.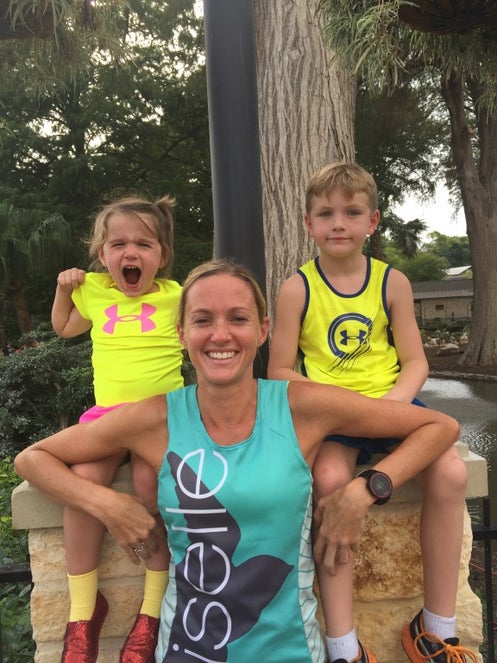 If you ask most professional runners when they first began taking running seriously, you will get varied answers pointing to moments in high school or college. These are the "All American" type of answers that drive parents to push their kids toward competitive excellence. These are not my answers. My name cannot be found in a high school trophy case, nor will you hear about me in the echoes of collegiate lore. I've run 46 marathons since 2002, but my running "career" began on a horrible day in March 2012.
My life was wonderful insanity buzzing with a four-week-old newborn, a rambunctious three-year-old boy and a full-time teaching position at a local university, and I was about to open an indoor sport facility. Energy levels were low, coffee intake was high. But life was controlled and planned, managing the kids and life like a well-oiled machine.
Things changed in the matter of seconds. In a dimly lit concrete facility that one day would be filled with soccer games and kids' laughter, I heard a crash followed by a loud, "No, take him to the ER now!" My son had tripped, twisted his leg, fell into the wall and shattered his femur.
Related: Stephanie Bruce Dishes On 7 Myths About Elite Runners
Ten days in the hospital. Ten days of traction. Ten days of hugging, kissing and trying to convince my son to lie still and not move. Ten days of anxious torture. Will he have pins in his leg? Were the breaks at the growth plate? Will he ever walk normally? I watched my son get rolled away to surgery, knocked out from anesthesia, only to return in a red full body cast (we nicknamed the "Supersuit"), I was teetering on the edge of destruction.
My parents would watch my daughter as I slowly put on my running shoes and dragged myself out the door. With little-to-no sleep and a post-baby body that was just getting use to working like normal, each mile was tough but I ran hard. I pounded my fears, anger, and sadness out on the concrete. I logged countless miles on the treadmill with my daughter alongside me in a bouncer. The more frustrated I felt the faster I ran. I ran to feel something, to learn how to tolerate pain. My heart was broken, like my little man's leg, and I needed to find a way to heal him, and me.
I started lifting weights. I sought strength in every way that I knew how. Little did I know that when my son was released from the hospital, he would have to be carried around in a 25-pound Spica cast. When the cast came off, we rehabilitated my son in my parent's pool, refusing to listen to a doctor that told me "He won't ever walk the same after this accident." I ran for my son and my daughter. I knew he had to see what it was like for someone to not give up, and I wanted my daughter to see what a strong, determined woman could do.
In a little over a year, I went from running 8-minute miles to 7-minute miles to winning my first marathon in 3:07 (my previous best was in 2010 with a 3:31). Months after that win, on my daughter's second birthday, I won the Rock 'n' Roll New Orleans Marathon in 2:58. I was an unknown runner from San Antonio, crossing the finish line in a skort (with my cell phone in my pocket) and trainers.
There I was, on a stage getting asked, "So are you going to go for the standard?" The what? "The Olympic Trials standard." "Ummm, the what?" Fast forward 8 months, with a professional coach guiding me, I ran a 2:41:12 at the Chicago Marathon to qualify for the 2016 Olympic Trials Marathon. In two years, I went from a social runner to a professional elite runner.
This life, my newfound running career, all stems from my children. It wasn't until I was tested as a mother, and as a person, that I found the fire within me to surpass my limits. Now, full-body casts aren't part of the equation. My son races 5Ks and plays soccer, and my daughter asks to run with me. I am a proud mama bird. Presently, I am training for the Olympic Trials as a member of the Oiselle Haute Volee elite team. You can be sure that I will be running with my head up and my wings out – prepared to defy expectations.