The World's Most Famous Fitness Model You've Never Heard Of
You've seen her in ads, on billboards and in magazines around the globe—but you definitely don't know her name.
Heading out the door? Read this article on the new Outside+ app available now on iOS devices for members! Download the app.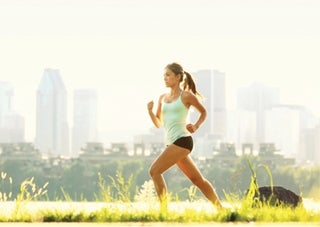 Chances are you have crossed paths with Ariane many times before. Surfing online, you've seen photos of her running on the beach or doubling over with laughter in a field or pretending to wake up. Maybe you've even seen her blown up to the nth degree on a billboard, hawking cellphones.
After nearly a decade in the biz, 20-something Ariane is one of the world's most recognized stock photo models. Art directors buy stock photos as an affordable alternative to photo shoots, and because they aren't exclusive, these images can become ubiquitous. For that reason, the ever-smiling Ariane is everywhere. Her wholesome good looks and mixed ethnic ancestry (French Canadian and Chinese) resonate  internationally. Yet she's the farthest thing from a household name. And that's how she likes it.
In a world where fame is pursued like a half marathon personal best, Ariane shuns it. She won't divulge her last name or where she lives, and she has no plans to pursue conventional modeling gigs. She and her photographer partner produce new stock images monthly, adding to the hundreds of iterations of her likeness found online. (She just recently joined Instagram as supersmileyariane.) In the quintessential Ariane photo, she's running, stretching, planking— always the more flattering version of that funny "What I think I look like when I work out/What I really look like when I work out" meme. We spoke to the world's most famous fitness model you've never heard of to get the secrets of her success.
FITNESS
Yes, Ariane is a runner. She has yet to run a race, but she hasn't ruled them out. She may not be competitive, but she's consistent. "I currently run four to six times a week, typically 3 to 6K and often in combination with the same amount of walking," she says.
The model also strength trains four or five times a week. "I start with 15 minutes of dancing, followed by 30 minutes of strength. Right now I do mainly bodyweight exercises," she says.
SKINCARE
Ariane has a back-to-nature skincare regimen. "In the morning, I rinse my face with cold water, and at night I remove my makeup with a few drops of jojoba oil on a cotton round. Then I put hot water on a face cloth to steam my face, and finally a normal face wash, toner and face cream. I also do a scrub once a week," she says.
Known for her fresh-faced look—she's not one of those stock photo runners shot in ridiculously full makeup— Ariane is a minimalist. She eschews daily foundation, but for work she favors Smashbox Camera Ready BB Cream ($39, smashbox.com), which combines moisture with light coverage and SPF 35. She applies waterproof mascara only to the tips of her lashes and adopts a natural lip. "As a lip balm, I use shea butter topped with a tinted lip gloss with SPF," she says.
Ariane stays on top of hydration—"Keep your skin moisturized from the inside and from the outside," she advises—and moisturizes religiously. "I can't live without pure shea butter! Mixed with a few drops of jojoba oil—I use it on the whole body: It takes care of everything," she says. During  the warmer months, she switches to Desert Essence Coconut Hand and Body Lotion ($9, desertessence.com). To make her limbs shine, she recommends Hawaiian Tropic Shimmer Effect Coconut Papaya After Sun Lotion ($8, ulta.com). "If you want an extra glow, it does the trick!" she says.
HEALTHY EATING
The (literal) poster girl for healthy eating, Ariane advocates balance. "My focus is on eating a lot of raw vegetables and fruits, but I'm not very restrictive about what else I eat. I travel a lot, and trying new dishes is one of the best things about it," she says.
She rarely drinks alcohol, but is "addicted" to vegetable smoothies, sipping one for breakfast and others throughout the day. "I make this one a lot: baby spinach, romaine lettuce, cucumber, coconut water, chia seeds, ginger and mint," she says.
She also juices. One of her preferred combinations is beets, carrots, oranges, ginger and turmeric. "It's insanely yummy!" she says.
Ariane drinks water throughout the day, but she also enjoys two espresso shots in the a.m. and ends each night with white silver needle tea.
Between meals, she keeps hunger at bay with a DIY trail mix. She relies on a mix of goji berries, raw pecans, golden berries, mulberries and dark chocolate to stay energized and smiling during those long, all-day photo shoots.