One Runner Has Always Felt The Power Of Running
First, she was running away from problems. Now, she runs toward the solution. See how the power of running has always been with one runner.
Heading out the door? Read this article on the new Outside+ app available now on iOS devices for members! Download the app.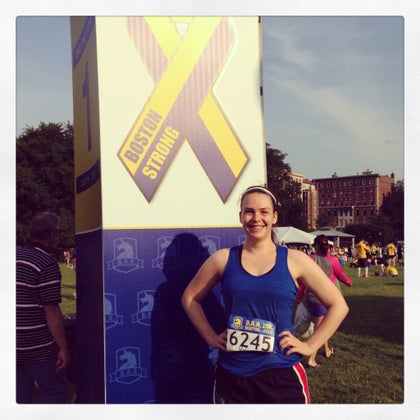 People always ask me one question: "How long have you been a runner?" For me this is a complicated question, as I couldn't really quantify how long I've been running or why I run. This question is a loaded one. Sure I can tell you how many races I've run or which race was my favorite (so far), but I think the power of running has been with me all of my life.
I used to be a runner—in the sense that I was someone who ran away from my problems. I ran away from bullying, bad relationships, my parents' divorce, and some shortcomings in my life. In that sense, I've been a runner since I was really young. I don't know why I ran away from the "tough stuff," but I felt it was the easiest way for me at the time.
Over the years of trying to escape my issues, I eventually figured out that I was running toward the solution. My mom was diagnosed with breast cancer in 2001. For me, this was the time to make a change in my life. I needed to stop running away and be there to support my mom. This led me to running.
At first, it was a lot more walking than running, but I was out there, getting myself into a healthier mindset. At the time, walking really helped me clear my head and focus on what I needed to do to be my best. At the time of my mother's diagnosis, I was a first year student in college. Walking and "slogging" (slow jogging) helped me focus more on my schoolwork and get my creative juices flowing.
Over the next several years, running became part of my everyday routine. I would walk on days when my body told me to. I would run and jog when my body demanded. This would continue up until April 2013, when I was living in Boston.
I've competed as a novice runner in fun runs and walks. When I witnessed the Boston Marathon bombings and saw the faces of the runners—runners who had trained so hard but did not get not finish, who had put in the time fundraising for charity, for who traveled for this moment—I crumbled. My heart not only went out to those people, but to the people who can no longer run because of the events that day. It was at that point that I decided that I would run for those who cannot.
Every time I want to give up or get frustrated going through the painful rehab of my IT band, I think of the thousands of people that couldn't cross that finish line on April 15, 2013. I run because I can. It is something that I can do to help others. Running makes me feel powerful. I'm not running away from problems anymore. I'm running toward the solution.
About the Author: Valerie Heruska works as an Assistant Director in Residential Life at Indiana University Bloomington. She currently resides in Bloomington, IN where she trains with her running group from the Indiana Running Company.