An Open Letter To Sweaty Women Runners
If you look like you have run through a rain storm before you've even reached a half mile, fear not —this is for you.
Heading out the door? Read this article on the new Outside+ app available now on iOS devices for members! Download the app.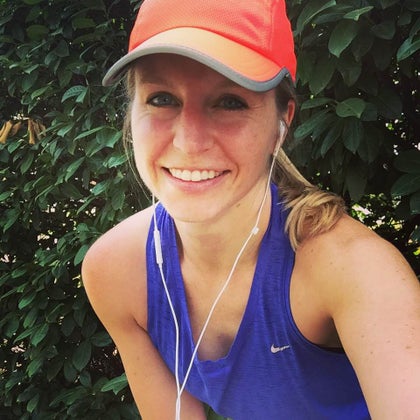 Dear Sweaty Woman Runner,
From one sweaty woman to another, hello! It's nice to meet you, although I hate that we find each other in these circumstances. The dreaded time of year is upon us; yes, it is almost summer. If you're like me (and you are if you're reading this), it's already probably been too warm for too long for you. As soon as the ice starts falling off the trees and the temperatures breach the 50s, it begins – the sweat creep.
Oh, you know the feeling, and it's impossible to hide. Almost from the outset of each and every run, the sweat starts forming on your skin. Those people that can run for three miles before they start sweating? Those people are not you. They're not me. We're half a mile in and it looks like we just underwent the Ice Bucket Challenge in some bizarre homage to 2014. In no time at all, the sweat is dripping from your elbows, and then it's running, just like you are. It's running down your back, down your arms, down your legs, all the way down into your shoes.
Ah, the shoes. The squishy sound that running shoes make when they're thoroughly soaked after being caught in a downpour is much more common to you, because that downpour is on your body and it happens almost every day as spring eases into summer. Coming in the door from a run, your spouse asks, "Wow, how far did you go today? Ten miles?" "Yeah, something like that," you reply, knowing that it was more like three.
Long runs are soon to become increasingly more challenging as you seek to replace fluids as quickly as you sweat them out. If you're like me, it sometimes seems impossible. Summer becomes something of an "offseason" because every run ends feeling dizzy and rundown. The sun is your enemy and you find yourself running earlier in the morning or later at night, only to find that those times bring more humidity, which is a different challenge all together. You pray for clouds and pray for rain, because then at least the squishing in your shoes will be refreshing.
But take comfort, sweaty runner. Although your running group may mock the fact that you look like a drowned rat after every run, no matter the length, or that you sweat more than the guys in the group, or that your shoes never stop making that noise, you know how tough you are. In fact, you might be sweating more as a result of increased fitness. The American College of Sports Medicine says "A fit person will start sweating earlier and easier. It may sound strange at first but as someone becomes fit, the body becomes more efficient at regulating the body's temperature. When you start sweating earlier the body cools down faster, which releases extra body heat and allows you to work out harder for longer."
One way or another, pushing through the tough warmer months (safely, of course, and with plenty of electrolytes) will only pay off when the cooler weather comes and your friends that can't handle the cold head back inside. In the immortal words of fellow sweaty person Kanye West, "That that don't kill me can only make me stronger."
Sincerely Sweaty,
Danielle (The T-Rex Runner)
More From The T-Rex Runner
The 5 Stages Of Waking Up For Early Morning Runs
How To Ease Into Speedwork And Learn To Love It