9 Women Share What It Was Like Running In A Sports Bra For The First Time
In preparation for #SportsBraSquad Day, nine women share why the squad is so important to them.
Heading out the door? Read this article on the new Outside+ app available now on iOS devices for members! Download the app.
Are You #SportsBraSquad Ready?
When you look in the mirror, what do you see? Strength? Drive? Tenacity? Beauty?
Or do you see a body that you wish you could change? Do you focus on your love handles, stretch marks and cellulite? The parts of yourself that you think are flawed and ugly?
Running taught me that health isn't a look: it's a lifestyle. Despite the fact that I was once led to believe that being physically active was something I had to suffer through in order to lose weight, running gave me the transformative gift of understanding how strong and capable my body really is.
Related: The Reason Why You Should Join The #SportsBraSquad
According to the National Association of Anorexia Nervosa and Associated Disorders, the "ideal" body type portrayed in advertising is naturally possessed by only 5 percent of American females. If that number isn't frustrating enough, the National Eating Disorders Association found that 70 percent of women report that they don't like their bodies, while 89 percent of women have dieted by age 17.
Here's what I want to know: when are we going to step up and start working to change those statistics?
This is the reason I launched the #SportsBraSquad, a movement that encourages women to shed their shirts along with their insecurities in an effort to show the world that strength comes in all different shapes and sizes. The truth is, we spend so much time working toward the strongest versions of ourselves physically, but we do nothing to strengthen our body image and inner confidence. Joining the #SportsBraSquad is a step in that direction.
Still, running in just a sports bra for the first time can be terrifying! In honor of Global #SportsBraSquad Day, I asked women to share what it was like when they joined the #SportsBraSquad for the first time.
Jacinta Williams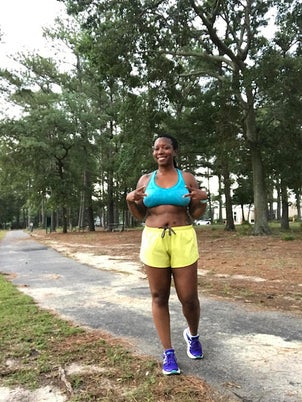 "My biggest fear of taking off my shirt and running in my sports bra was someone else judging my body based on what they believe it should look like. I have always been very self conscious of my stomach. That fear stems from the fact that I have dealt with fibroids in the past that essentially made me look pregnant when I wasn't. Because of that, I have always been conscious of how my stomach looks in anything I wear. That day, I decided to stop caring what others might think and, most of all, stop being afraid of what my body looks like and let go of the negative body image that I put on myself. Being a member of the #SportsBraSquad always feels awesome. Whenever I need a boost of positive energy, I just look up the hashtag and see so many strong women standing up to all of their insecurities and saying, 'to hell with it.' I hope that the movement continues to inspire women like me to stop caring about what we've been told a body needs to look like and love exactly who we are."
Kathryn-Ruth Sasser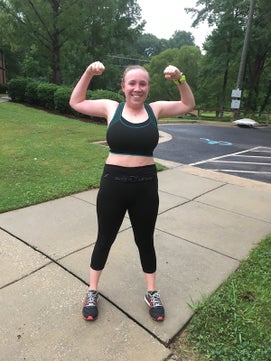 "I started running in the fall of 2015 after I lost my job and experienced the death of a close family member. I originally started to run because I felt lost and just needed to escape, but I quickly fell in love with the sport. It gave me an outlet but also helped me to feel stronger both mentally and physically. After almost two years of serious running and one half marathon under my belt, I am finding it more and more important to break out of my shirt and wear my sports bras (yes, I have to wear multiple). Why, you might ask? Because I want to show more women that they are strong and beautiful, and most importantly that they should be proud of their bodies.
"In truth, I am a little nervous. I am very self-secure, but I am still worried about what someone could say to me and how I might react. Will it bother me? Will I immediately put my shirt back on and give up? I hope not. Joining the #SportsBrasSquad is a practical choice (I live in the South, it's hot, I've got to give the shirt UP!), but more importantly, I am running for every girl who's curvy, who hides under a baggy shirt, who has to wear multiple sports bras. I am running for the 15-year-old me who didn't think running was possible because I had hips and boobs and 'runners' did not. All I want out of this day is to inspire one person, to make them realize that they are strong as hell, beautiful and, most importantly, a runner!"
Callie Vinson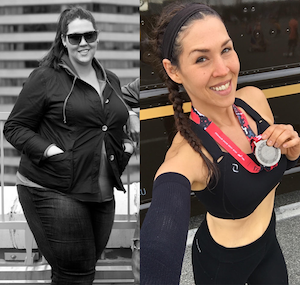 "The first time I ran in a sports bra happened about 10 years later than it should have. Growing up, I was always severely obese and definitely lacked the courage to even pull on a pair of shorts, let alone run out of the house in just a sports bra. But, after a few years of hard work, a clean diet and the support of new running friends, I'm proud to say I've shed 200 pounds and, for the first time ever, had the courage to run this year's AirBnB Brooklyn Half Marathon celebrating the #SportsBraSquad while wearing my own. It's by far one of my favorite and most emotional moments I've experienced along this weight loss journey. For once in my life, I didn't care what others thought of my body, or that I was flaunting my stretch marks and loose skin for all of Brooklyn to see. All I cared about, and will continue to care about, is what this body can do.
"Being part of the #SportsBraSquad goes beyond taking a shirt off. It's about being proud of who you are, what you're capable of and knowing that no one should have the power to decide what you should wear because of your body. This simple action may have happened years later than it should have for me, and probably for millions all over, but it's one that speaks volumes for women. It says we are strong. We are good enough. And together, we are one badass, unstoppable lady gang."
Amber Sather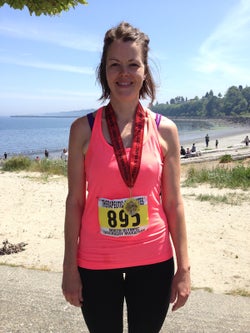 "On Saturday, June 24, I'm gonna take off my shirt and join the #SportsBraSquad!! I'm afraid of being physically vulnerable and exposed, but I'd love to feel free to take off my shirt whenever I feel like it,  that it's no big deal. It's important to me to support women of all shapes and sizes who put themselves out there, over and over again. Joining the #SportsBraSquad is a step towards body acceptance, and it's a 'HEY, LOOK AT ME! I'm strong and I'm healthy! SEE ME?!?!' moment.
"I truly hope that women feel courage and a sense of togetherness. I would love to be able to inspire others. And I hope for myself and others that this translates to other aspects of life like relationships, jobs and other challenges."
Maggie Nolting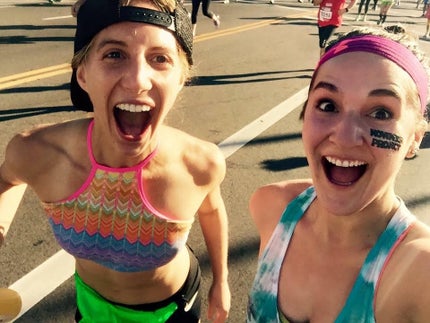 "I got really involved with the running and fitness world these past couple years, and with it came this obsession with getting a six pack. For the first time in my life, I was going to have these awesome abs and once they were perfect I would run in a sports bra. A year ago, I had awesome abs, I ran in a sports bra for the first time, and it felt great. Then I got injured, and I lost my abs, and I wouldn't run in a sports bra anymore. I felt like I had set this 'six-pack standard' and I was embarrassed to reveal to my running buddies that I'm a human being whose muscle tone fluctuates. They praised me for being strong, and if they saw less-than-defined stomach muscles, wouldn't they change their minds?!
My fitness group November Project had a workout on the beach and I wanted to run through the water with my friends so I sucked it up and ran in my sports bra. It was so crazy—no one thought I was any less strong! Actually, I did 25 pushups in one go on that day, so I guess my vanity abs aren't a reflection on my strength and fitness! Becoming a member of the #SportsBraSquad was a promise I made to myself to actively be grateful for and proud of my body. It's not easy, but I hope us women seize this opportunity to work at changing the rhetoric in our heads. When that voice inevitably says, 'Ugggghhhhhhhhh why did my body look so much better a month ago,' slap on that sports bra and respond, 'HEY! I am spectacular right NOW, exactly as I am!'"
Rachael Traub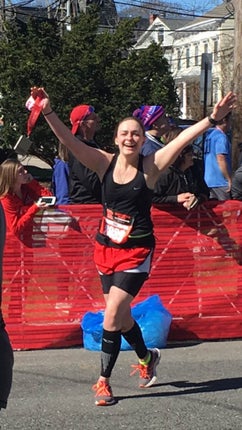 "I am a 26-year-old living in New Jersey and just started running in October 2016. I work in human resources at a fitness center and the fitness manager suggested I take a run with her the day my dog passed away. I figured, 'why not,' and ran my first three miles that morning. At that point, I realized that there is no better time to chase your dreams than the present, and I went home and signed up for the Rutgers Half Marathon on April 9. After many months of training, I ran the Rutgers Half in 2 hours and 19 minutes (I hope to someday run a half in under 2 hours!) and said that it was the best day of my 20s thus far (which still holds true). It was also the first time in my life I was thankful for what my body had just done for me.
"While most consider me to be 'in shape,' I have struggled with my body image for as long as I can possibly remember. This is still a daily struggle for me. When I was in middle school, I was bullied relentlessly for being the 'fat girl.' Once I hit 10th grade, I grew five inches and thinned out tremendously (thanks, puberty!), but to this day, the bullying has tormented me and my body image. I still find myself hiding my stomach, as it has always been the thing I dislike most about my body–getting called a potbelly pig as a kid has a way of sticking with you.
"When I saw that June 24 was #SportsBraSquad day, I immediately texted one of my best friends and said, 'Maybe this will be the day I run in a sports bra for the first time and post about it!' I have never run in a sports bra before because I am scared of what others will think of me if they see me in one. I don't let anyone see my stomach and cringe when someone looks at that area of my body.  I have defined my body as 'not good enough' for way too long. I think it's time for me to make a change, though. I want others to know that this change starts with loving yourself and appreciating your body. I want my first time running in a sports bra to finally say to the world, 'I am stronger than my insecurities and you can do this, too!'"
Nicole Kuh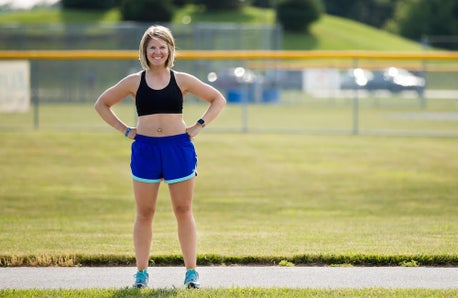 "For me, running in a sports bra is a way to shed, both literally and figuratively, anything that might be holding me back. Turn up my music and turn down the self inflicted negativity that runs through my brain.
"As women, we are constantly told that we need to be more of certain things and less of other things until the whole of who we are is watered down. I chose to join the #SportsBraSquad because I need to model for my daughter and sons that strength, determination and success don't have to look a certain way: that those ideals are measured by the chances you take and the dedication you have to embrace your challenges, not your weight or inches. I hope other women can find the confidence to truly and wholly love their bodies for all the things they've done and are capable of doing. I hope someone can tap into their potential and not be held down by feelings of inadequacy. It's more than running without a shirt: it's being a living example of strength, in all its forms."
Mallory Smith
"I do not come from an athletic background. I dreaded running in gym class when I was in high school. I skipped 90 percent of the swimming unit because I didn't want my classmates to see me in a swimsuit, and to this day I don't know much about sports and how they're played. As a teenager, I would try to go running around my neighborhood every so often, and I could manage half a mile or a mile before stopping. In college, I would go to the gym and run for 20-30 minutes on the treadmill. I never pushed harder or further than that, partly because I didn't believe I was a runner and didn't think I could, and partly because I wasn't eating properly and literally did not have the energy to sustain any kind of intense exercise. My motivation to exercise was to burn calories and make my body smaller, not to be healthy or strong.
"A few years ago, I discovered strength training and finally started working out with the intention of becoming stronger and healthier. I started eating to nourish my body. With the help of therapy in addition to developing a healthy approach to nutrition and exercise, the disordered thoughts and behaviors surrounding food became quieter. I was invited to participate in a local 5-kilometer race with some friends, which sounded incredibly daunting because 3.1 miles was further than I had ever run before.
"This past Saturday, I joined the #SportsBraSquad for the first time ever. I love the idea of women feeling comfortable, confident and strong in their own skin. That said, I still believed that ditching the shirt was something I wouldn't be able to do. When I set out to run 4 miles Saturday morning, my boyfriend suggested skipping the shirt since it was so hot and humid outside. I still didn't feel comfortable going without, so I set out wearing the thinnest, breeziest shirt I had. At mile 3, the discomfort of overheating finally surpassed the discomfort at the idea of people seeing my stomach, so I ditched my shirt (while running!), tucked it into the waistband of my shorts, and enjoyed the relief of the breeze on my skin and the enormity of overcoming that massive mental hurdle.
"Honestly, I am still going to have days where I run with my shirt on. Body image continues to be a huge challenge for me. Also, sometimes I just don't feel safe as a woman showing skin in my neighborhood if I'm out running by myself. But something I've learned is that some progress is better than none, and joining the #SportsBraSquad was another example of achieving something I never thought I could. It was another opportunity to shut down the voices in my head telling me that I can't do something, that I shouldn't do something and that this thing is for other people and not for me. It gave me the opportunity to listen to my body ('Girl, it's hot AF out here') instead of listening to the negativity."
Kayla Good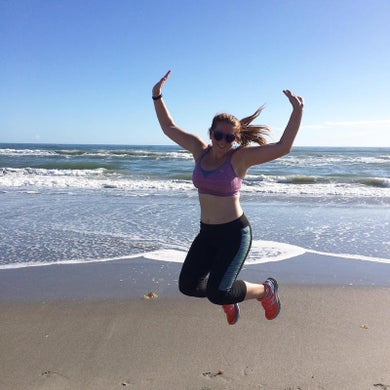 "The first time I ran in my sports bra I was in my rural neighborhood in the middle of a cornfield. So let's say the first time I ran in my sports bra publicly was on Cocoa Beach, Fla.
"I was afraid that the sun bathing beauties would judge my slow pace and jiggly struggle of running in the sand. But it was hot and I knew that I was also a sun bathing running beauty, so off the shirt went! For me, running in my sports bra meant getting over the insecurities that nagged at me. At this point on the beach, I was training for a half marathon and I knew that embracing the fact that this was a badass, ambitious goal was enough to encourage me to run in a sports bra. I mean, everyone else is already in their bikinis!
"Joining the #SportsBraSquad is a way for me to show that I am stronger than society's perceptions of what women should look like and what women should wear. For #SportsBraSquad Day, I will be running with one of my best friends on a busy greenline in Memphis. It will be her first time joining the Squad and I am glad that I can help inspire her to be brave. I hope this movement can allow more women to see the strong side of themselves, whether they're running with or without a shirt."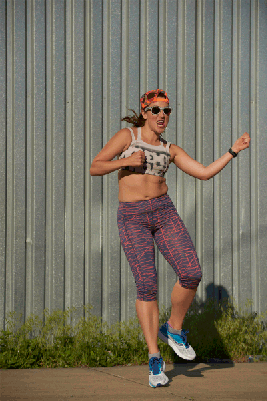 If there is one thing I've learned from the #SportsBraSquad, it's that no one is safe from feeling insecure. Before I launched and joined the #SportsBraSquad, I was terrified that someone would say something horrible to me and hurt my feelings. But I quickly learned that the things I was saying to myself were infinitely more hurtful than anything anyone could ever say to me. The #SportsBraSquad may have started as a way to stay cool during those hellishly hot summer runs, but it's become a way for women to come together in their pursuits for the strongest versions of themselves.
So whether you're running solo and virtually connected to the #SportsBraSquad or you're running with your #BadAssLadyGang, join us on June 24 for Global #SportsBraSquad Day! It's time we show the world: this is what strength looks like.
Until next time, #RunSelfieRepeat.
Related:
I'm A Size 10 And This Is Why I Run In A Sports Bra
Kelly Roberts Gets Real About How Running Changed Her Life