Simple Tricks For Making Healthy New Year's Resolutions
Let's not go crazy with our ambitious health goals—one step at a time toward a badass 2016.
Heading out the door? Read this article on the new Outside+ app available now on iOS devices for members! Download the app.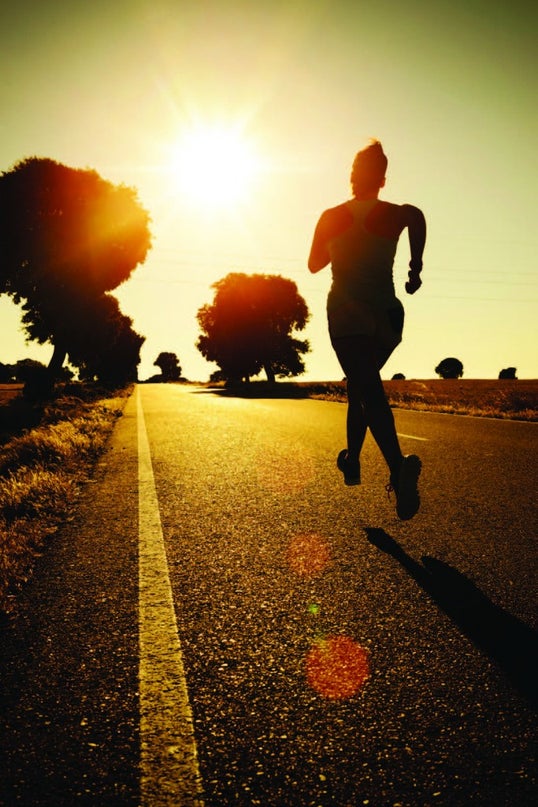 Now that the last present has been unwrapped and the last sugar cookie has been scarfed, your thoughts are probably turning towards the New Year. For many of us, that means making resolutions, especially ones related to better health (I'm looking at you, sugar cookies). While you may be tempted to swear off dessert, pledge to run 5 miles a day and eat kale for breakfast, lunch and dinner, that's a recipe for disaster that will have you back on the couch (and back on cookies) by the middle of January. So before you decide to pour out your champagne and go gung-ho on your goals the moment the ball drops, take a look at these do's and don'ts for making the right resolutions for you.
Do forgive yourself
Before you can embark on your healthy new lifestyle, you have to let go of any regrets you may have about your diet and exercise routine during the holiday season (or however long it's been since you were on the right track). If you're too busy beating yourself up over how many workouts you skipped or how many servings of mashed potatoes you ate, you could end up trying to punish yourself with extreme workouts and diets, or worse, just give up because you feel you've done too much damage to repair. Forgive yourself for your health missteps, remind yourself that no one's perfect, and congratulate yourself for making the decision to turn things around.
Don't go crazy
Before you run out to the store to buy a juicer and start making gallons of celery-spinach-parsley delight, take an inventory of your current diet and then make smaller steps towards correcting any deficits. Are you lacking in produce? Add an extra serving of fruit at breakfast and a vegetable at lunch and dinner. Need more protein? Try serving your granola over Greek yogurt and munching a handful of nuts with your afternoon snack. These little changes will make a big impact on your overall health without feeling too overwhelming. The same idea goes for your workouts- add an extra day of running to your current schedule or an additional mile to your usual route and slowly increase towards your ideal fitness level.
Do write it down
You've likely heard this tip time and time again, and for good reason; "seeing" your goals in your mind is all well and good, but unless you can physically see them, it's way too easy to forget about them when your husband suggests a Netflix marathon instead of a run or the waiter hands you the dessert menu. Take twenty minutes to sit down and think about what you want to accomplish for your health this year, and then jot down ways you can achieve those goals. Be specific to give yourself a no-excuses plan; instead of "run every week" write "run three miles Monday, Wednesday and Friday and five miles on Saturday," or change "eat more vegetables" to "make salads for the week on Sunday nights and steam a bag of veggies with dinner three nights a week." For extra inspiration, include the reason you're making each goal ("skip sweets during the week so I feel less sluggish and lose the last of the baby weight").   Then make copies of your list and put them everywhere you need motivation- the kitchen, by your gym bag, or even a little copy in your wallet if you need a reminder on the go.
Related: Read This Before You Make Resolutions
Don't go to extremes
You may want to raid your kitchen and toss anything with a gram of sugar, carbs or fat, but going to extremes like that is an excellent way to end up late-night binge-eating spoonfuls of cookie dough by the light of the refrigerator. An all-or-nothing approach sets you up to fail because no one can be 100% perfect all the time. So instead of launching a war on sugar, vow to skip dessert most days but let yourself have a small ice cream cone on Friday nights; cut out fatty fried foods like chips but keep moderate amounts of healthy fats like peanut butter.
Do set other resolutions
If you're committed to improving your diet and exercise routine this year, that's awesome! But since focusing all of your time and energy can leave you feeling burned out and wanting to quit, consider adding one or two fun resolutions to your list that aren't health-related. Pledge to read a new book every month or have a date night every other weekend; choose something you can look forward to and accomplish easily. Achieving these little goals will give you motivation to tackle your more serious ones, and doing fun things for yourself will refresh you enough to keep you on track for the long haul.