I Signed Up For My First Ultra And I Have No Clue What I'm Doing
It's just running, right?
Heading out the door? Read this article on the new Outside+ app available now on iOS devices for members! Download the app.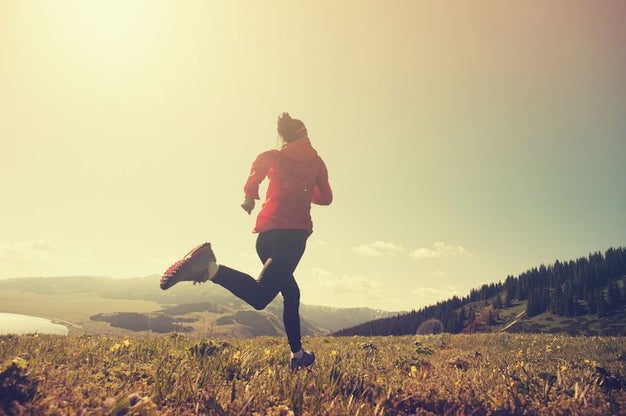 I knew it was coming. It was inevitable really—running so many races, finally tackling the full marathon, then the Boston Marathon, then a lofty half-marathon goal. What's next? Especially when you have a trail-loving, Pacific Crest Trail-hiking significant other who's done three of those 26.2-mile-plus bad boys, the ultra-marathon is next.
And I just signed up for my very first one: the North Face Endurance Challenge California 50K, held in the Marin Headlands and finishing in San Francisco.
Despite the fact that I'm inundated with limitless people and resources to help me train thanks to my job, I still have zero clue what I'm doing. So here's my written-by-a-fool guide to training for your very first 50K. (Seriously, I really don't know WTF I'm doing, but it's kind of fun, tbh.)
Related: Almost Any Runner Can Finish A 100-Mile Ultramarathon
Find a trail and run on it.
Since registering, I've run with my boyfriend more in the span of three weeks than I ever have. We even made it to some epic trails in Tecate, Mexico, already. But that was my basic first step. I'm not a trail virgin by any means, but when my brain saw 'ultra,' my legs craved 'trail.' So, by some runner default, I followed my most logical first step and started substituting the staple road runs around my apartment with more of the dirty variety.
Probably follow some sort of training plan that's not too foreign, but kind of foreign.
Based on my limited (read: nonexistent) knowledge of training for something longer than 26.2 miles—also, something with much more intense elevation gain—I would say that an appropriate training plan isn't too different from a marathon one. Of course, I'm probably totally wrong—who knows? But really, following a plan with the same basic weekday mileage as my two marathon plans seems logical. Then just toss in some painful longer weekend runs, potentially back-to-back, double-digit days on dirt, and you're golden. World records will be set, I'm sure.
Related: Average Runner's Complete Guide To Ultrarunning
Figure out some sort of nutrition plan.
There's something about campfire s'mores-flavored gels and trails that just go well together. Also, call me nutty, but both my boyfriend and I dig Pedialyte over any other electrolyte beverage—and we also swear it gives you superpowers. (No? Just us?) In any case, I really have no concept of how my colitis will fare (or flare) during the ups, downs and arounds of a 31-mile course. I should be more concerned about what I put in my body along the way…or should I? Meh, it will work itself out, right?
Understand why I'm actually not super freaked out about this.
Maybe it's the fact that my boyfriend will be running it with me for our four-year anniversary and it runs right into my favorite city, or perhaps it's because I have no concept of a good time goal, nor do I care, but I'm actually being over-dramatic writing this. I'm not really that freaked out…but maybe the ignorance factor is freaking me out.
Respect the distance but don't underestimate my body.
"It's only, like, 5 miles more than a marathon, right?" First, don't ever say that to me again. If you've ever run a marathon, you know that final .2 is the longest stretch of your life…let alone adding 5 miles to that. But really—it's not that much farther than the full marathon. I've done three marathons and have been running since middle school; although it's a new distance, I think I got it handled. Hopefully. Possibly.
Talk to my friends who have tackled the distance and still enjoy running.
If you've spent 5-plus hours on your feet, running wild through nature, and you still like the sport, I want to talk to you. I don't think tackling this goal will make me hate running, but in the moment I might want to hate it enough to quit. But alas, I've heard nothing but great things about turning off and just meandering through the wilderness for miles and miles, so perhaps an ultra is just what the doctor ordered to re-ignite (yet again) my passion for longer distances.
Try not to make it a big f*cking deal.
At the end of the day, it's just running–right?
Related:
An Average Runner's Complete Guide To Ultrarunning
Top 4 Training Mistakes In Ultrarunning