Seriously, Runners—Stop Apologizing For These Things
It's time to stop shaming our habits and embrace our runner lifestyles.
Heading out the door? Read this article on the new Outside+ app available now on iOS devices for members! Download the app.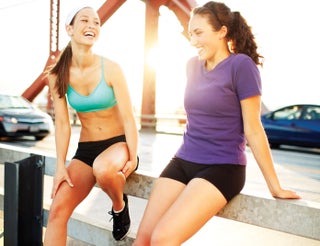 I often hear fellow runners, including myself at times, offering apologies and feeling guilty for some pretty silly things. Things that are "the norm" among other runners are suddenly things so many of us defend when we interact with others who might not be in training at the moment—or perhaps aren't runners themselves. In a world where humans over apologize as it is, it's time for runners—and really people in general—to halt the "I'm sorry" and embrace their chosen lifestyle as something to be proud of. So next time you feel guilty about adding one more running sticker to your back window, pause and think: Are you adding it because you're sorry you ran that race, or are you adding it because you're proud as hell for making it through that grueling marathon?
Here are some of the things I've seen shamed by others when it comes to running. No matter your sport or lifestyle of choice, it's okay to respect your love of the game…proudly.
Related: 10 Moments That Make Female Runners Cringe
1. Ditching a girl's night out for an early run the next morning. Cue the eye roll on the other end. In my experience, and the experience of many of my friends, those eye rollers are sometimes a little jealous of your dedication, as I often find out later when they come clean after giving me a hard time. Don't be ashamed of an early bedtime; early bedtimes have contributed to some big PRs I've run in my life. Own it and know that 6 a.m. long run will have you up without hangover just a couple hours before your friends pour their partying selves into bed. (Editor's note: We totally support girl's nights out. In fact, we encourage them whenever it works for you. Like the night after that hard run.)
2. Adding another sticker to your car. If you ran your very first 13.1 and want everyone to know about it, slap 500 of those stickers all over your car. You deserve a little pat on the back for your accomplishment, whether it's in the form of a sticker, Facebook update, text to 15 friends, #selfie at the finish line, or just a brunch out with your running buddy after the race. Sure, we all have that one friend who floods our news feeds with by-the-hour mileage updates, but that's her prerogative, and you never know the force behind living such a public life until you ask them. "Hey, so what inspires you to share all of your runs?" I've asked people that before, and some answers might surprise you. So keep sticking numbers to your car—you're inspiring the guy next to you to Google "13.1."
3. Cutting back on spending due to expensive race registrations. Yes, we are a weird breed. We spend big bucks to voluntarily get up before the sun and run obscene distances, probably suffering for at least part of it, with nothing to show for it except a race shirt that never fits right and a measly medal, right? So why do we do it over saving extra dollars for a weekend away with friends or a dinner out with colleagues? Because we love it. Because in between that grunting, there's mile markers that signify progress and a shiny achievement. Those medals remind us that we did it, and we will probably wear that shirt we paid $100 for at next year's race. I bet that night out doesn't make you feel as great as fist-pumping your way past a line of screaming spectators.
4. Changing eating habits—whether splurging after a run or making healthy adjustments—to fuel that working body. If you feel like downing a fat burger after a hard 15-miler, than you eat that burger! If you need to cut out meat or gluten or snacks or late-night ice cream or carrots because your stomach just suffers the next morning, then cut it out. If you're following a regimented nutrition plan that's really working for you, props! Feel good on the inside from what you eat, and feel good on the outside from making smart eating choices that work for you—not for anybody else.
5. Moving around between different clothing sizes. If you start running regularly, sizes will shift. Some runners seem to drop two pants sizes within minutes. Others might go up a size or two as they pack on muscle. Some might not see much a difference, or they run just to maintain a healthy weight that doesn't fluctuate for them. During a time where the "perfect body" is being replaced with "every body" and shaming "body shaming" is going viral in an instant, people need to stop rejecting compliments and making self-deprecating remarks about their own hard work. I guarantee that not one woman feels 100% comfortable in her own skin 100% of the time. But every woman who's working hard at what she loves deserves a little dressing-room click of the heels when clothes look fab no matter what number or letter is on the tag.
What else do you not apologize for anymore? Tweet @womensrunning with #sorrynotsorry and share what we missed.