8 Important Self-Defense Moves For Runners
Tap into your own strength and learn these essential self-defense moves before (heaven forbid!) you might need them.
Heading out the door? Read this article on the new Outside+ app available now on iOS devices for members! Download the app.

Safety Check — Self-Defense Moves For Runners
Kelly Herron was four miles into a Sunday afternoon run earlier this year when things took a life-changing turn. Ducking into a restroom in the middle of Seattle's Golden Gardens Park, Herron was attacked by a man hiding in a stall. She was blindsided and a frightening struggle ensued. After he punched her in the face and knocked the 36-year-old to the ground, she crawled into a stall and he followed. "I remember thinking, This is it. I am going to be raped on this concrete floor with sand in my teeth by this revolting person," Herron says.
Using self-defense techniques she had learned recently at an office workshop, Herron managed to break free and lock her attacker in the bathroom until police arrived. Today, Herron proudly calls herself a survivor, not a victim, of assault. "Women are BUILT to be strong, to be brave and are capable of more than we can even imagine," she says.
Unfortunately, Herron's story isn't one of a kind. From catcalls to indecent exposure, female runners everywhere have tales of harassment mid-stride. Though the likelihood of an attack is very low, it's best to have the know-how to defend yourself. As gruesome attacks land in the news, more women are finding value in not only learning self-defense but carrying protective gear, too.
"You have insurance for your car, your home, your personal things—why wouldn't you have insurance for your body?" says Gabrielle Rubin, founder of Female Awareness, a self-defense class in New York City. "With the right moves, you'll be empowered instead of scared. Confident instead of paranoid."
Here, Rubin gives us her eight essential self-defense tactics for female runners. She suggests practicing them whenever you have a spare moment, like while you wait for the subway or for copies at the copy machine. "See how many repetitions you can get in a minute," she says.
Related: New Handheld Safety Device Lets Every Runner Be Catwoman

Answering The Phone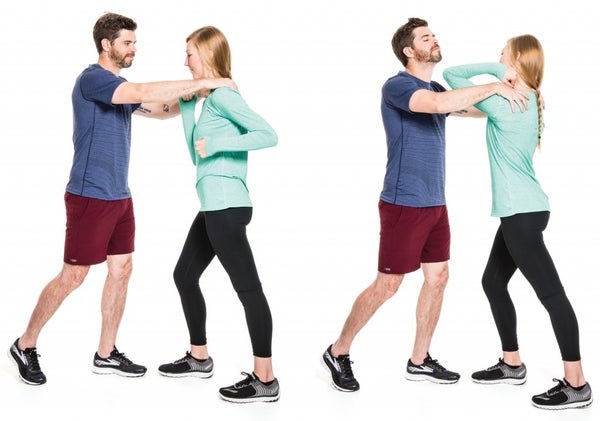 Use when: Attacker places you in chokehold or has hands on both shoulders
Stand with feet in staggered stance, making a fist with your dominant hand. Starting with arm at waist height, thrust elbow forward and up, aiming for attacker's chin.
Rubin says: "If the guy's talking shit, it's going to shut him right up."

Shin Kick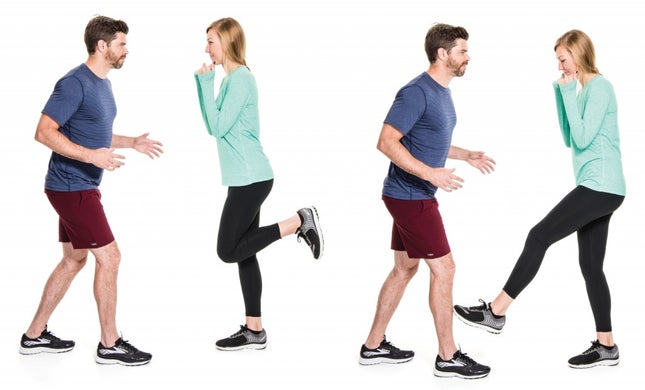 Use when: Attacker comes toward you with hands up
With hands up to protect face, start with dominant foot back like a flamingo. Kick toward attacker's shin.
Rubin says: "Your legs are longer and stronger than your arms, and this allows you to attack from farther away."

Tennis Serve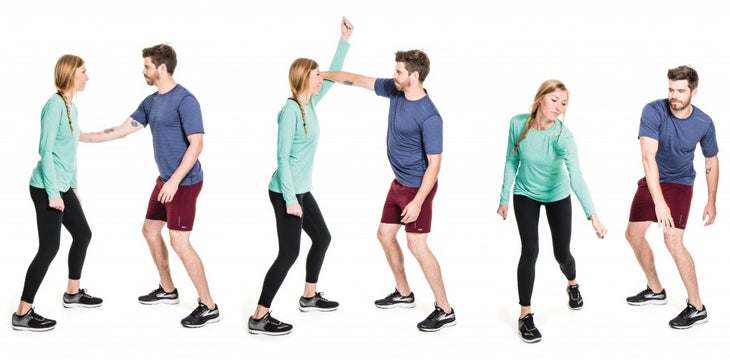 Use when: Attacker grabs you by the upper arm or sleeve
Stand with feet in staggered stance. Swing arm backward as if you're swimming, then diagonally across the body like a tennis serve.

Air Guitar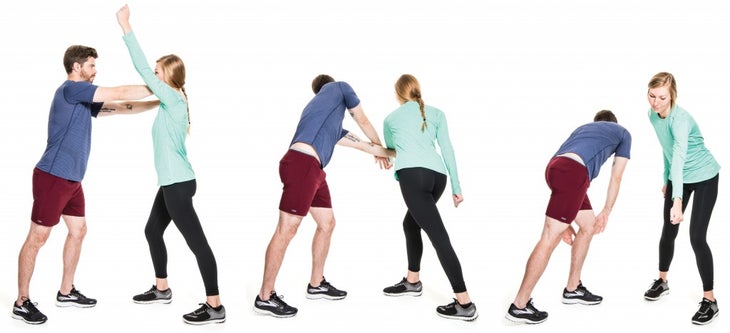 Use when: Attacker grabs you by the collar
Stand with feet in staggered stance. Swing dominant arm up toward 12 o'clock and down in front of face. Once attacker's grip becomes dislodged, pivot and escape.

Twisting Wood Chop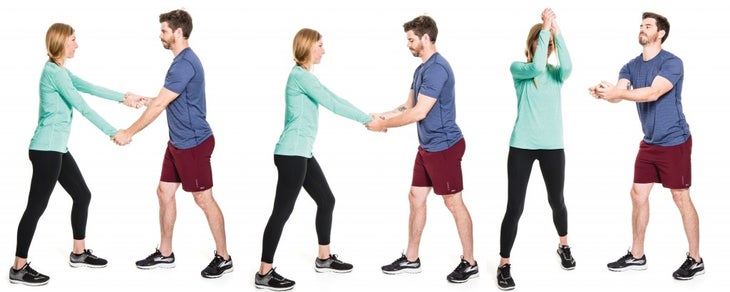 Use when: Attacker grabs hold of both wrists with arms separated
Stand with feet in staggered stance. Bring hands together, then swing arms up with force. Once attacker's grip is loosened, pivot and escape.

Strike To The Ear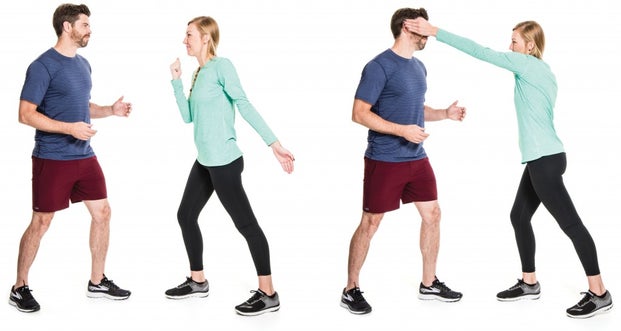 Use when: Whenever it's available
Stand with feet in staggered stance. With elbow locked out on dominant arm and palm flat, swing arm directly for attacker's ear.
Rubin says: "Not only are you cupping their ear and hurting the eardrum, but the palm is hitting the temple, which is an equilibrium pressure point. If they don't see this coming, this is a super-valuable tactic."

Floor Kick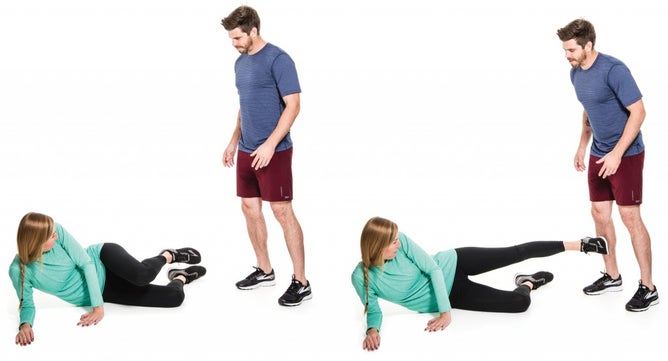 Use when: You're on the ground and attacker is coming from above
Lie on your side. Support yourself with your elbow, with your forearm and palm down. Use your top leg to kick out toward attacker, aiming for either the thigh or shin.

Yell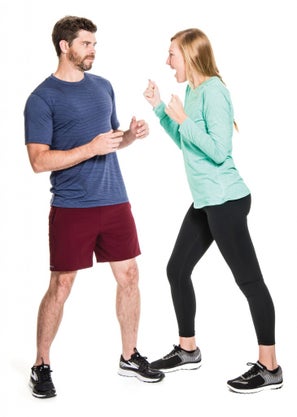 Use when: In any threatening situation
Make it loud and with attitude to be most effective.
Rubin says: "Your voice is your best weapon. Bad guys don't want an audience."

Bonus Tips: Easy Ways To Arm Yourself
You stash your credit card and house keys in your sports bra or tights pocket for your morning jog, but what about other protective gear? Here are Rubin's three rules for arming yourself on the run: 
Find something you're comfortable with: You need to feel at ease knowing you can use whatever items you have on you. Not every woman feels comfortable carrying something like a Taser or wearing TigerLady claws. Start with carrying a flashlight ("They call it a deer in headlights for a reason," she says), a hollow keychain baton or a BodyGuard alarm.
Practice makes perfect: "Test it as soon as you get it," says Rubin. "If you've never used something like pepper spray, you don't know how far it really shoots."
Keep your dominant hand free: You're never going to feel comfortable running if you're hitting hill repeats with a Taser in your hand (talk about a pace killer). But to be best prepared in case of an attack, make sure your items are easily available.
Related:
14 Safety Reminders For Runners
5 Safety Rules That Every Runner Should Follow