The Secret Thought Process Of A So-Called Runner
Being a runner can be filled with a lot of emotions—both good and bad—and it is pushing through them all that makes you stronger.
Heading out the door? Read this article on the new Outside+ app available now on iOS devices for members! Download the app.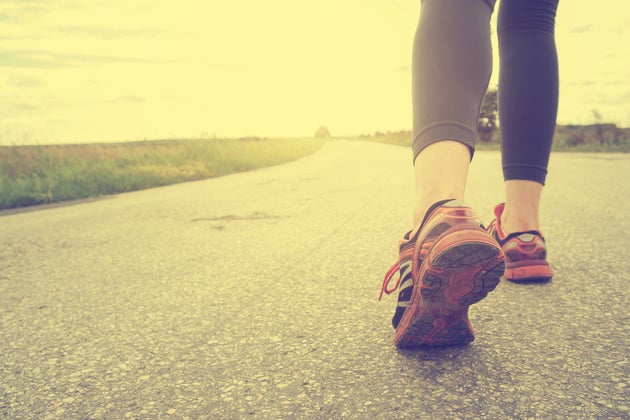 The definition of being a "runner" seems a little hazy. What makes someone a runner? To some, you are if you say you are. Sure. Some say it's after running a marathon. Check. My sisters say being a runner is when you start using BQ as a verb in everyday conversation and expect others to know what you're talking about. Yep, that's me.
My life is running in many ways—I have a subscription to Women's Running, know my favorite running shoes, finished in the top-10 women of my most recent 5K and consume the latest runners' fads like tart cherry juice. Many people strike up a conversation with me by asking what my next race is or what distance I've been running lately. When people ask me about running, I am happy to talk about it.
But lately, I'm not always excited about running. Sometimes my mind wants to quit and my legs tremble as the thoughts battle out in my head to stop or keep going. I push my body to run when I don't want to. I force myself to wake up early to get in a run before the stifling heat when I really need a day to sleep in. And I became the runner who played a mental game of hesitancy before eating a donut after a race because it just didn't seem like runner's fuel.
Runners are inspired by goals and not wanting to disappoint. Goals are replaced by new goals which will eventually be replaced by newer goals. After my last 5K, I timed a minute and a half better than my goal, thanks to my runner buddy pushing me. I was thrilled. For about 10 minutes. Then I started thinking that I was only 20 seconds shy of beating 22 minutes. That's what I'm tired of—cutting the celebration short and challenging myself to do better; focusing so much on what my next race, goal or distance will be; and never believing that my best is enough.
Some miles are literally one foot in front of the other, asking myself why I'm running and if there is a hobby I would enjoy more. I want to break down and cry and force myself to love it as much as the runners around me. The concept of relationships with inanimate objects is a little bit like wrapping my head around why Californians wear winter coats when it's 60 degrees (I'm a Minnesotan). But we do have a relationship with what we love—running can bring out the best in us, it can challenge us, but it can also hurt us. It can break us to make us feel like invaluable snowshoes on a sunny beach.
This emotional relationship with running is new to me and I lack the knowledge of a quick fix. Here are a few ideas I have in mind:
I am going to run with friends more, because that is when I love running the most.
I am going to go on runs without a distance or time in mind and give myself permission to stop. To walk, to sit or to just quit for the day.
I am going to volunteer for at least one race to be a part of the fun without the risk of not having fun at all.
I am going to cheer so loud for my friends and fellow runners stepping up to a marathon this year, as they conquer a feat they likely thought at one point was impossible. Personally, I am going to skip out on marathon goals for 2017 and plan for a re-match in 2018.
I am a runner, but I am also a reader, an aspiring traveler, a sister, daughter and aunt, a coffee shop go-er, an extroverted introvert, a nurse, a fan of anything outdoors, and occasionally when I feel inspired, a writer. Maybe some people are totally satisfied living and breathing running. But to those who feel like they might suffocate under the pressure to keep going, join me in this slightly different approach to rest and recovery. We will love it longer and fuller if we care for both soul and sole.
And just to confirm what is obvious to many, the donut was delicious.