She's Running Boston To Raise Funds For Refugees
You'll recognize Rahaf Khatib from our October 2016 issue.
Heading out the door? Read this article on the new Outside+ app available now on iOS devices for members! Download the app.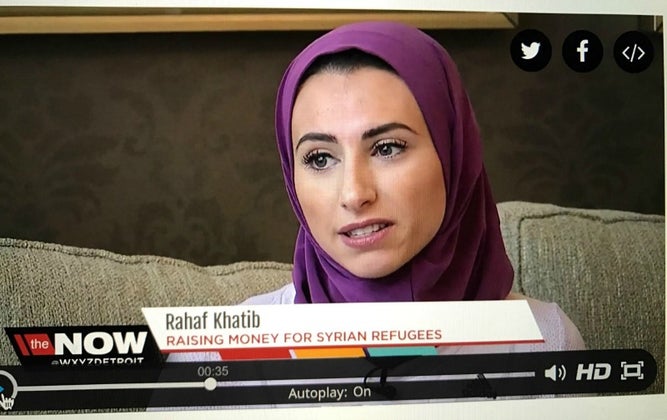 I woke up Saturday, January 28—just seven days after the Inauguration—to absolute mayhem. Or at least thats how it felt for me. I fed my kids and made sure they were settled in before I had to hop on the treadmill and get my long run in for the day. But something about this day was different. You see, I was filled with emotions. I had to keep a straight face while the TV was blasting the news of the recent executive order. I didn't listen to music during my run. I didn't need it; I was consumed with worry, rage, sadness and fear.
I ran that Saturday morning for all those who were being held back and detained at airports. I ran thinking, Oh dear lord this could have been me! I ran thinking about the tens of thousands of people who had their visas provisionally revoked as part of the implementation of Trump's travel ban; some of which who already had to endure two—some even more—years of extreme vetting and thorough background checks, just to get on that plane and be told midair that they weren't allowed into the United States of America. That they weren't going to be let into this land of the free, home of the brave. I ran with the TV blasting and scenes of protestors pouring out in the thousands to local airports to voice their opinion and proudly execute their rights of the First Amendment. I ran and ran and ran with all my heart and fiber of my being thinking of how the executive order is intertwined with my immigrant family history and myself. My parents are immigrants from Damascus, Syria and I was actually born in Syria in 1983. Raised in Dearborn, Michigan.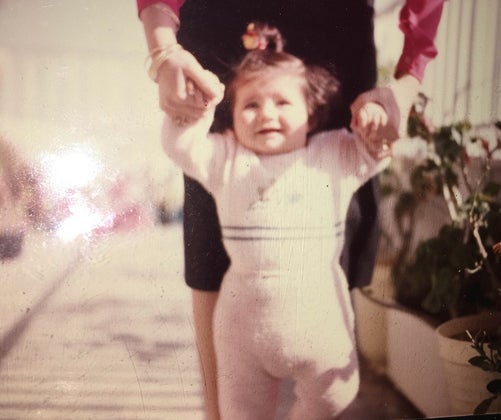 Sweat started pouring down my forehead, trickling down my face mixed with my tears that I couldn't hold back as I continued to watch the news. This quote by Stephanie Kenner reflects what made sense to me at the time, "Americans are more likely to be struck by lightning thousands of times before being harmed by a refugee." Furthermore, CNN's article titled, "How many fatal terror attacks have refugees carried out in the US? None," proves that there has been ZERO terrorist attacks by refugees from the seven banned countries. I felt as though the rashness of the executive order was done chaotically and haphazardly—so much so that even the border patrol officers were reported to be confused.
Earlier on in December, way before the executive order took place, I had reached out to the Boston Marathon charity organizer to try to get a charity that supports refugees as part of the 2017 Boston Marathon Official Charity Program. I was then told that the application and selection process had closed in July. Thinking I had been defeated and that it wasn't meant to be, I gave up trying.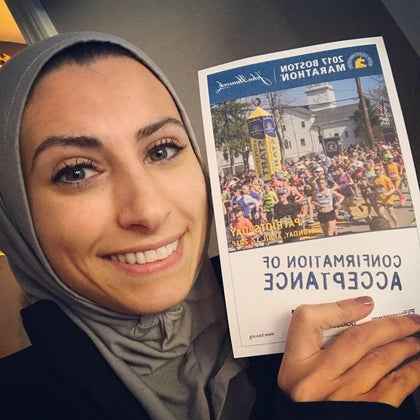 Early in January I received an email from Hyland's, a major sponsor of the Boston Marathon, INVITING me to be on their all-female team to run this incredible and prestigious marathon. The team is made up of diverse, strong women of all fitness levels and backgrounds in honor of the 50th anniversary of Kathrine Switzer's historic run as the first woman to run Boston. I took this as an opportunity and a sign to fundraise for refugees here in my home state, Michigan.
With the recent and tragic displacement of several thousand Syrian refugees here in the States and few hundred families settled in our backyards here in Michigan, I thought to myself; how could I not help? And so with that I quickly set up a fundraising site via LaunchGood to fundraise for my cause. The funds will go to the Syrian American Rescue Network (SARN), a non-political, non-religious 501c charity based in Michigan.
How elated I was to get this opportunity to run my seventh Boston Marathon and third World Major Marathon, plus fundraise for a meaningful cause at the same time? Not only did I want to earn my spot at Boston, but running and humanitarian causes go hand in hand. THAT'S what brings out the spirit of the marathon to me.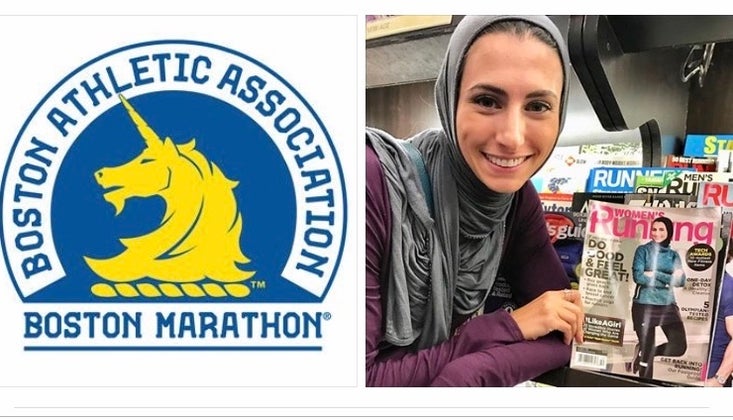 About the Author: Rahaf Khatib is a stay-at-home mom, an international marathon runner and the first Hijabi to appear on the cover of a US Fitness Magazine—ours! Rahaf uses her running to empower the community through advocating for healthy living while organizing local runs. She has been sponsored to run the prestigious Boston Marathon with the Hyland's team in honor of the first female to cross the finish line 50 years ago. Along with that, Rahaf will be raising money for refugees here in Michigan. Please donate today!