Research Reveals Elite Females Better at Marathon Pacing
Take some tips from elite runners to help your race day pacing.
Heading out the door? Read this article on the new Outside+ app available now on iOS devices for members! Download the app.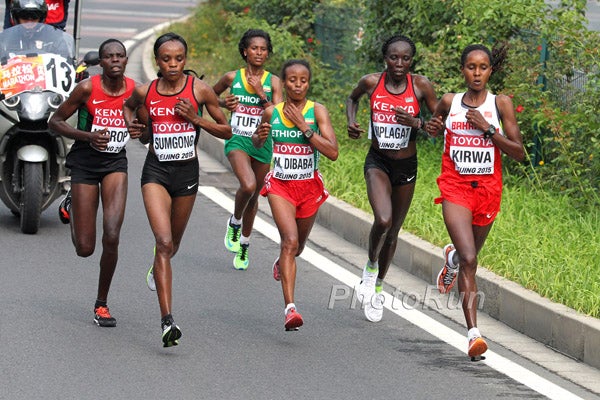 *Courtesy of Competitor.com
According to a new study, published in the Journal of Sports Sciences, elite women marathoners are better at pacing than their male counterparts. Dr. Brian Hanley, a senior lecturer in sport and exercise biomechanics at Leeds Beckett University in England, had conducted the research over the course of 14 years (from 2001 to 2015), investigating the pacing profiles of 673 men and 549 women competing in the IAAF World Championships and Olympic marathons.
The results found that, overall, women slowed down less and were less likely to drop out of a race due to their conservative starting paces as opposed to men who demonstrated a more aggressive approach in the beginning. This conservative start also meant that top women athletes relied more on a sprint finish in the final mile to decide medal places more than the top male runners.
"While it is not fully understood whether the pacing difference between men and women is based in physiology or psychology, women taking part in mixed, large-city marathons should note that running with other women of the same ability is more likely to result in an even pace than following the over-ambitious speed set by men," Dr. Hanley explained in a press release.
This would explain why we see larger and tighter lead packs throughout a marathon, from start to finish, more so in women's races than in men's races. Regardless of gender though, the research also concluded that pack running is highly beneficial for the individual runner. Collected data indicated that medalists of both sexes maintained an even pace from 10K onwards when running with a group throughout the entire race whereas slower finishers, who only ran with others for part of the race, dropped off the lead pack around the 13.1-mile mark.
From a mental perspective, pack running makes sense. It can reduce the mental load of running alone over long distances when competitive motivation isn't enough.
Related: 5 Race Day Don'ts For Runners
However, sticking with the lead group isn't always an easy feat, especially after 20 miles when fatigue and everything that could go wrong in a marathon usually occurs at this point. Thus, based on his research, Dr. Hanley advises to choose someone with similar abilities or ambitions at the start of a race.
"For this reason, any runner taking part in upcoming marathons, such as in London, are advised to ensure they line up in the appropriate start pen, so that this form of symbiotic pacing can help them achieve even-paced running and potentially better performances," he concludes.