Runners Love Social Media For These Two Great Reasons
Pic or it didn't happen, right? Here's a look at the two main reasons why runners can't get enough of sharing everything on social media.
Heading out the door? Read this article on the new Outside+ app available now on iOS devices for members! Download the app.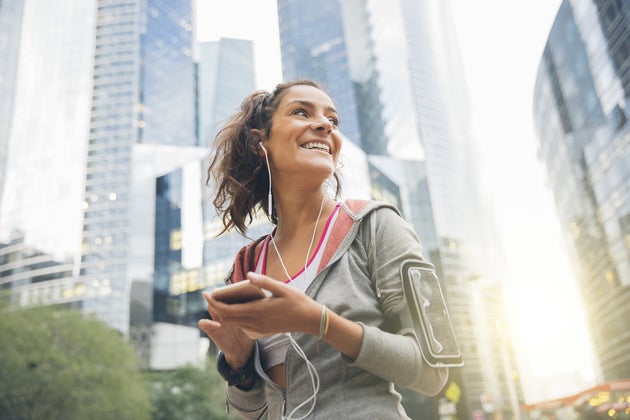 I am pretty sure that the only thing most runners like more than a good (or even a bad) run is the thought of posting about it somewhere after the fact. Scenic run? City run? Crushed your PR? Raced in a tutu or tiara? Collapsed in a sweaty heap two minutes after you got home? Rehabbing? Racing? Share please.
And we, as runners, do. It made me wonder–why? For me, it really boils down to two things: you don't feel alone in the 'suck,' and you aren't alone in the glory.
The Suck
For a sport that draws so many die-hard devotees, running comes with some pretty nasty side effects. Sweaty clothes, sweaty socks and sweaty shoes are just the beginning. Injuries can leave you sidelined. Black or missing toenails. Collapsing after a disaster run swearing that you're never doing THAT again. Rainy runs. Snowy runs. Hot, humid summer runs. Chafing. Increasing familiarity with every public restroom on your long-run route. We've all been there and done that; there are no secrets anymore. We're runners, we don't care.
The Glory
Why? The glory. That badass feeling that comes from doing something you once thought impossible. The sunrises, the sunsets, the beach scenes, cityscapes and forest trails we never would have seen had we settled for sitting on the couch. Those breakthrough moments during a run. That scared-nervous-excited feeling of standing at the start line. The triumphant, I-did-it moment of crossing the finish line with your hands raised. And the bling—oh yes, the bling! Runners know how precious these moments are and how hard it is to get there. So when we hit these milestones, we know they are worthy of celebration—and sharing.
Through social media runners quickly recognize that we are part of one of the most inclusive and supportive groups out there–our lives, our communities and our backgrounds may be vastly different, yet we get each other. Whether you are struggling with insecurity or body image, or whether you are running to help overcome life's challenges or just to get a few minutes of peace, we get each other. If you are training for a big race, or are out there to prove that you really are stronger than you think, or are simply running for the joy of running—there are so many others who are doing and experiencing the exact same thing. In the running community, you find encouragement when you are at your lowest. You cheer each other on. You will find your people.
And in this most individual sport, you will know that you are never alone in your endeavors.
About the Author: Elizabeth Ewens juggles life as an attorney, author, wife, mom and runner—and proudly finished her first NYC Marathon in 2015 and Chicago Marathon in 2016. You can read more about her journey at midliferun.today or follow her on Twitter at @elizabeth_ewens or on Instagram at @eewens.