6-Move Strength Training Circuit For Runners Of All Levels
These quick strength training exercises will make you a faster, more injury-resistant runner, with basic and advanced moves.
Heading out the door? Read this article on the new Outside+ app available now on iOS devices for members! Download the app.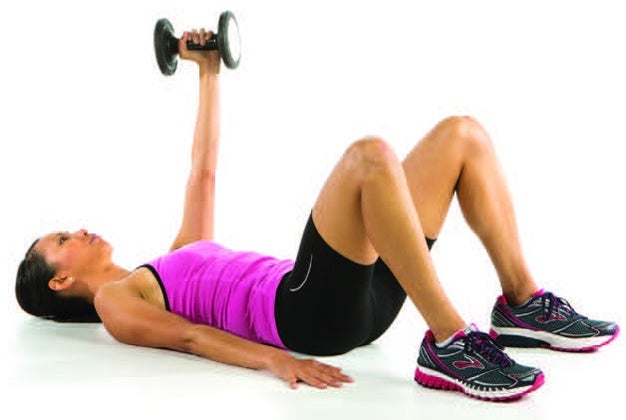 Let's face it: Not all runners love strength training. If you're like most runners, you would rather lace up your shoes and hit a beautiful trail than sweat in a stuffy gym. You didn't become a runner to spend more time indoors!
But to run strong and improve your speed, you need to take your workouts into the weight room. Strength training—the right kind of strength training—will make you a faster, more injury-resistant runner.
These exercises were chosen specifically to deliver what runners need most: core stability, muscular balance and complex movement. Perform these exercises together for a complete workout, or mix and match them to get stronger from head to toe.
There is a beginner and advanced variation to suit whatever your fitness level may be currently. Start with the basic version and eventually transition to the advanced. Remember, there is no need to rush this process—as long as you are challenging yourself, you're improving!
Excerpted from Jeff Horowitz's Quick Strength for Runners, which is filled with tips for finding your way around a weight room (or your living room).
ARM CIRCLES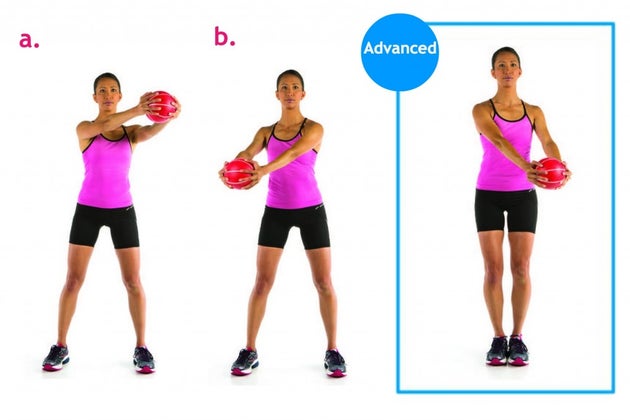 (a) Hold a dumbbell or medicine ball with both hands, and stand with your feet shoulder-width apart, arms extended. (b) Draw a large clockwise circle with the weight. One rotation is one rep. Complete 10 to 20 reps.
Advanced: Perform this exercise while standing with your feet close together to force your core to work harder.
DEAD LIFTS TO FRONT RAISE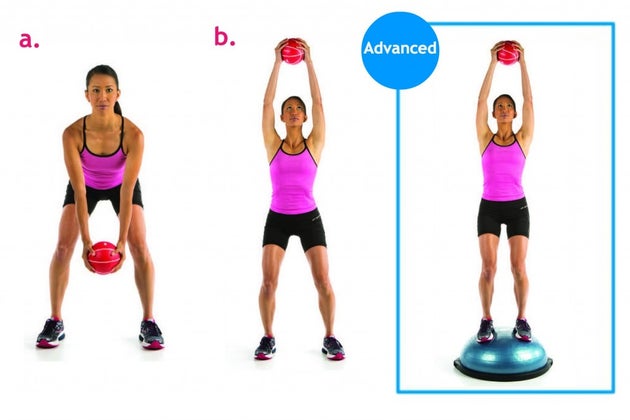 Stand with your feet a bit wider than shoulder width, holding a dumbbell or medicine ball in both hands. (a) Bend forward at the hips, being careful not to round your back, lowering the ball toward the floor. (b) Straighten up and raise the weight over your head toward the ceiling in one smooth movement. Hold for a moment, then let the weight swing back down. That's one rep. Complete 10 to 20 reps.
Advanced: Perform this movement while standing on a Bosu ball.
FIRE HYDRANTS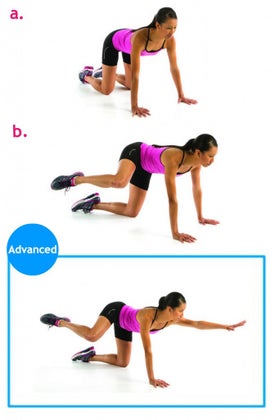 (a) Get on your hands and knees. (b) Keep your right knee bent and raise your right leg to the side as high as you can, keeping your body square. Complete 20 to 30 reps, then switch to your other side.
Advanced: When lifting your right leg during this exercise, hold your left arm off the ground in front of you to introduce instability.
KNEE CRUNCHES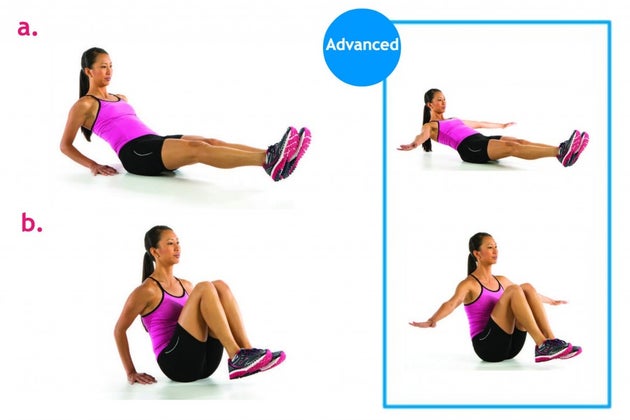 (a) Stretch your legs out in front of you, with your knees fully extended. Keep your arms at your sides, palms facing down on the floor. (b) Bring your knees toward your chest, then extend your legs again, keeping your feet off the floor, to return to the start position. That's one rep. Complete 10 to 50 reps.
Advanced: Hold your arms off the floor to make your abs do more of the work.
PULLOVERS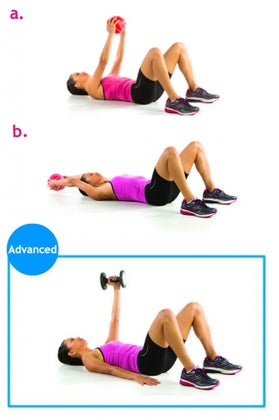 (a) Lie face up with your knees bent and your feet flat on the floor, holding a weight directly above you with both hands. (b) Keeping your elbows locked in a slightly bent position, draw the weight overhead until it almost touches the floor, then pull it back until your arms are pointed straight up to the ceiling once again. That's one rep. Perform 20 to 30 reps.
Advanced: To challenge your core, complete reps while holding a dumbbell with only one hand, then switch to the other hand.
LATERAL LEG SWINGS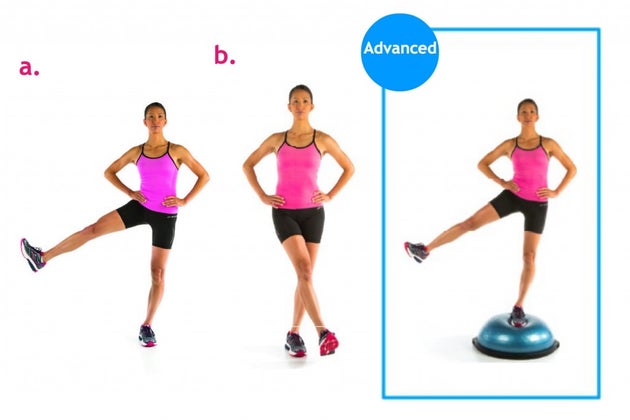 (a) Standing on your left leg, swing your right leg out as far as possible. (b) Then swing it across your midline toward your left side, returning to the starting position. That's one rep. Complete 20 to 30 reps on each side.
Advanced: Stand on a Bosu ball while performing this exercise.