Like Daughter, Like Mother: How Sara Hall Helped Her Mom Run Her First Half-Marathon
Karen Bei is known as "Sara Hall's mom" in some circles. And that's the role that has inspired her to take up running later in life, too.
Heading out the door? Read this article on the new Outside+ app available now on iOS devices for members! Download the app.
Typically, it's parents who coax their kids to take up running, but it can happen the other way around. Karen Bei hit age 54 and took a cue from her daughter. Why not give it a try?
Bei, whose second-born, Sara Hall, is the country's second-fastest woman ever to race the marathon (2:20:32), hadn't run at all until 2009, despite watching her share of high school and NCAA competitions over the years. With her three children all out of the house, she was in search of an activity that would improve her health and fitness in middle age. Hall, of course, recommended running, along with Bei's son-in-law, Ryan Hall, who happens to be the only American to run faster than 2:05 in the marathon (2:04:58).
"Growing up I hadn't really ever seen my mom do organized sports or exercise, but she was a naturally high-energy person," Hall says. "I thought she would enjoy it if she could make it through the difficult first months. We lived across the street from some amazing running trails in wine country that I wanted her to experience just as I had."
Bei asked Hall for a plan to ease her into consistent running. She started out at the high school track in Santa Rosa, California, running a couple 400-meter intervals, in order to measure appropriate paces for her training plan.
"My mantra is: I may be slow, but I don't stop," says Bei, who is 66 now. "I loved having a prescription for what to do. It is like following a recipe. Every day I'd write down my time and how I felt. Sara gave me a diary to write in—it was really fun to see and track my progress."
It wasn't long after Bei got into the routine that she got the itch to try racing, so she targeted a 10K. Hall encouraged her to enter a 3K first, to get a taste of what a race was like. Bei was happy to have a little bit of a rehearsal.
"I was so afraid I was going to come in last, but there were all sorts of people ahead of me and behind me," she says. "When I finished it, I was late for church, so I went racing off and I forgot my jacket that Sara had given me from her first pro race. I went back to get it and I heard my name. They were calling me up to the stage because I got second in my age group. That little thing made me so excited. It made me think I could actually do this."
Bei progressed from there, conquering the 10K, half marathon, and eventually she lined up at the 2011 Chicago Marathon—a distance even Hall, at that point, hadn't raced yet. In the fall of 2010, running had come to mean much more than Bei had ever anticipated when she was diagnosed with oral cancer, one of the small percentage of people who develop it with no known cause (like smoking). She had surgery to remove a piece of her jaw and she recovered quickly, but two years later it came back—she had another surgery and underwent radiation for six weeks at Stanford University.
Every day she'd get the earliest appointment available for the radiation, then head out to run. Bei is a Stanford alum just like Sara and Ryan.
"I thought, I'm not going to let this derail everything in my life," Bei says. "I'd run all over campus and then I'd always end the run on the track. In my mind I pretended I was Sara, racing at a Stanford meet. I'd run a little bit faster."
Bei stuck to the routine all the way up until the last three days of treatment, when she felt like she needed a break.
"That's another thing Sara has taught me," Bei says. "That you can set goals for yourself, but you have to listen to your body. But running helped me get through the radiation emotionally, and physically it helped me sleep and recover."
Now, after five surgeries, two series of radiation, and a round of chemo, Bei says, "I'm still standing."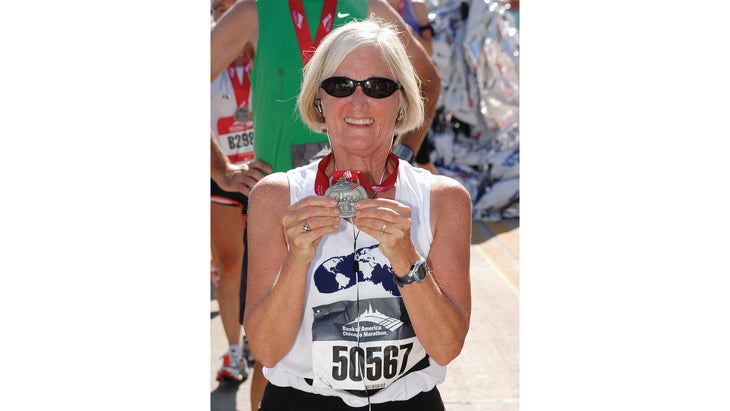 "I just believe that as long as we have breath, we need to be out doing what we can and what God has for us each day," she says. "I try to keep moving forward."
Hall has noticed that running has empowered her mother in many ways during the ups and downs of living with cancer.
"It's a time where you feel like you have very little control over what's happening to your body," Hall says. "But she was very determined throughout her treatments to keep up her running, even though her pace was slowing from her depleted energy. I could tell it was meaningful for her to not let cancer steal that."
Bei and Hall now have a new bond that has enhanced their relationship and brought a mutual respect for what each other goes through at different points in training. Whether you're going for an American record or just trying to finish, fatigue is the great equalizer.
"She'll get back from a long run and be wiped out the rest of the day and comment how now she understands why I'm so tired all the time," Hall says. "She experiences the race-day nerves and can sympathize when she's supporting me at one of my races—now she knows what it's like to invest a lot of training into an end goal."
As a special education teacher, Bei has also inspired her students and their parents to pick up the habit. She often joins a group started by a classroom mother that supports autistic children. Bei typically runs about five days per week, now enjoying the nearby trails. Her goal is to get back to about eight miles so she can cover a favorite loop she used to run during her higher mileage training. She also walks with her husband and swims to add some cross-training days into the mix.
She has some advice for others who might want to try running for the first time a little later in life.
"First, you just need to get out there. Just start walking a little bit every day," she says. "Resist the urge to go too fast, too soon, because that's how you get injured. If you're social, find a group to do it with, but otherwise just enjoy running by yourself. I like to have things written down and have goals for each week."
And making running a family affair doesn't hurt. Hall relishes it—especially when her mom and four daughters can join her at a race. "It's been fun to have all three generations participating at the same time at our own paces," she says. "That's what makes our sport so unique—as a pro, I can toe the same starting line as my mom and daughters."
The entire family agrees that it's never too late to start—you just need the will to get through the early stages, when running doesn't necessarily feel great. The more consistently you do it, the more enjoyable it becomes.
"Anything you do for 30 days becomes a habit and that's really all it takes," Bei says. "And then you find you love it."