Parallel Pursuits on Patriots' Day
Kourtney Turner is running the Boston Marathon while her husband, Justin, plays for the Red Sox
Heading out the door? Read this article on the new Outside+ app available now on iOS devices for members! Download the app.
Kourtney Turner is more excited than she is nervous to line up to run the Boston Marathon for the first time on April 17.
She's an accomplished runner and five-time marathon finisher, so it's not the distance she's concerned about. It's more that she wants to be on schedule to reach the finish line at the appropriate time to meet up with her husband.
Kourtney is married to Boston Red Sox third baseman Justin Turner, and the Sox are playing the Anaheim Angels on Monday in a rare morning game that starts at 11:10 A.M. ET as part of the Patriots' Day statewide holiday about the same time she'll be starting her race.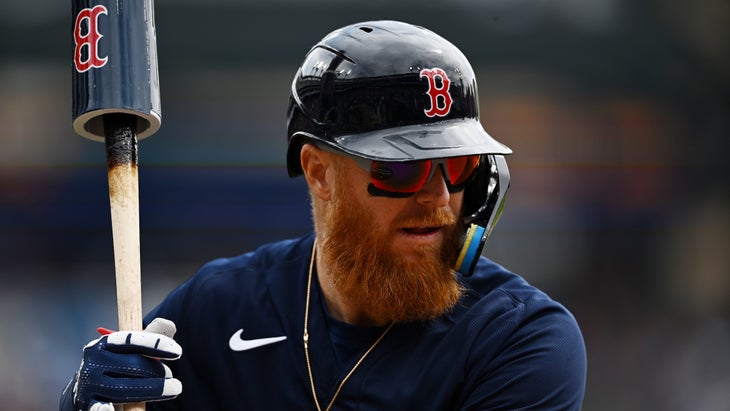 Kourtney, 36, is running to raise money for the Boston Red Sox Foundation on behalf of the Justin Turner Foundation, which they started in 2016 to support homeless veterans, children battling life-altering illnesses and diseases, and various youth baseball organizations. Justin, 38, is a 15-year Major League pro, a two-time all-star and 2020 World Series champion with the Los Angeles Dodgers.
If all goes well, the game should end between 1:45 and 2:15 P.M. ET. She'll pass within a few blocks of Fenway Park near the 25-mile mark of the course, but after a session in the training room, Justin will already be at a viewing station near the finish line and tracking Kourtney on her way down Boylston Street.
The Turners just moved to Boston—Justin signed with the Red Sox as a free agent during the offseason—after living in Los Angeles for many years when he played for the Dodgers.
"It's so cool that he's going to be able to walk out after his game and post up and be able to watch me finish—right after he hopefully brings home a win that day," she says. "It'll be such a big day for Boston. I'm not super familiar with the city yet, but what better way than to just run 26 miles of it and get my bearings that way? I've been learning a lot about the city and everybody says I'm going to have this overwhelming feeling of magic come over me when I'm running it."
RELATED: The Women's Running Complete Guide to the Boston Marathon
Kourtney ran the Los Angeles Marathon on March 19, then packed up her SUV and drove east to Boston. So she's still in recovery mode from her last marathon, but her past few weeks have also been a whirlwind learning a new city and places to run. Meanwhile, Justin has been on the road with the Red Sox for the first two weeks of the season.
Kourtney says she often listens to games when she's running and will try to keep tabs on the game as she runs the 26.2-mile course from Hopkinton to Copley Square. The course will be lined with Red Sox fans, and many have been known to update the score on a chalkboard or digital display board for fellow fans in the race.
"I'm always listening to the games, no matter what I'm doing," Kourtney says with a laugh. "Even if I'm at a wedding, I'm still paying attention to the game. I'm just a freak like that."
Considering Kourtney's only been running for less than five years, she's come a long way in a short amount of time. When she was in high school in Indiana, she was a pole vaulter on the track team. "Running a mile was always a challenge for me," she admits. "If I did a 5K, I felt like it was a huge accomplishment."
But then the organizers of the Los Angeles Marathon approached Kourtney and Justin in 2018 to see if they'd be interested in having the Justin Turner Foundation be the official charity of the LA Big5K in the parking lots around Dodger Stadium the day before the marathon. They agreed, Justin kicked off the race, and they both ran the 5K with friends and fundraising runners.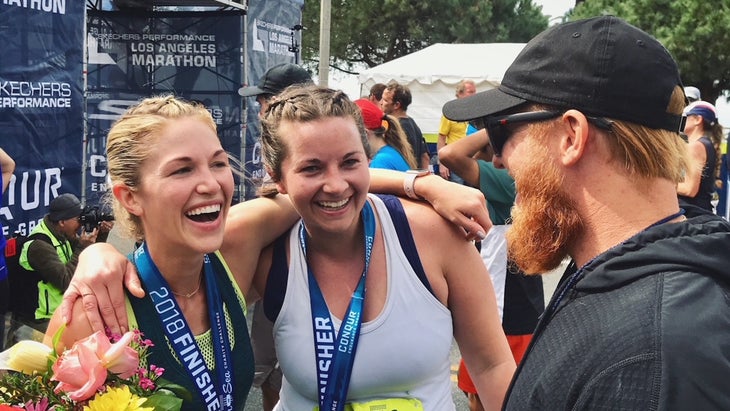 "I was like, OK, I'll get a team of runners together and just kind of be out there to support everyone," she says. "And then I set up my donation page, started getting donations, and people were commenting things like, 'You're gonna crush the half marathon because the charity challenge in LA is tied to the half marathon. I kind of felt like a fraud, so with two and a half weeks to go, I switched into the half marathon and ran it."
She did just fine and was excited to finish, but when she crossed the finish line she was asked if she'd do it again and she committed to the full marathon. She kept her word and ran the 2019 Los Angeles Marathon as her debut at 26.2 miles.
"It kind of happened by accident, but now that I'm in this space and in this community, and everything we've been able to do through the foundation, I feel like it's probably not an accident," she says. "I think it was probably fate."
While the Turner's double-duty day is rare, it's not the first time it's been done. In 2004, Red Sox pitcher Mike Timlin got two outs in the eighth inning to earn the win in a 5-4 victory over the New York Yankees, while his wife, Dawn, ran the marathon. The following year, Shonda Schilling, wife of then-Red Sox pitcher Curt Schilling, ran the Boston Marathon for a charity on a day when Schilling was the winning pitcher in a 12-7 victory over the Blue Jays. But neither of those runners were running Boston a month after another marathon like Kourtney is.
There are several Red Sox connections to this year's Boston Marathon. Hall of Famer and 2013 World Series MVP David Ortiz will serve as grand marshal for the race, leading the way from Hopkinton to Boston in a car on race morning, while former all-star pitcher Ryan Dempster is running the marathon for the Lingzi Lu Foundation, in honor of the Chinese graduate student who was killed in the 2013 terrorist bombings, and World Series champions Mike Myers (Angel Fund) and Brock Holt (Jimmy Fund) are also running for charities.
Justin probably isn't going to run a marathon or even a half marathon anytime soon. But he and Kourtney do occasionally share ideas about recovery, nutrition and hydration ideas, and products from their respective sports. They also occasionally run together, but only on Kourtney's short run days.
"He always says he can never run a marathon, and I always say, 'Well, maybe when you're retired,' because I said the same thing," she says. "But he was like, 'I honestly don't even think I could do half of it.' I think it definitely helps when you're running for something bigger than yourself, at least for me.."
Kourtney talks about running and fundraising for the Justin Turner Foundation on her popular podcast, "Holding Kourt." She admits she's learned a lot since her first marathon—like when she went to the pre-race expo in LA and was asking for advice—and now encourages other newcomers to the sport.
"Coming into it the way I did and not being a runner, I think it means more to people," she says. "I call myself a relatable runner because people say, 'Oh my gosh, I could never do that.' And I back them up and tell them, 'OK, look at what I did in 2018. You know I'm not the fastest runner. I didn't know anything about running at all.' I showed up at the expo in 2018 asking for advice and someone asked if I had my fueling planned out and, and I was thinking, 'What the heck are they talking about?' And now I'm that person that can help people by asking what shoes they're wearing or what they're doing leading up to race weekend. I feel like someone who's more approachable."
"People think it's intimidating, but then you get into this community and it's actually super welcoming," she adds. "There are runners with all backgrounds, shapes, sizes, and different abilities. And I think you kind of find your space in it; you find that it's actually really cool and accommodating."