For This Deafblind Runner, Her Dog is More Than Just Her Best Friend
A lifelong athlete, Maricar Marquez has more freedom as a deafblind runner since getting her guide dog, Cliff.
Heading out the door? Read this article on the new Outside+ app available now on iOS devices for members! Download the app.
When Guiding Eyes for the Blind started its program to train guide dogs for runners in 2015, it had a limited perspective of what could be done. "Originally we started by saying no races," says Jolene Hollister, the Running Guides director. "This was just an exercise component, something to do with your dog." Since then, she's seen the program's graduates and their guide dogs go on to accomplish unexpected feats, from competing in road races and triathlons to trail running. "Sometimes race directors are like, 'No, no, you can't do that,' but our Running Guides graduates are really good about advocating for themselves," says Hollister.
For visually impaired runners, getting out and training without coordinating with a human guide has provided a special kind of freedom. And during the pandemic, it has also been a form of safety.
When COVID-19 began its looming presence back in March of this year, many of us had to shift our workouts: no more gyms, running on empty trails, lifting weights at home. Maricar Marquez, unlike her fellow Running Guides graduates, had to quit running entirely. 
"As a deafblind person, the pandemic really had even more of an effect on my life," Marquez says, using American Sign Language to communicate through an interpreter. "I didn't have access to the outside world. And I didn't have access because I rely on touch."
Marquez was born deaf due to a genetic condition called Usher syndrome. She began losing her eyesight as a teenager as a symptom of the same syndrome called retinitis pigmentosa.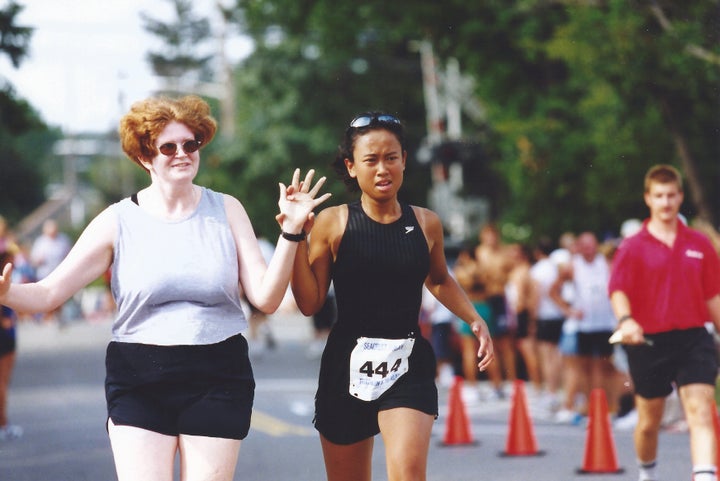 Normally, Marquez would rely on her running guide dog, Cliff, to help her get exercise, compete in road races and triathlons, and guide her around the city. But concerns about social distancing during the pandemic and not knowing whether she was truly six feet away from anyone else, especially in the heavy-hit New York City area, kept her and Cliff homebound for months. "Just like everyone else, I've been in quarantine so I've been working out at home," she says. 
Now that the virus is more contained in New York and the stay-at-home orders have been lifted, Marquez is working to get Cliff back into running shape. "It wasn't until May that the two of us went out," she says. Along with her husband, they went to the track behind the Helen Keller National Center, where they both work. "It was just a short thing, but [Cliff]  really had been out of practice," she says. Now they're able to go out and run on the boardwalk during the weekends; she was also able to get back to the pool to aqua jog.
Marquez got Cliff from Guiding Eyes for the Blind in 2018. Before graduating from the program, the two had to develop a relationship and learn how to communicate through a series of non-verbal cues, like taps and leash movements. "When I tap my leg the first time, he knows I'm ready to go. And we feel each other. He reads my cues, I read his cues." He also has a specific harness that he wears only for running, which is one way he distinguishes between his roles.
"He's an amazing dog," she says. Cliff is not the first guide dog Marquez has had, but he is the first to run with her. He gives her the freedom to run solo if she chooses, without needing a human guide or relying on a treadmill. 
Creating Opportunities
"I would say one of the program's biggest milestones was Maricar and Cliff," says Hollister of the Running Guides program. "To watch Maricar and Cliff run the first time together was amazing." The program was starting to train their second deafblind runner when COVID-19 caused them to shut down for a few months. They are slowly getting back into training.
Guiding Eyes for the Blind is currently the only nonprofit to train guide dogs to be running companions. They've pioneered the process, even teaming up with the brand Ruffwear to design a special harness that gives the dogs a better range of motion and gives handlers a more ergonomic and useful grip. Guiding Eyes president and CEO Thomas Panek, who initially had the dream to create this running program, made history last year as the first blind finisher of the NYC Half Marathon guided only by dogs (a relay team of three Labradors).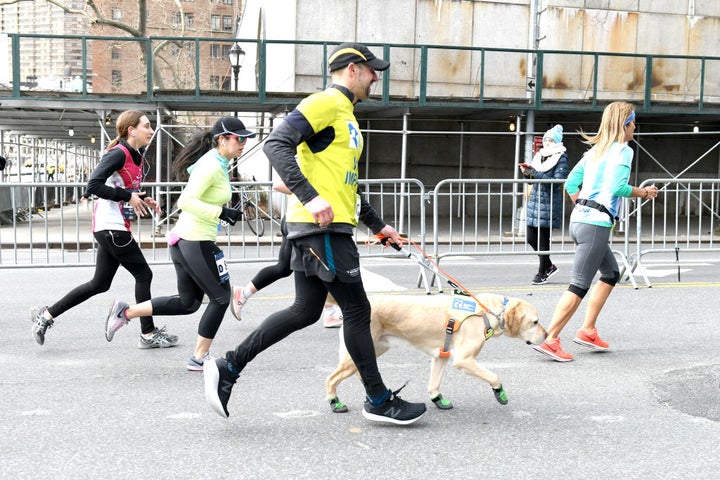 When Marquez was preparing to meet Cliff, she vowed to get in shape and increase her speed. She was certain that the dog would take off faster than her and she'd end up chasing after it. But Cliff keeps her pace perfectly. 
When Maricar competed in the 2019 Oyster Bay Triathlon, Cliff was waiting for her as she completed the bike and swim portion. "I was exhausted at that moment, but Cliff knew to go a little bit slower because he knew I was pooped at that point. He followed my pace," she says. 
Blind and deafblind runners in the Guiding Eyes program are paired with dogs who can match their pace the closest. Not every graduate has big race goals in mind. "Some are happy to just go out and run a mile independently," says Hollister. Others were not runners before, but their dogs have allowed them to become more active.
Competitor, Companion, and Co-worker
While they weren't running at the start of the COVID-19 pandemic, Cliff has made an excellent companion while Marquez works from home. 
Marquez first started working at the Helen Keller Center nearly 20 years ago as a recreational specialist, where she organized things like ski trips, rock wall climbing, or ice skating for students living in the dorms. Now she is the supervisor of the independent living department. But she still has a passion for helping deafblind people enjoy sports and recreation. She even traveled to Edinburgh, Scotland, last year to present at the inaugural International Symposium on Physical Activity and Individuals with Visual Impairments or Deafblindness. "I talked about communication strategies and how to empower people who are deafblind to be involved in various sporting activities," she says, along with sharing her personal experience with Cliff. 
"I'm definitely not a born runner. I didn't start to really get into the running world until my college years," says Marquez. It took a friend from her time at Gallaudet University encouraging her to sign up for a 5K to realize her competitive nature. "I like to have that finish line. I like to have a goal," she says. 
Like the rest of the running community, Marquez is missing those finish lines, but doing what is necessary to help mitigate coronavirus. And for now, she is able to go out again and run with her companion. "It's a freeing feeling to be able to run with Cliff."