The Grass Is Greener In The UK For Cross-Country Runners
An English runner explains the major differences between cross-country racing in the United States and the UK.
Heading out the door? Read this article on the new Outside+ app available now on iOS devices for members! Download the app.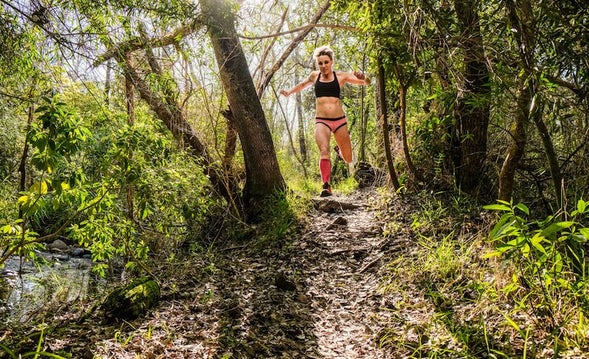 From Boston, Mass. to Eugene, Ore., the United States is a running mecca. It serves a platter of annual training groups and races. But when it comes to cross country, the U.S. is shockingly empty-handed. There are few opportunities for non-elite runners to participate in the sport on a regular basis. The concept of sprinting through wooded trails and up grassy hills is as old as time. But if you're a recreational adult runner in the States, you're out of luck in most cases. You'd be better off moving to the UK than finding a series of 5K cross-country races throughout the year.
I seriously considered doing so after talking with my former cross-country teammate, Laura Riches. Originally from Lancashire, England, Riches went to Butler University to pursue a master's degree and compete in NCAA cross country and track. Now she is off teaching physical education in Wales, but she hasn't stopped running. Riches is participating in cross-country races with a club team practically every weekend. This made me wonder: Just how different is cross country in the UK?
Riches was kind enough to speak to me about her experience as a post-collegiate, league cross-country runner:
So first off: How the heck do you get to keep running cross country?
There are lots and lots of cross-country leagues around the country, and any runner who is part of the club is able to run in the leagues that their club has an affiliation with. It's great fun, as literally everyone gets involved. The national and regional events happen, too, and we even have cross-country championships; but again, anyone can enter. You don't have to be of a certain standard to run, which is fantastic!
That sounds so cool!
Another great thing is that, after races, everyone goes back to the club tent, which has a large flag with the club's name on it. Then you have some hot squash, or coffee or tea and some biscuits and cakes. That makes it even more of a social and enjoyable event.
I've heard stories about how the terrain is, too. Can you tell us about that?
Cross country here is certainly very different than anything I did over in the U.S. It is rare to finish a cross-country race not covered from head to toe in mud, not having run up large hills or [falling] a few times. But that's what we all expect it to be like. If we didn't love it, we wouldn't be doing it!
I've seen your dad running some races with you lately. Are there different leagues or categories for various age groups?
League races allow people of all ages to race. Often within those leagues, there are prizes for different age categories. There are also veteran-only races, like the Northern England Veteran Championships, and the same in the south of England.
You just started a job in Wales, so I assume that the cross-country leagues aren't exclusive to England?
Yeah, Wales comes under Great Britain, and Britain does things pretty well. The only other country I know of that does a similar thing is Belgium. They have a cross-country league called the Lotto Cross Cup, which is like a league, as England athletics often send English teams to race in it.
With any luck, adult cross country leagues will come stateside soon. Until then, I advise you to pursue the occasional cross-country race and live vicariously through your British friends.
Related:
What No One Tells You About A Cross-Country Meet
5 Cross-Country Races For Runners Of All Ages