50 Years After First 'Showing Up,' Val Rogosheske Returns to the Boston Marathon
For the 2022 race she was invited to fire the gun to start the elite women's race.
Heading out the door? Read this article on the new Outside+ app available now on iOS devices for members! Download the app.
In 1972 history was made when the Boston Athletic Association (B.A.A.) welcomed eight women to officially compete in the Boston Marathon.
One of those eight was then twenty-five-year-old Val Rogosheske. And now Rogosheske, 75, is commemorating the 50th anniversary of that historic feat by completing the Boston Marathon on April 18.
This time Rogosheske will also run as part of the Honorary Team, a different group of eight women who have each promoted women's opportunities in areas like athletics and human rights.
"It's going to be really fun to meet them and get to know them. They have contributed to equality for women in many diverse ways," says Rogosheske, who was also invited to fire the gun to officially start the elite women.
Rogosheske's inclusion on the team may seem an obvious choice, but until recently she didn't fully acknowledge her impact on women's athletics. She explained that others from the "Original 8," like Kathrine Switzer, Nina Kuscsik, and Sara Mae Berman, were working for almost eight years to ensure women could run in the Boston Marathon.
"I was kind of a Johnny-come-lately. I just kind of showed up and took advantage of it. For a while I was feeling a little sheepish about that, but now I'm embracing it," Rogosheske says. "We need activists, but we also need people to show up. That's a very important part of this whole process of making more opportunities."
RELATED: Splits: My Boston Marathon Wish is For Equal Coverage of the Women's Race
Although Rogosheske is the only one from the original crew running, five group members, including Switzer, plan to support from the sidelines, which Rogosheske says will make it feel like "old times."
The Same Race, But Different
But a lot has changed since her first journey from Hopkinton to Boylston Street, most notably the sheer number of women. In 1972, Rogosheske recalled that after the starting gun fired, she didn't see any female competitors. This year, she'll be joined by 14,000 women, including her two daughters and cousin.
"I'm just so excited that things are working out so nicely. It's just going to be a really memorable event I think," says Rogosheske, who lives in Minneapolis, MN.
To honor the occasion, Rogosheske, her cousin, and daughters plan to wear black capris, a short-sleeved neon yellow shirt, and HOKA shoes–attire that is much different from Rogosheske's 1972 garb.
"My pants were blue Swedish nylon orienteering pants. I was trying to avoid chaffing, which I did, but they sure were hot. The bucket hat was probably hotter than necessary, too," she says. Rogosheske also wore men's shoes, the Onitsuka Tiger Marathon model, which were flat with no cushioning.
"Shoes and clothes have certainly developed. The main thing is that they are made to fit women now, and they are always being made cooler and lighter," Rogosheske says.
Not only have clothing and shoes evolved, but so has the entire race experience. The Boston Marathon initially did not include any of the components that are now considered road race staples, like t-shirts and finisher medals.
On-course hydration was different, too. Official water stations were sparse, so instead of paper cups, Rogosheske drank from water hoses being offered by spectators along the edge of the course.
"I was just totally mortified to get my feet wet, because I was sure I would get blisters. I must have looked pretty funny," says Rogosheske, who successfully avoided getting any blisters.
Another goal for Rogosheske was to finish the race–without walking.
"When I got to Heartbreak Hill, I was going so slowly that every single person around me was walking, but I needed to maintain some semblance of running in order to be true to myself. That was the hardest part of the race right there," says Rogosheske, who managed to keep running and finished the race, her first marathon.
Her goal for this year is to once again finish the race. But she laughed when she told Women's Running that she fully intends to walk. After experiencing knee issues in the past, she has recently embraced Jeff Galloway's run walk method.
"As fun and as important as this event is, I really don't want to hurt myself so I can't do those other things I enjoy," says Rogosheske, who also likes walking, hiking, and backpacking. Rogosheske aspires to finish between 5:30 and 6:00, but more importantly she plans to prioritize listening to her body.
"Even at this age, I think part of the enjoyment of marathon running is having this goal and focusing on it and kind of riding the edge," she says. "Hopefully I'll get good results at the end, but I'll know that I did the best I could."
Regardless of the outcome, her husband of 50 years, Phil Rogosheske, will be waiting for her at the finish line with a big bottle of chocolate milk.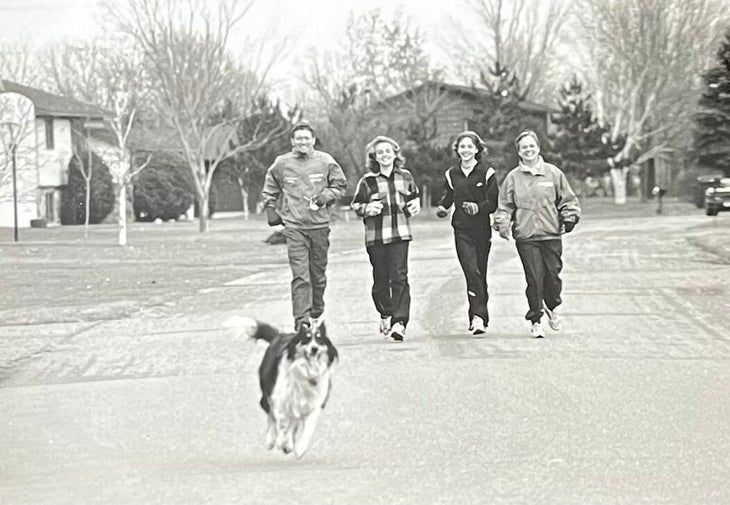 "I've got to say that my husband has been a huge impact in my life. Growing up with no opportunity for competition it just never even crossed my mind that I should have the opportunity or that I might even enjoy it," says Rogosheske.
Running Full Circle
Before meeting Phil, Rogosheske described herself as an active person. After graduating from St. Cloud State with a degree in physical education, Rogosheske started running after a shocking realization: A friend asked her how fast she could run a mile; Rogosheske didn't know. She realized she had never been timed, so she decided to correct that. In her first mile attempt, she discovered she couldn't finish a mile.
"It was due to a lack of pacing, but it was still off-putting," says Rogosheske, who then bought the book Jogging by Bill Bowerman.
Shortly after, she met Phil, a collegiate athlete and future Olympian. He knew how to set goals and encouraged Rogosheske to do the same. She set her sights on a marathon, the 1972 Boston Marathon, with plans to jump into the race illegally.
RELATED: The Running Pioneer You've (Probably) Never Heard Of
Despite Phil's support, her training for Boston was less than ideal. After their wedding on December 30, 1971, Rogosheske contracted mononucleosis. Her illness made marathon training impossible for the entire month of January, which left only two months to prepare.
Rogosheske gradually increased her mileage, peaking at a 16-mile-long run. Then several weeks before the race, she received news that Boston was allowing women to compete legally. With no prior marathon experience, she registered, and the B.A.A. called her.
"All seven women had run marathons before. They talked to me about my training, and I didn't really emphasize the mono part, so they thought that it might be alright," says Rogosheske.
Not only was it alright, but she finished in sixth place with a time of 4:29:32. Rogosheske raced Boston again in 1973, 1974, and 1997, finishing in the top ten two more times and getting her PR down to 3:09:38.
Rogosheske says this year's race will mark marathon "8.5." In 1997 for the 25th anniversary of the women's inclusion in Boston, she dropped at the halfway point due to her knee.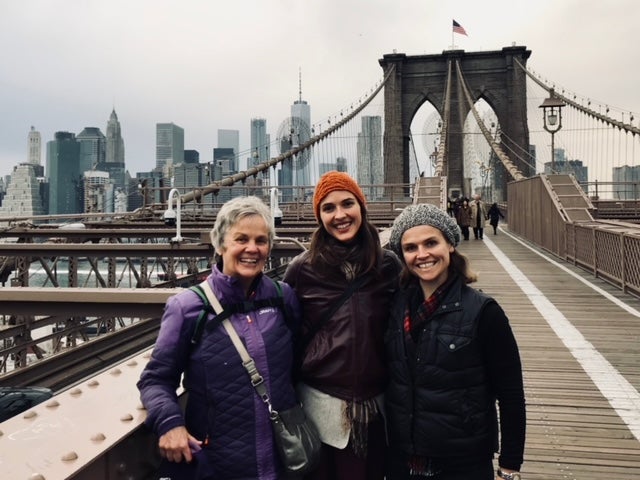 She made sure to run through Wellesley College, her favorite portion of the race. "That's the part that ties everything together. That first year they were yelling, 'Right on sista!' Then I came back 25 years later, and they looked like my children. And this year they will look like my grandchildren," Rogosheske says. "It paints this picture of the cycle of life and how much has been
accomplished for women in that time."
Being able to share this year's race experience with her daughters makes it even more significant.
"Having these two daughters of mine has been so fulfilling. I went to school when there was no sports for women, but I loved sports. So now I've got these two daughters who have gone to school and there were all the sports in their high school and college they could've wanted," she says.
Even more recently, she has seen continued growth and progression. "Now I have three grandchildren, too. So that's really exciting to see the next generation be encouraged to be active and strong."