This Runner Used Only Running Photos On Her Dating Profile
Ever wondered what would happen if you only had pictures of running on a dating app? One runner found out and it's pretty hilarious.
Heading out the door? Read this article on the new Outside+ app available now on iOS devices for members! Download the app.
So I did an experiment of sorts over the past few months: I reworked my dating profile to be entirely stacked with photos of myself running. Okay, and maybe one cute picture so they have a slight clue as to what my face looks like. I combined those with the tag line, "99% chance I will ask you to go for a run," and voila! Let the pickup lines begin.
Here are the top-11 one-liners, running questions and downright weird things that happened.
What kind of LSD?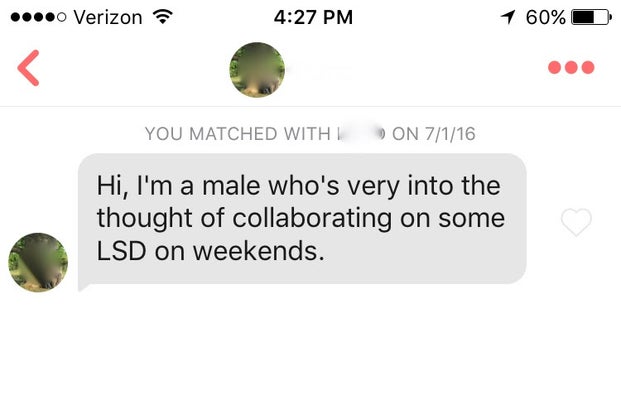 Boy, you are speaking my language. But first, can we clarify what kind of LSD you are into? It may be a deal breaker…
Run-date tomorrow?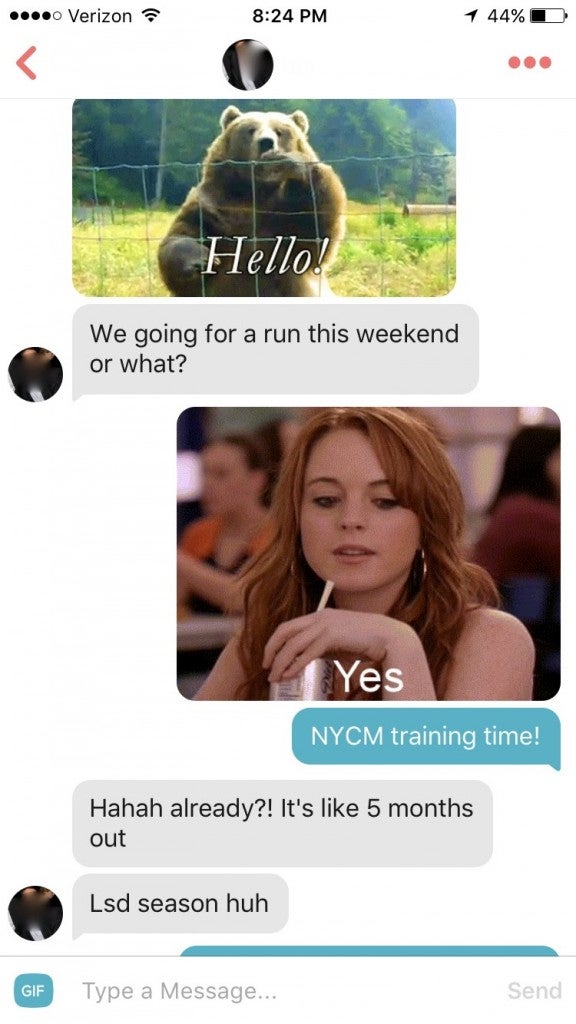 Oh BF YAS*. Get ready, I am in training mode all the time.
*We did indeed go running the very next morning. Note to self: 14 miles is a long first date. Too long actually.
I will probably beat you…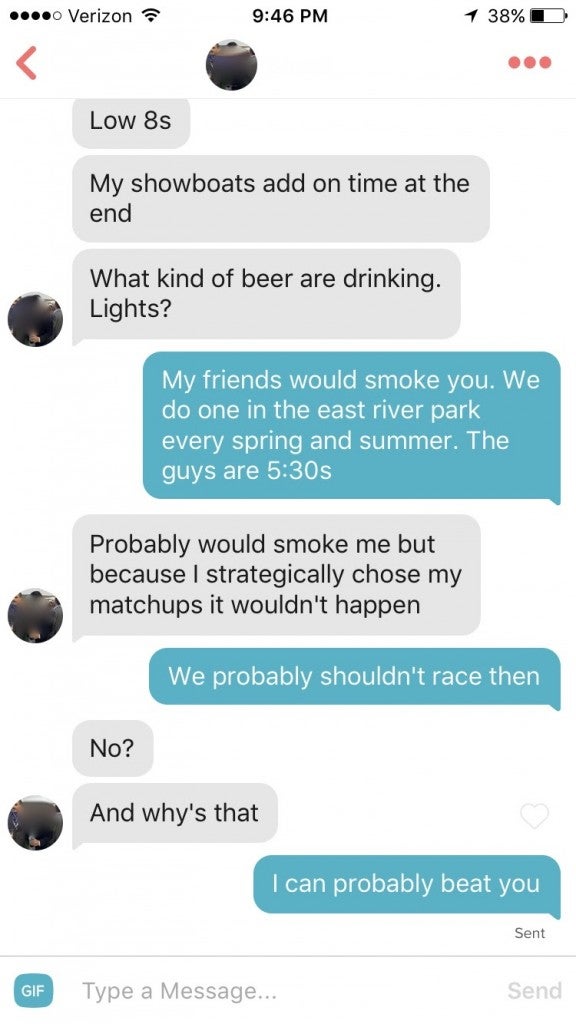 Okay, on second thought, I think I understand why my friends are not surprised by my lack of dating life. But dude, we all have our strengths and frankly, the beer mile is NOT yours.
Move yo' body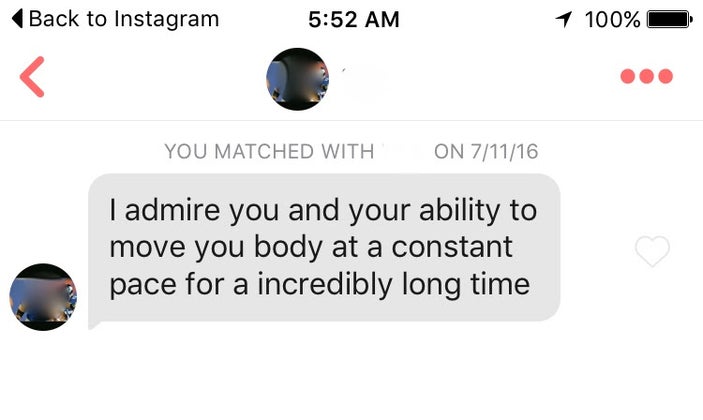 OOooOOO, ummmm, oh. I don't know what to say? Thanks?
The trolling teammate
When your teammates troll your profile. Obviously I swiped right on you—you RUN! But for the future, maybe zero hydration belts for a 5K? Also, 5:47 a.m. response. Smooth, Anoush.
Please stop with jogger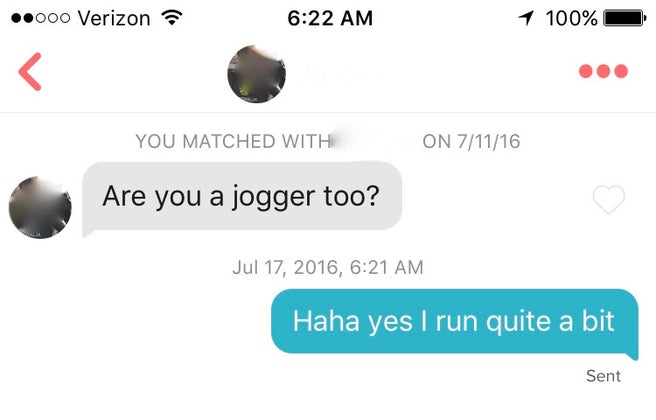 Note that I switch to "run." Please refrain from the term "jogger." Unless you're from overseas, then you probably sound really hot saying jogger. (6:21 a.m. response. Getting better!)
What even is "early"?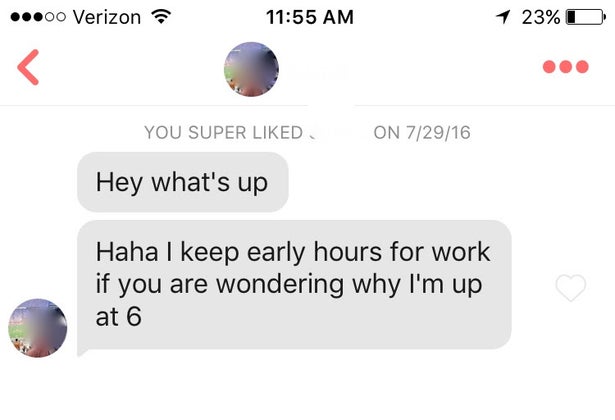 No, I really wasn't actually. By the time I received your message I had already finished my workout and was in the shower. But sure, it's "early."
5-minute mile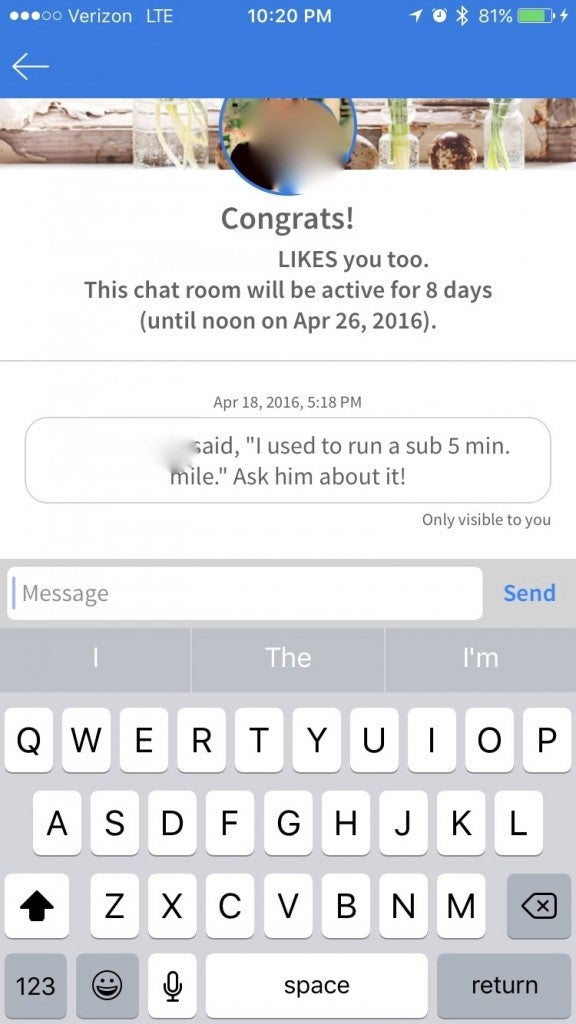 So, can we talk about what happened to the 5-minute mile? Or is that a sore subject? I can't tell since you're using it as an ice breaker…
Let's race!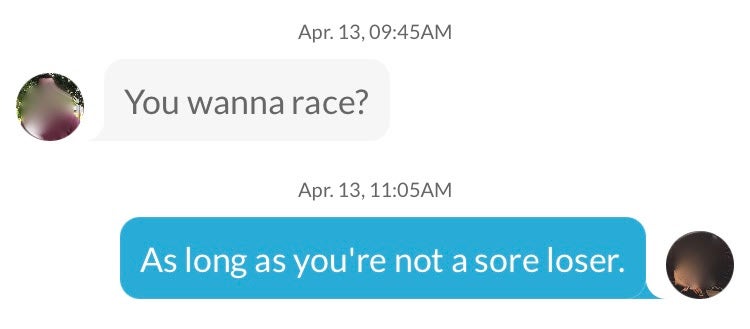 Listen, not everything in life is a competition. But in this case, I guess it is. And there is nothing worse than a sore loser!!
Shin splints are real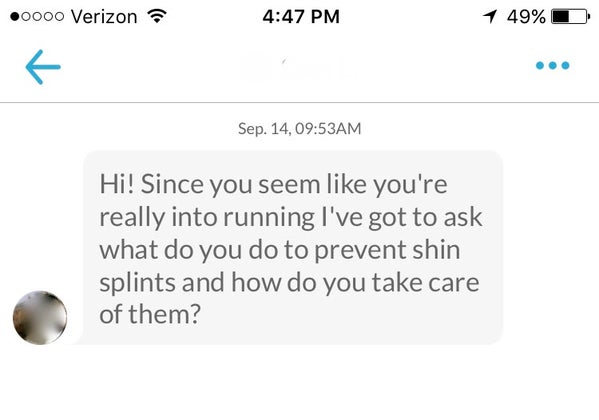 This is new…but sure, I can give you some advice. I just want to know something: Was this your best pickup line? If so, I don't think I'm following…
Honestly?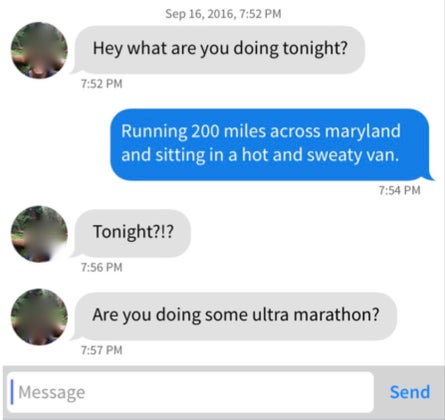 So honestly, my teammate stole my phone, but HONESTLY that was what I was doing. Yes, that is how I used my vacation day.
Still waiting on the Amy to my Shalane…until next time!