Jenny Simpson And Emma Coburn Have "Matching Necklaces"
These college friends, training partners and Olympic medalists took time to talk to us about why they can't imagine life without the other.
Heading out the door? Read this article on the new Outside+ app available now on iOS devices for members! Download the app.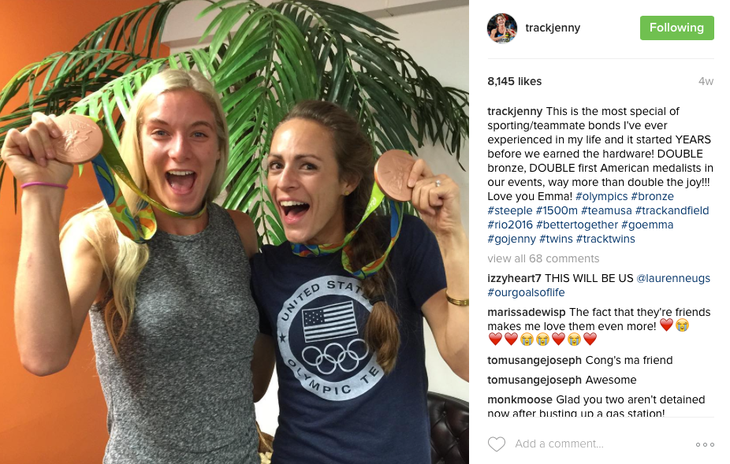 It's been about a month since the Rio Olympics, but we are still reliving the moments where some of our favorite runners earned Olympics medals. This includes long-time friends and training partners Jenny Simpson who took bronze in the 1,500-meter and Emma Coburn who took bronze in the 3,000-meter steeplechase.
These two Olympians, though competing in separate events, have been with each other every step of the way, from their college days at the University of Colorado, to both getting sponsored by New Balance, to this culmination of their Olympic medals. So has this achievement changed anything?
Jenny's Experience As First American Woman To Medal
"It is a little bit like when I got engaged and I was wearing my engagement ring around," Simpson told us of winning the bronze. "People don't know your whole history and whole story, but you just assume that by this extra glow around you people should be asking what special has happened in your life."
This "heavy" medal—it's the most common comment she hears when people get to hold it—will be joining her world championship medals in a special drawer. Although this one is different.
"Since it was the first American woman to ever medal in this distance, in a distance that has been run by so many great American women in our sport, this medal is different," Simpson notes. "Out of all of these great 1,500m runners over the course of decades, I got to be the first to medal at the Olympics. That is a big and really humbling thing. I think, Why did I get to be the first?"
Emma's Experience Medaling In An Event Not Everyone Knows
For Coburn, the experience is a bit different, as most people don't even know what the steeplechase is (it involves 28 barriers and 7 water jumps on the track).
"A few times I have been asked what is the name of my horse," Coburn muses. But she understands—she didn't know much about it when she toed her first steeplechases start line. "In high school I was competing out of state in a meet in Albuquerque and I went there to run the 800 [meters]; since we drove 6-8 hours, my dad said we weren't driving all that way for me to just run 2 laps. The steeplechase was the only event on another day, so I was standing on the start line and didn't know how many laps I had to do. I ended up qualifying for High School Nationals in that race."
Both Runners On Their "Matching Necklaces" And Friendship
Though both Olympians got different starts and have had different journeys to winning Olympic bronze this year, both note that getting to experience it together made it that much sweeter.
"If I were to write a perfect story of doing something great together, I wouldn't have thought of all the stuff we have gotten to do," notes Simpson. "We have been together through really formidable years of our lives—I think of college where we won NCAA Championships to when Emma was in my wedding and all of this stuff we have done side by side for a long time."
"Even if it isn't someone you train with, anytime someone makes history you have to admire that athlete," adds Coburn. "When it is someone you train with, it makes it that much sweeter. You know intimately how much it means to them and day to day exactly how hard they are working and what obstacles they have overcome."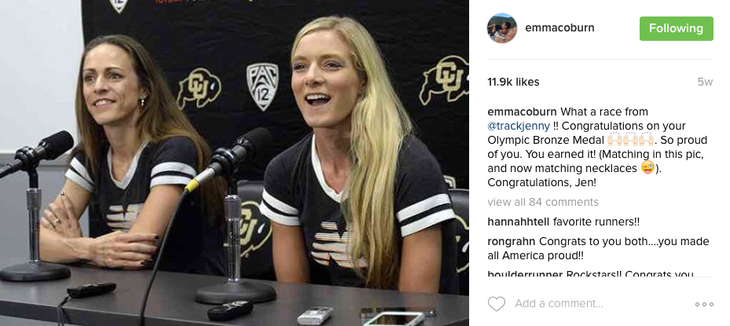 They both say much more about one another—Simpson noting that they always find a way to bring out the best in each other and Coburn sharing how they got through injuries over the winter together—and it always comes back to how they appreciate every moment they have together, both as friends and training partners.
"I think having training partners is such a benefit, especially in terms of day-to-day motivation," explains Coburn. "No matter the different in skill level or event, they are always beneficial. Jenny and I still run with the University of Colorado girls sometimes, and even though we may be at different competition levels it is still great to train with them and go on runs. There are big advantages to having training partners."
And when that training partner becomes your friend through weddings, a career and winning Olympic medals? There's nothing more anyone could ask for.