NYC Running Mama: Welcome the New Runners
Support to beginner runners can help them on the road to success.
Heading out the door? Read this article on the new Outside+ app available now on iOS devices for members! Download the app.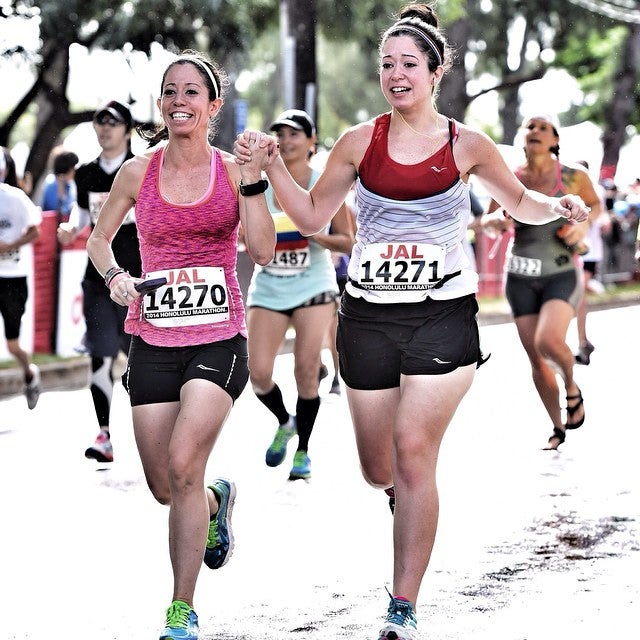 Last January, my younger sister approached me about wanting to lose some weight and make another attempt at running. It wasn't the first time that she had given running a try, but she hoped that it would last more than a few weeks this time around. Over the course of the next few months, she dropped 35 pounds and went from being able to run no more than 1-2 minutes at a time to running six miles straight.
It was exhilarating, exciting and FUN to be a part of her journey with her. And it was very special to be by her side as she became a half marathoner and then a marathoner – all completed in 2014.
The New Year brings new people, like my sister, to the sport of running. Maybe it's someone who has run off and on for the last several years and has decided to train for their first race. Or it could be someone who has vowed to become more active, wants lose weight and will use running as a means to their goal.
Whatever the reason, the first few months can be a tough time for these runners. I've been new to the sport. You've been new to the sport. It doesn't matter whether you started running at age 10 or age 50. Do you remember what it feels like to try something new? You feel awkward, think you don't belong and feel like everyone is staring at you.
When I was in college, I (now embarrassingly) remember being annoyed at how crowded the gym was after returning from holiday break. It didn't matter that it was filled with people trying to reach their new year goals. To me, they were nothing but an inconvenience to what I was trying to accomplish.
Maybe experience, motherhood or just a bit of time and maturity have changed my views, but I wholeheartedly love seeing new runners to our sport. In my opinion, there's not much more exciting than seeing someone's happiness after running their first mile or completing their first race.
One of my goals for 2015 is to do more for the sport of running. Not anything large-scale or newsworthy; just small, local actions that can help enhance and further the sport we all love. Volunteering at a race, guiding my friend John- again in a race, and helping to organize a charity race are all at the top of my list right now.
I think it spills over to those who are beginning in our sport. Encourage new runners, whether it's through physical support (going on an occasional run with them), emotional support (when they've hit a rough patch) or educational support (helping them create a training plan or offering advice). Even just offer a friendly smile if you see someone out on the road or trail. It might be the first day they have gotten the courage to try. A simple smile or wave might make them feel like they belong.