As Coveted as a Boston Marathon Entry? A Volunteer Position
It's almost as difficult to get a job on race day as it is to earn a place on the starting line.
Heading out the door? Read this article on the new Outside+ app available now on iOS devices for members! Download the app.
For many runners, a Boston Marathon qualifying time is a huge achievement. But while athletes complete long runs and tempo workouts, thousands of others are hoping for a shot at helping execute the world's oldest annual 26.2-mile race.
The backbone of the Boston Marathon is the volunteers—all 9,700 of them in 2019. But similar to the stringent race-entry standards, volunteer positions are just as difficult to obtain. In fact, 95 percent of the jobs—from dishing out pasta and handing out water, to organizing bib packets and distributing shirts—go to people or groups who have previously held them.
Sandy Sheehy is the volunteer director for the Wampanoag Road Runners (affectionately called the WAMPS), which is based in Attleboro Falls, Massachusetts, about 35 miles south of Boston. She coordinates helpers for 15-18 local races and the group's annual efforts for the Boston Marathon.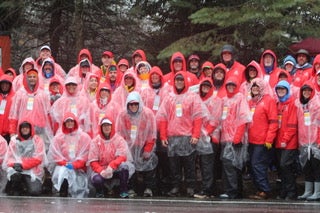 The club was established in 1984 and has more than 200 members. Like all the people who support the race from Hopkinton to Copley Square, Sheehy said her squad has a can-do attitude, necessary in the unpredictable conditions of springtime in New England.
"The WAMPS are an amazing, dedicated, do-whatever-is-needed group of runners," she said. "Whatever it takes to get the job done, running or volunteering, we do."
The Boston Marathon has some of the most enthusiastic networks of helpers because many of them also have experience on the other side—as runners. So, they can anticipate what the 30,000 participants need. Sheehy has raced it 12 times herself, including on Monday, and this year 54 WAMP joined her.
She also made sure that 160 Boston Marathon volunteer positions were filled during race weekend and in the months leading up to it.
"[The BAA] is so organized and care so much about the way runners are treated," Sheehy said. "They make it easy for us to want to come back every year for any position they need to have filled."
And when it comes to tasks, the WAMPs have done it all—from staffing the water station at mile 12, to working the expo, to stuffing race packets.
For the WAMPS, it's not just the sought-after unicorn jackets that inspire them to volunteer, though the incentive certainly doesn't hurt. While the runners are motivated by the roar of the crowd and the victory "lap" down Boylston Street, the volunteers have their own sense of accomplishment.
"It's so cool to see it start as a bunch of empty boxes and end up with thousands and thousands and thousands of cups, and these very few people cleaning up," Sheehy said. "It is so nice to see a finely tuned machine work."